A mobile app is nothing if it fails to offer a seamless experience to its users, which they expect from it. An app that is considered majorly to be a technical piece is much more than it. As there is the integration of coding, technology, and testing.
Mobile app testing is a mandatory aspect of every business. It helps it grow successfully, because the Mobile App Testing strategies, define how far users would love to use your app.
There are many strategies that are picked to make the process a smooth journey. At Concetto Labs, we have a team of expert testers. They have helped many businesses to get an efficient app solution due to our practised app testing strategies. In this post, we have discussed the strategies that Concetto labs follow. And, how it has helped them to deliver unmatched performance beyond the client's expectations.
How Long Does It Take for Mobile App Testing To Happen?
App testing is not just a one-time process, it goes along with the development journey. As your app makes progress, the testing goes with it. It is the process that happens during the development, before deployment, and during the app maintenance to provide a smooth user experience.
What Things Do Concetto Labs Consider Before Picking Any Application Testing Technique?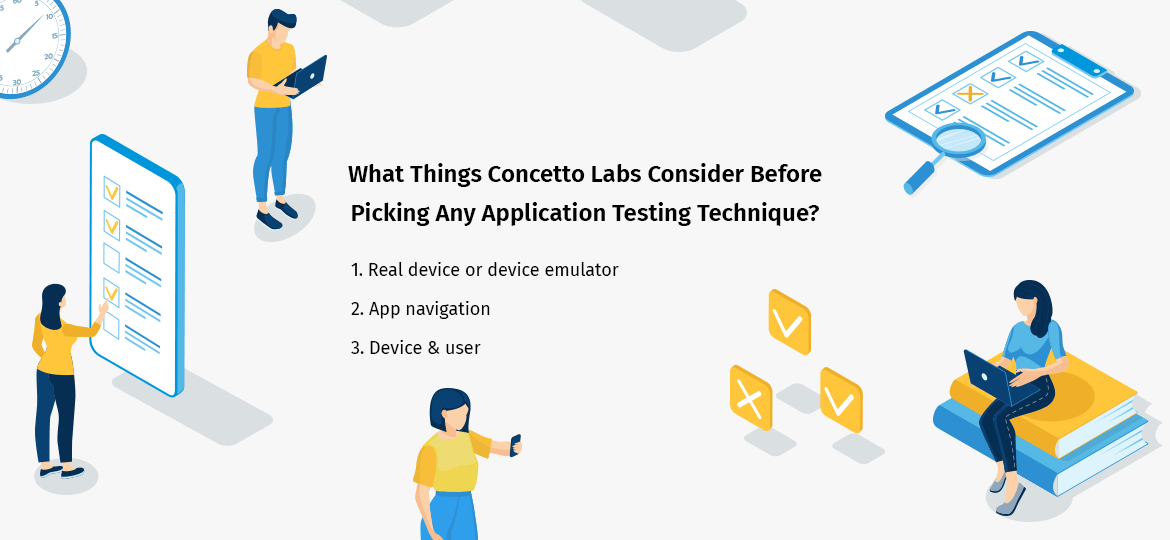 1. Real device or device emulator
Many companies prefer real devices over the device emulator. But what they fail to understand is; it depends on the market needs and the devices they want an app to test. And both of these have their benefits and drawback. When you use real devices, then definitely there is a guarantee of getting reliable and accurate results. This helps check the device performance while using the app, as the users would be using the same devices. And it does not give any false indication to the users. But on the other hand, you can't forget that real devices need maintenance. And it also requires many to arrange the devices because not every device users use is available instantly.
For mobile device emulators, there are many advantages as well. Where QA testers can create a similar environment such as the real device. These emulators are free and open-source, which helps the testes to study unexpected behavior. Also, these emulators can be connected to an IDE for testing in the early stages of development.
But there are some disadvantages like emulators don't work as fast as the real device which consumes time in testing. Also, these emulators don't consider factors like battery drainage/overheating or conflicts with other preinstalled apps. There will be no support available for all the OS versions. And it can be expensive to build a good emulator, and that consumes time as well. Thus, it depends on your app requirements, and accordingly, we pick the right method of testing for it.
2. App navigation
Although the app navigation is part of the interface only. But there is a reason we have mentioned it as a separate factor. We carry out specific testing for the application flow, where we keep a strong eye on the good design. As we know that efficient app design brings together visual elements in the app, consisting of content, features, and functionality. With efficient visual flow, your app guides users through the mobile product. We test the flow of your mobile app architecture. This helps us to find out elements in the app design, that obstruct users' aim to complete their desired tasks.
3. Device & user
Before starting testing any app, our first goal is to understand the app users and which type of devices they use. Our team of testers selects the mobile application testing types on the basis of this. We study, research, and plan the testing criteria that would fit that specific app type. And then we start the testing process afterward, where we select 5 – 10 devices that are most relevant. And on these devices, we start doing the testing.
To keep ourselves updated, we keep a sheet of every feature testing and write testing results against each feature. This helps us in understanding the rhythm of the testing process and lets us pick the most relevant testing types.
What Mobile App Testing Strategies Are Followed By A Leading Mobile App Development Company
1. Performance testing
A mobile app has a simple aim to bring comfort and convenience for users from every possible aspect. And to achieve this, it is the farthest better for your device to conduct performance testing. With this testing type, it becomes easy for the app owners to get understand any issue coming into the app. At Concetto Labs, we run different tests on the app to check its performance. The typical tests we run to check if the app runs smoothly are:
Load testing
Stress testing
Endurance testing
Spike testing
2. Automated Testing
Automated testing is mainly used to test repetitive use cases, where different basic functionalities are tested. This brings predictable and many verifiable results for the users. This type of testing allows the testers to test different features and functionalities of the app. This was not possible through the manual testing model.
3. Manual Testing
Manual testing, as the name suggests it majorly runs through manual mode, where the app's look and feel get tested. It is easy to navigate any existing and hidden bug within the app. It might have been left unnoticed during any other type of testing. But manual testing brings those bugs in the limelight and helps in testing the complicated app scenarios. We ensure to follow the combination of the 80/20 ratio to test the app. It helps in both saving time and money.
4. Security Testing
The app data is at constant threat of being breached by hackers always. Technical advancement has brought a new factor into existence, where app security is not always safer. There are some miscreants out there who can fiddle with your app security. To overcome this issue, security testing is the best mode to remove the hurdle. You can hire QA analysts from us to create a smooth app product.
5. UI/UX Testing
Once you conduct this testing, it helps you understand whether your developed app solution is easy and intuitive. And, whether it meets the users' expectations as well.
6. Network Connectivity
On average, a larger number of mobile apps for different industry verticals work on the network connection to work properly. Post mobile app development, it becomes hard for developers to check the efficiency of a mobile app on different networks. This does not limit the testing to one specific area. But must be considered when a user travels to other cities and countries. And they need to understand how much foreign travel will affect the app's performance. We conduct network connectivity testing to change this issue into a normal condition. Here, we test the app on the cloud testing platform to find out the solution.
Conclusion
If you want to win at the testing strategy, then you must practice these bulletproof strategies with Concetto Labs. You can Hire Quality Assurance strategists from us and give a new dimension to your app testing model.
The Mobile App Testing Strategies That Concetto Labs Follows
Contact Us
The post The Mobile App Testing Strategies That Concetto Labs Follows appeared first on Blog Concetto Labs.