Quick Summary: Are you pondering whether to build a plant identification app? First, you must know how developing a plant identifier app can help you and others. This blog will help you to understand how a plant recognition app works and what goes into creating a plant identification app. Some of the apps to identify plants are listed below with their functions. An App like the Plant Snap app can be considered ideal for beginners. The blog details will help you understand what you need in a plant identifier app and how you can proceed with the mobile app development.

The increase in the use of technology has made us distant from nature. We might be surrounded by nature sometimes, but we have no idea what we have around us at such times. One of the best instances of this is plants. Hundreds of plants can be used for various purposes and benefit mankind. However, it is so hard to identify these plants due to a lack of interest and time to understand their nature.
At this point only, technology becomes handy. Plant Identification apps are one such example. With the help of plant identifier applications like PlantSnap, one can scan a picture of a plant, and the app will tell you all the informational details of that plant. This can help you identify plants that have medicinal properties and are beneficial for your health.
Top 8 Plant Identification Apps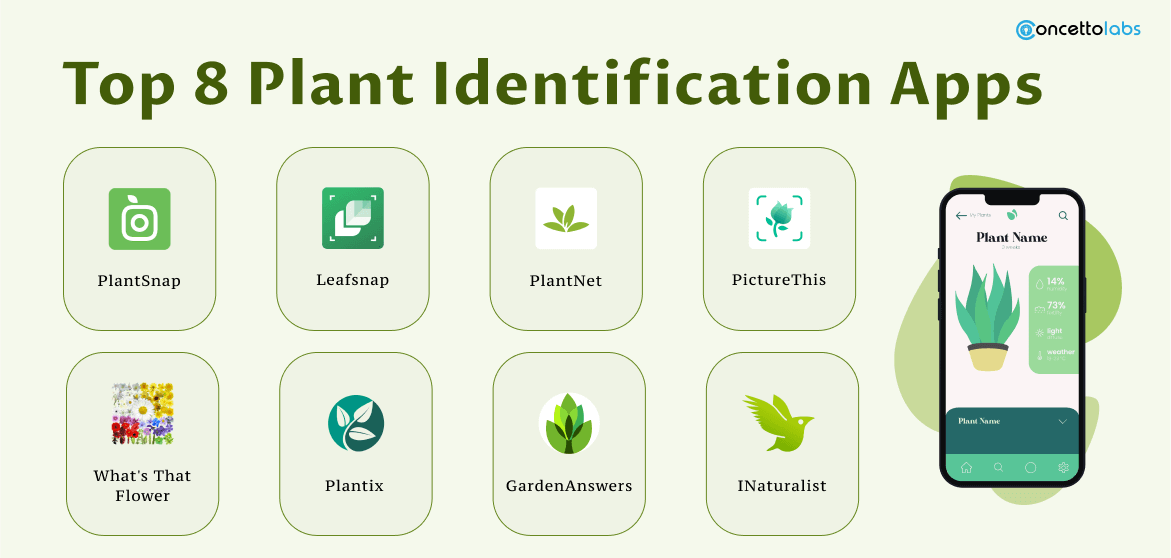 Logo

Apps

Features

Price

Reviews

PlantSnap

Search any plant from a database of 60,000+ plants with a snap

Instant search with Augmented Reality

See snaps from around the world

Save snaps to see later

4.5

Leafsnap

Identify plants with snaps in seconds

Plant database of more than 32,000 plants

Plant Care guides in the app

Set reminders for your plant care activities

Free

Premium from $4.99 to $25.99

3.7

GardenAnswers

Click pictures of plants and get instant identification

Find out pests and diseases in your plant

Get advice and solutions from gardening experts

Save your questions and answers to review any time

3.9

PlantNet

Get full identification results in seconds

Choose a plant database according to the region

Find plant in a region by clicking photos

Save your questions and answers to review any time

Free

Pay as you go Model starts from 2€

4.5

PictureThis

Plant identification with a snap

Upload a pic of the plant's sick part and know about its disease and treatment details

Get plant care guides with the premium version

Know which plants are toxic for your pets and protect your pets

Get expert consultation from plant experts

Access to plant knowledge with a huge database and more being added to it

4.7

What's That Flower

Get detailed knowledge about the plants with photo snaps

A lot of filters, including colour, habitat, region, petals,

Search available by name and taxonomy

Save your data and access offline anytime

3.7

Plantix

Diagnose diseases with a photo

Get a consultation from crop doctors

Join the community of farmers around the world and gain knowledge about a large variety of plants

4.2

iNaturalist

Saves observations with pictures and location details

You can see nearby plants' photos on the app

Follow people, make a community, and see plant-related posts on the app

4
Pros and Cons of Plant Identification Apps
Apps

Pros

Cons

PlantSnap

Large database, which is still growing

High accuracy

Explore the section to increase your knowledge of trending plants

More information about common plants and fewer details about rare plants

The pro version is very pricey

Leafsnap

Simple interface

Geotagging feature with inbuilt map

High-resolution pictures

The free version has too many ads

GardenAnswers

Easy navigation and a beautiful interface

Vast database in Free version

Youtube tutorials

Faster answers to inquiries

For plant disease solutions, you need to contact garden masters

The premium version gives only an ad-free app and nothing additional

PlantNet

Recognizes plants from around the world

Growing database with the user-based content

A great source for learning botany

Free and easy to use

It doesn't show plant data from Asian, African, and South American regions

PictureThis

The premium version has a good price

Data is pretty accurate

Good for educational purposes

Billing issues in the app

What's That Flower

A lot of filters

The search option gives results from a broad database

It doesn't work properly sometimes

Plantix

Data available offline

Easy Communication between farmers to share knowledge

It gives multiple options for plant disease treatment

Disease detection can have errors

Accuracy is 90 per cent

iNaturalist

Quality data from scientists and plant enthusiasts from around the world

Limited to people speaking English only
Who Can Use Plant Identification Apps?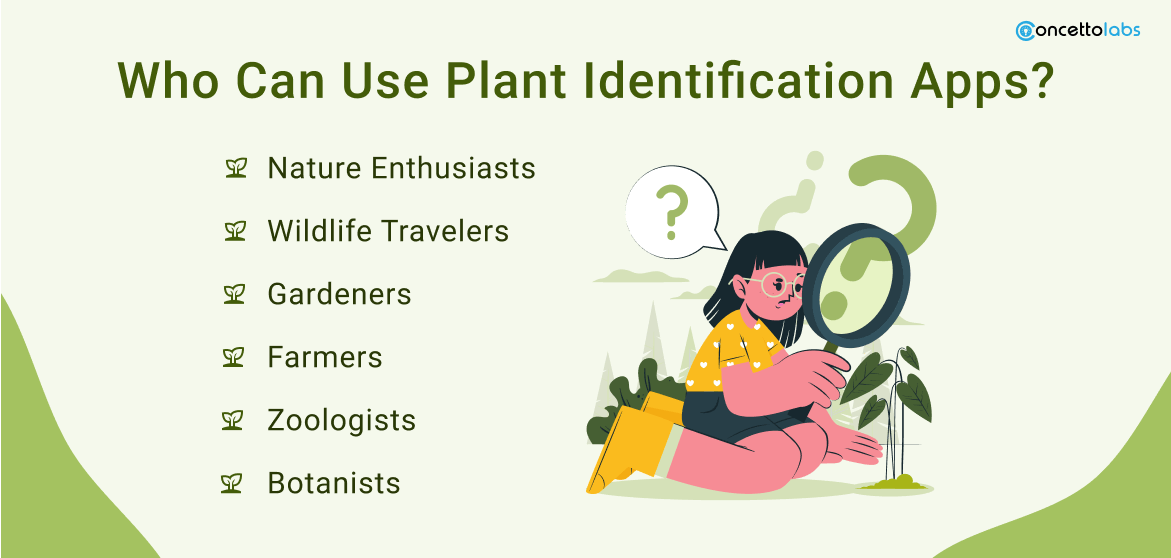 1: Nature Enthusiasts
People who love nature are always trying to know more about it. They like to observe and know about plants and flowers. A plant identification app lets them know details about any plant or flower surrounding them.
2: Wildlife Travelers
Travellers who love wildlife or jungles need to know what's around them and whether it is harmful. Wildlife travellers can keep themselves safe with apps that identify plants and use medicinal and edible plants when needed.
3: Gardeners
It is the responsibility of a gardener to take good care of plants in their garden. They usually know how to keep their plants healthy, but sometimes, they might need guidance on plant diseases and plant care instructions. Here, plant identification apps help a lot.
Ready to Develop A Feature-rich Plant Identification App?
Talk to Experts Now…
4: Farmers
Plant recognition apps recognize plants, flowers, pests, leaves, habitats, regions, etc. With these details, farmers can decide what crops to harvest and what pesticides needed to keep
5: Zoologists
What animals eat affect a lot to their health. Zoologists need to make sure they give the right food to animals. Plant identifier apps give details on what particular plants contain. This way, animals are fed non-toxic and healthy plants.
6: Botanists
Students studying botany need to work around plants every day. They study, research, and prepare various applications of plants and flowers. Botany students can make a community on these apps and store and exchange information on various plants. Hence, it provides great educational value to botanists.
What lessons can Startups, Botanists, and Biological Students learn from an App Like PlantSnap?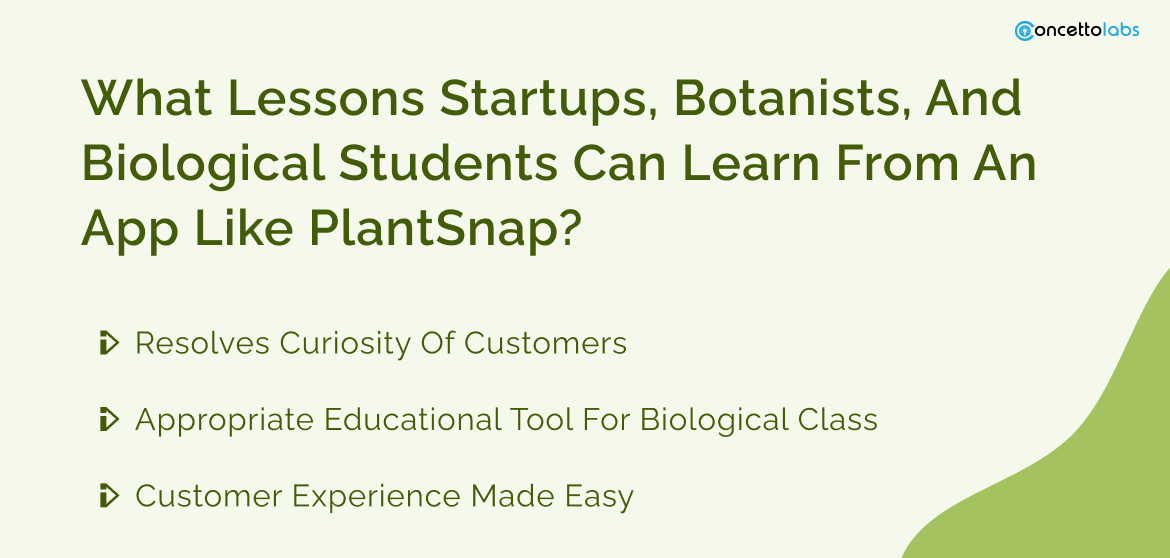 1: Resolves the Curiosity of Customers
The Plant Snap app is an easy way to end curiosity about various types of plants. A user has to take a photo snap of the plant and search for the photo in the app. The app identifies the snap and gives the user all the information stored in the database on their mobile app in seconds. This means one can know about any plant with a simple click on their phone.
The photo is stored in the app, which can be accessed by the user later on whenever required. This is all built up in the database, which is a vital part of a plant identification app. Integrating a database like Plant Snap into the app is important to make it quick and reliable for the customer. Hence, resolving the curiosity of the customers within seconds.
2: Appropriate Educational Tool for Biological Class
An app like PlantSnap can be really useful for botanists and biological students. Remembering the names or opening a book to learn about new plants, flowers, trees, and mushrooms won't always be necessary. This helps people learn about plants and flowers' medicinal properties and use them accordingly. But for this, the Plant identifying app needs accurate information as wrong information can also lead to harmful instances.
Hence, a Plant Snap-like can be useful for farmers, biological students, botanists, and ayurvedic pharmacists.
3: Customer Experience Made Easy
If you sell plants in-store, a plant identifier app can enhance customer experience and make your service more attractive. The customer doesn't need to wait for someone to attend. They can search more about the plants in a plant identifier app. Such an app will also help them to know the condition of plants in your store to know which ones are fresh and in better health.
How much does it Cost to Create A Plant Identification App?
The cost of building a plant recognition app depends on multiple parameters, namely,
The complexity of features,
whether you want to launch it on the Google play store or App Store or both
Design and interface of the app
Country for hiring app developers
With these $25k-30k for an app with basic features, building a plant-identifying app with advanced features can cost around $50000 to $60000.
Conclusion
Now that you know what a plant identifier app is, how it works, and the lessons to be learned from an app like PlantSnap, you can decide how much plant identification will help you. Plant recognition apps can be useful for gardeners, students, and nature enthusiasts.
Suppose you want to find top Android or iOS app developers to plant identification app development like PlantSnap. In that case, you can trust Concetto Labs, a top iOS and Android app development company. We will consult you about all the features you might need and the cost of developing a plant identification app. Our team of expert, dedicated app developers will help you understand and improve on the technical side of the application.
For any further queries or to book a free consultation, contact us at [email protected].
The post What is the Cost to Build A Plant Identification App? appeared first on Blog Concetto Labs.