Renting a car makes maintaining a Vehicle a relatively simple job for the user. There is no need to incur the high expense of purchasing the vehicle or to spend hundreds of dollars on its upkeep and maintenance. Perhaps your insurance will kick in, but you will be required to pay a significant amount of money even before your vehicle can be sent to the body shop for repairs. Renting an automobile eliminates the need to own cars and enables customers to avoid the expenses associated with vehicle upkeep. An Android app for car Rental services can help people to hire cars, some of which are more cost-effective than others. Here is a list for determining which cheapest car rental app is most appropriate for your requirements.
Looking to Rent a Car? Check the List of Car Rental Apps
Scroll Down
1. Enterprise Car Rental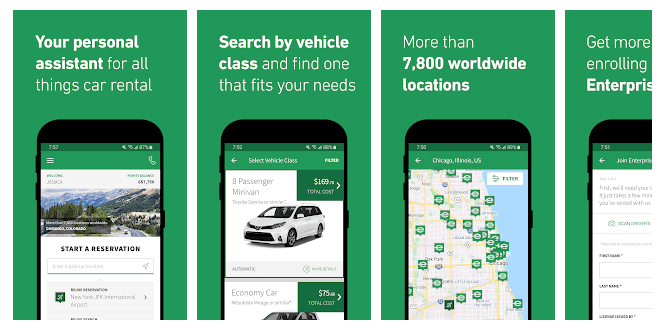 When people think about rental vehicles, one of the first companies that spring to mind is Enterprise. Enterprise is a well-known name and one of the best car rental apps. It is a well-established business that has built a reputation for delivering hassle-free bookings throughout the years. Additionally, it has one of the finest vehicle rental apps.
Reserving a vehicle via the app is just as easy and seamless as doing it in person. You may quickly and simply examine a map of your immediate surroundings and choose which Enterprise store is the most convenient for you. Once you've decided on a place, you may narrow down your search results by using filters with one of the best car booking apps you can find anywhere.
Download: Enterprise Android | iOS Apps
2. Hertz Car Rental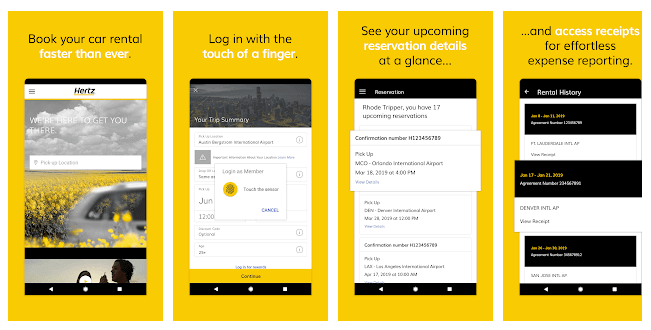 Hertz is one of the most recognizable brands in the vehicle rental business. Many Hertz outlets across the United States and even other nations, making it simple to get a rental car whenever and wherever you need it, and is one of the best car apps for iPhone. SpotHero allows you to pick up and drop off from various places, and you can even receive assistance locating parking.
It's straightforward to set up a new rental and manage your current rentals with Hertz's car rental mobile app, whether you need to alter the date and time of your pick-up or the location of your drop-off.
In addition, if you are a member of Hertz Gold Plus Rewards, you may manage and redeem your points straight via the application. Members of the rewards program may avail of car-sharing review, by logging in to the app using a face or touch ID to see a customized profile on the home screen if they have a rewards account.
Download: Hertz Android | iOS Apps Now!!!
3. Turo – Better Than Car Rental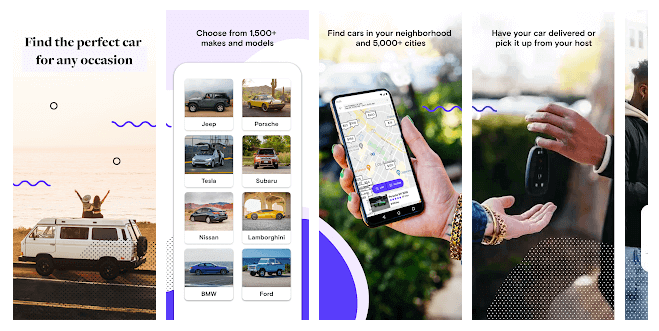 Turo is a car rental app that offers a fresh perspective on the industry. It's more of a car-sharing app, and it's the most popular of its type in the world. However, whether you are looking for a short-term rental for a mode of transport to and from work or a long-term rental for a road trip, Turo has a large selection of vehicles to pick from.
With over 10 million community members giving their vehicles for free, you'll have no difficulty locating a car in the United States, Canada, or the United Kingdom through rental car apps like Turo. And, if you want to make some money, you can also rent out your vehicle to others when they need it by sharing it with them.
Download: Turo Android | iOS Apps Now!!!
4. Skyscanner – cheap flights, hotels, and car rental
The Skyscanner app has interest at heart, and it is a fantastic tool for finding low-cost vehicle rentals. It breaks down every android car rental for you, informing you of the vehicle's fuel policy, insurance information, and other details to ensure you obtain the appropriate vehicle for your needs.
Aside from that, Skyscanner is another travel software that allows you to book a Car Rental, a hotel, and a flight, all from the exact location. Additionally, it is transparent in its selection of hotel rooms and travel options for you. Further, you may read reviews on rental vehicles written by other users to understand how a specific rental car business has performed in the past with its clients.
Download: Skyscanner Android | iOS Apps Now!!!
5. Alamo – Car Rental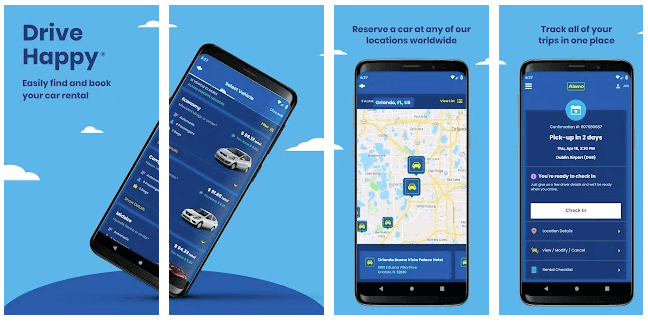 Alamo is a highly dependable vehicle rental app, and it is unquestionably one of the finest available. Finding the appropriate kind of vehicle for your needs, whether a small car or a bigger family-sized SUV, is simple with the app's intuitive navigation. The android car rental app will provide the mileage information connected with the vehicle and the number of people it can accommodate and the approximate number of bags it can carry.
You may save time while picking up your rental by entering your driver's license number, date of birth, and other information into the app ahead of time before you arrive. You can simply hop in your vehicle and drive away.
Download: Alamo Android | iOS Apps Now!!!
6. SIXT: Car rental, Carsharing & Taxi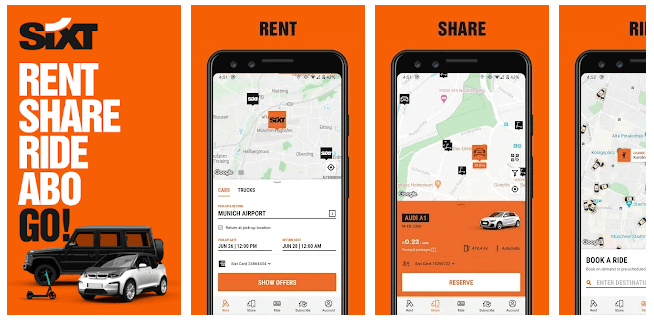 Sixt is an excellent app on hand if you often need vehicle rentals, car sharing, or taxi trips. It is free to download. If you need a limo, you may arrange for one via SIXT.
The app is available in over 100 countries. The combination of vehicle rentals, ride-sharing from independent drivers, and taxis make it a valuable tool to have on hand at all times. Furthermore, the filtering procedure could not be more straightforward. You may narrow down your search by vehicle type, the number of seats, and other factors.
Download: SIXT Android | iOS Apps Now!!!
7. KAYAK – Flights, Hotels & Car Rental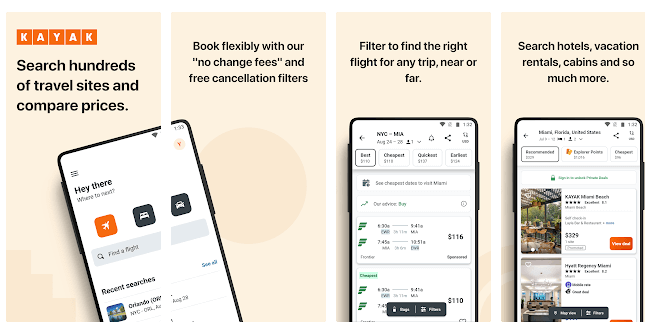 Kayak works by scanning hundreds of travel websites on your behalf, saving you the time and effort of conducting the same research on your own. When you use the app, you may save money on flights, hotel accommodations, and rental vehicles by taking advantage of exclusive offers and mobile-only prices. It is not only a hire car app but a trip-planning app that can be used anytime.
It is entirely free to use the Kayak Trips tool, which helps you arrange your trip plans by providing flight status updates, security wait times, and airport terminal maps.
Download: KAYAK Android | iOS Apps Now!!!
8. CARNGO Car Rental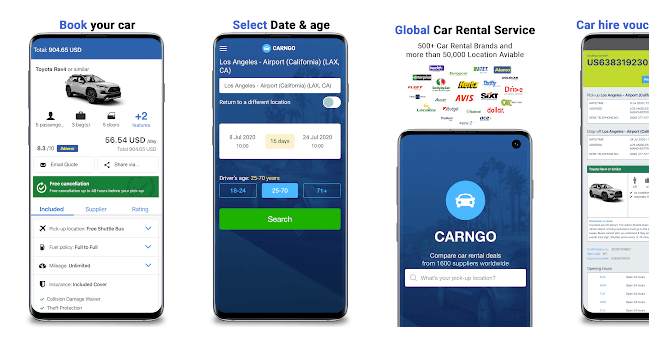 CARNGO acts as a middleman, coordinating with hundreds of international and local car rental businesses to evaluate costs and choose the most suitable vehicle for your next trip. It is the best android car app. You may enter your present (or desired) location, compare vehicle rental prices from several providers, and then pick the most advantageous offer. There are alternatives for modifying or canceling a vehicle reservation available in the app.
Download: CARNGO Android | iOS Apps Now!!!
9. Zipcar: cars on-demand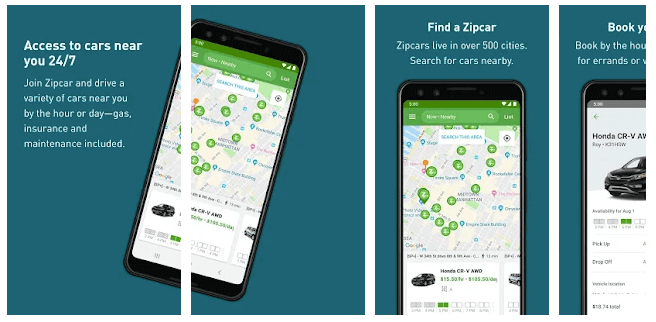 The ZipCar app is entirely free, and it assists you in choosing the rental car of your choosing not just in your immediate vicinity but also across the globe. This is one of the best Android apps for cars that allows you to reserve a car and then unlock a reservation later on. Gas, insurance, dedicated parking, and mileage are all included in the price of every reservation.
Download: ZipCar Android | iOS Apps Now!!!
10. Europcar international cars & vans rental services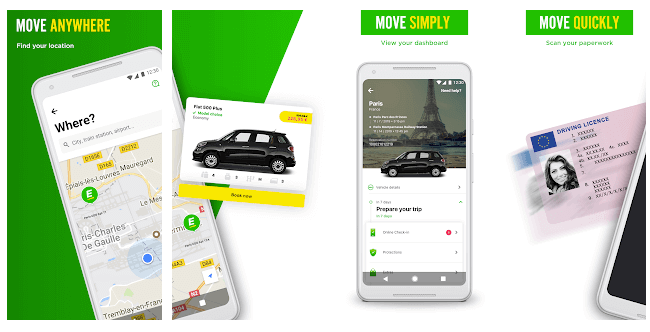 Are you searching for a vehicle rental app to help you rent a car or a van to travel with your friends? Look no further. Don't be concerned! Europcar will be able to assist you with this. Not only can you create a reservation, but you can also change or cancel it at any time of the day.
Bringing a kid onboard gives you the option of selecting from among the various child seats. With roadside help available 24 hours a day, you won't have to worry about your vehicle breaking down.
Download: ZipCar Android | iOS Apps Now!!!
Conclusion
An ideal taxi booking application can assist you in finding a rental vehicle that meets both your aesthetic and financial requirements. A lot of these applications help you find the most excellent bargain possible and ensure that you are getting the best ride possible for your money. Furthermore, using any car rental app to book a rented vehicle is far more convenient than speaking with someone over the phone or in person to make the arrangements.
Looking to develop a car rental app?
Contact us today!
The post Top 10 Best Car Rental Apps to be considered in 2023 appeared first on Blog Concetto Labs.