Android is one of the demanding Mobile OS, which covers a market of 85% with more than 4 million Android applications in the Google Play Store. Also, when it comes to building a mobile app, the Android operating system gets all Attention. Android Application Development is user-friendly and is leading the industry for years.
It is important to be aware of the current and future market trends if you intend to use Android app development services. You can be sure that your software will outlive the competition and satisfy customer expectations if you do this.
If we look at Android development's future, then there are many cool innovations done using the latest android development trends 2023. The coming years with Android application development are quite promising and helps to stay ahead of the competition. However, if you plan to create a digital product with Android app development, then read on and discover the top android development trends.
Get the Applications with Latest Trends today!
Schedule a Free Consultation
Mobile App Trends to Check Out in 2023
Android app development is essential for any company. Now, if you want to create an emerging mobile application that gets a lot of user attention, you must follow all the most recent trends.
All the most recent mobile app trends that will dominate the Android market in the years to come will be covered.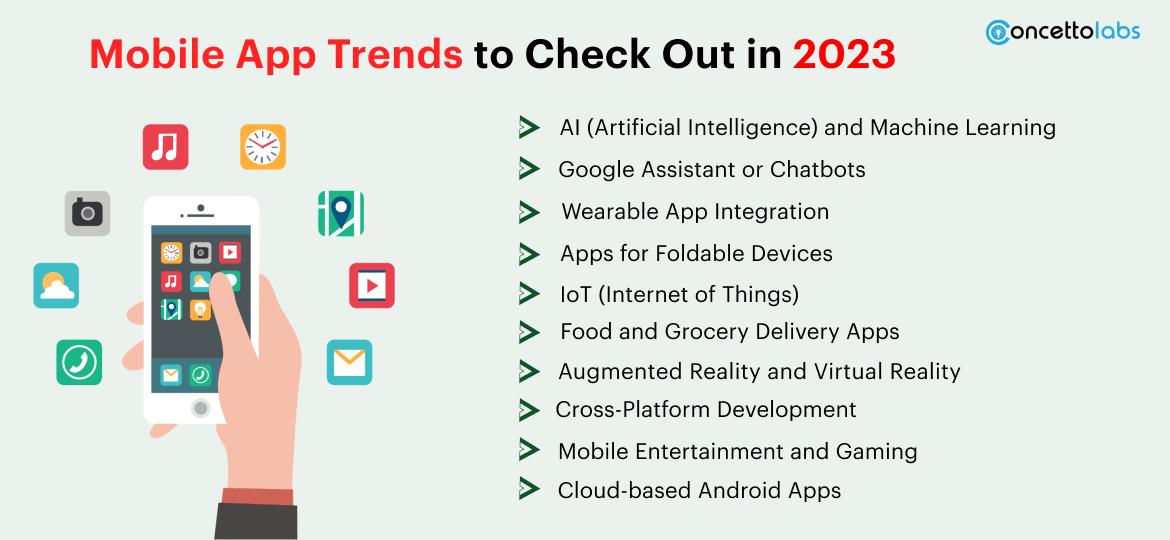 Jump Down:
1. AI (Artificial Intelligence) and Machine Learning
2. Google Assistant or Chatbots
3. Wearable App Integration
4. Apps for Foldable Devices
5. IoT (Internet of Things)
6. Food and Grocery Delivery Apps
7. Augmented Reality and Virtual Reality
8. Cross-Platform Development
9. Mobile Entertainment and Gaming
10. Cloud-based Android Apps
1. AI (Artificial Intelligence) and Machine Learning
Every firm now has access to a significant amount of processing power due to cloud computing, making it simpler to develop AI models that support routine processes or carry out tasks. According to one AI development company, readily available artificial intelligence can boost productivity by 40%.
The solutions' adaptability is both a strength and a drawback in the development of AI. They can be used to automate a variety of tasks, such as data analysis, image identification, and natural language processing.
Additionally, the training process alone requires a lot of computing. The currently trained neural network can be introduced and used in intelligent devices effectively without using the processor.
Reasons behind the popularity of AI (Artificial Intelligence) and Machine Learning Applications
Large Dimension.
Evolution in Technology has led to the adoption of machine learning by large corporations.
Machine learning is a development in technology, not a fad or hype.
Decreases overload
Currently, there is a lot of data available.
Time and money are saved by machine learning.
2. Google Assistant or Chatbots
Chatbots are computer programs that mimic human speech. They are increasingly used to interacting with people and are regularly used to provide customer support or other services. As a more efficient and useful way for people to interact with computers, chatbots are gaining in popularity. They automate tasks that would typically require human intervention.
Among the most recent capabilities of chatbots are:
easily comprehend human language
Quickly respond to human inquiries
Create artificial language
Quickly complete chores like ordering food, sending menus, and booking tickets.
Benefits of Google Assistant and Chatbox
It provides immediate solutions based on current data.
Simple Google Assistant integration across several devices.
It can change over time thanks to artificial intelligence.
It is simple to distinguish between various voices.
Able to easily handle several commands at once.
Simple integration across several AWS platforms.
Adapt in several programming languages.
Understand natural languages.
3. Wearable App Integration
It's a technology that grows progressively all around the globe. Based on Statista, connected devices are expected to reach 929 million by 2022. By using technological advancement, one can independently operate from their own devices. Wearable apps are rising its popularity wearable gadgets utilizing the Android SDK with exceptional design and functionality.
Benefits of Wearable App Integration
They assist you with gathering precise, observable data about your physical activity.
Users can identify their areas for growth and develop the appropriate action plans to achieve their health and performance objectives.
They can transmit data and do computations.
Their user-friendly interface and ergonomic design are quite helpful.
The fabric and clothing of the future will be able to use both touch and gestures to operate electronic gadgets.
4. Apps for Foldable Devices
According to Statista, more than 50 million foldable devices will now be delivered this year. Therefore, any strategy for creating mobile apps for the future should take foldable devices into account. The difficulty is ensuring that the software runs faultlessly on all foldable devices.
It is well known that unfolding a smartphone will result in a larger screen. A larger screen will therefore offer a rich, immersive experience. Multitasking is also possible when you have multiple windows open. The huge screen may be used to its advantage by giving gaming and streaming video apps more information and controls. Therefore, how to build apps while taking into account screen size will be one of the main trends in 2023.
Why are Apps for Foldable devices in Trend?
larger screens for displays.

flexibility in changing display states.

You can attend to communications and quickly scan through notifications because of its multitasking feature.

Features for managing multiple windows are offered.

As the phone gets bigger, the hardware takes up unnecessary space.
5. IoT (Internet of Things)
Implementing IoT is one of the other trends that's rolling around the world. It allows developers to build devices on top of popular hardware platforms such as Raspberry Pi. For this, developers do not need any knowledge of the embedded system to get started. Instead, one develops apps that use Android SDK and Android Studio. Get connected with your app to Google services and integrate extra peripherals. Once you're done with IoT app development, get started with publishing your code to devices.
Advantages of IoT
Asset and resource visibility in real-time.
decreased costs
increased the effectiveness of operations.
insights from data for making decisions quickly.
complete remote asset/resource management and monitoring.
insights that are current, predictive, and prescriptive.
increase end-user satisfaction.
6. Food and Grocery Delivery Apps
After the lockdown, people started spending more time at home and depending mainly on meal kits and applications like Instacart. These two app categories have consequently had some of the quickest growth throughout time.
By 2029, the market for all meal delivery apps is projected to be $320 billion. The most widely used food delivery app is UberEats, while Delivery Hero has the most users overall. With a market share of more than 50% in the US, DoorDash is the most well-known meal delivery service. By 2023, it is anticipated that digital grocery sales in the US will amount to $59.5 billion.
Benefits of Food and Grocery Delivery Apps
Customers' Discounts & Offers:
improved interface
Easily recognizable
Locating locations near restaurants using GPS.
Payment system, push notifications, in-app delivery tracking in real-time;
Excellent performance
Use location-aware notifications to connect with customers more deeply:
Provide mobile ordering for takeout or delivery with a menu available
7. Augmented Reality and Virtual Reality
One of the best examples of AR/VR is Pokemon Go. They have used AR and VR technology which stands on top of the mobile app development trends. Google is all set to innovate tons of new AR uses, and the best example is Google Maps. It provides people with directions from their camera phones in real time. Statista's study says, by 2022, AR integration would be one of the latest android development trends 2022 to give a seamless experience to users.
Benefits of Augmented Reality and Virtual Assistance Apps
Offers distinctive client experiences
It reduces mental fatigue.
increases user interest
differentiating through competition
Integrated learning
Analytics in real-time
8. Cross-Platform Development
In these times, it isn't new to have Mobile app security. People have admitted that they need to give security to gain attention from the audience. Most businesses are today investing more in cybersecurity which directly links to data protection and information privacy policy. Research shows, by 2023, the mobile app development industry would shift its security approach by laying the roadmap for using robust strategies. Hire Android Developer and get the best possible services from us.
A cross-platform mobile application can run on any iOS or Android platform with a single codebase. Using code once, it becomes easy to save money and time. Also, you can reach out to more clients using that app with the same functionality and features. Several businesses, such as Walmart, BMW, and Instagram, have cross-platforms.
Reasons of Popularity
Maximum Target Audience
Exposure Lower Development Cost
Simpler Maintenance and Deployment
Better Time-to-Market
Customization with a Quicker Development Process
Reusable Code
Consistent Design
9. Mobile Entertainment and Gaming
AMP is an exceptional technology that provides a smart strategy for publishers to boost visibility in mobile search. It helps to improve SEO and organization to speed up a performance that impacts website ranking. Google says an AMP website loads four times faster than an average non-AMP website. Therefore, using AMP in SERPs helps to drive more traffic to your website.
It is impossible to spend a day without apps for entertainment and games. There are approximately 74% active Netflix users in Canada and the USA. There are 159.1 million people playing games on mobile phones which is around 89% of the population in the USA.
Benefits
There will be no need to buy expensive devices such as laptops. Users can enjoy it on mobile devices as well. Also, there will be no need to stay in one place to watch movies or play games.
Instead, they can amuse themselves while traveling.
Playing games and using entertainment apps has become more immersive because of technological breakthroughs like AR, VR, and artificial intelligence.
10. Cloud-based Android Apps
Nowadays, Mobile apps become difficult without cloud space. Therefore, most organizations and app developers turn towards using cloud-based apps, which simplify the heavy loading burden. Keep your data safe and secure by storing data in the cloud, without using phone memory. Now access the app easily anytime and anywhere.
Benefits of Augmented Reality and Virtual Assistance Apps
Offers distinctive client experiences
It reduces mental fatigue.
increases user interest
differentiating through competition
Integrated learning
Analytics in real-time
Development Cost and Examples of the Above Applications
| | | |
| --- | --- | --- |
| Application Type | Development Cost | App Examples |
| AI (Artificial Intelligence) and Machine Learning | $30000 to $300000 | Netflix, LinkedIn, Tinder |
| Google Assistant or Chatbots | $40,000 to $55000 | Apple Siri, Google Assistant, Amazon Alexa, etc. |
| Wearable App Integration | $50,000 to $2,50,000 | City mapper, Uber-Driver |
| Apps for Foldable Devices | $9500 to $50000 | Google meet, Microsoft office, Kindle |
| IoT (Internet of Things) | $20,000 to $60,000 | Healthcare, Smarthomes, agriculture |
| Food and Grocery Delivery Apps | $40000-$200000 | DoorDash, goPuff, Seamless |
| Augmented Reality and Virtual Reality | $250,000 to $800,000 | IKEA place, Augmentir, Apple AR kit |
| Mobile App Security to gain Attention | $5,000 – $50,000. | Firewalls, Antivirus system, data encryption |
| Mobile Entertainment and Gaming | $3 000 to $150 000 | Disney+, Pluto TV, Google play games |
| Cloud-based Android Apps | $25,000 to $50,000. | Salesforce, digital ocean, Dropbox |
Related:

Top 10 Mobile App Development Trends That Will Rule IN 2023
Final Thoughts
We'll find a zillion of mobile apps available in Google Play and other play stores. With the above mobile app development trends, we can say that the mobile app industry will continue to grow and expand rapidly. Therefore, we need to stand out in this highly competitive development space. For that business leaders must stay with the trends.
Emerge mobile app platform development technologies with rising backend platforms and microservices. Use the combined new hardware technologies and trends and continue to steer mobile apps' evolution. Hire Android App developer and build scalable, robust, and reliable mobile apps.
Top-android-application Development-trends
Contact Us
The post Top Android Application Development Trends 2023 appeared first on Blog Concetto Labs.