Today's business users are always looking for methods to simplify their lives and use less energy. They're probably also seeking a system that can switch between Apps, programs, gadgets, etc. But few people know the differences between Microsoft power automate and power apps.
Companies are increasingly shifting toward total automation, whether developing their specific custom applications or automating every manual workflow. In addition, 86% of workers think automation would make their jobs more accessible and productive.
The distinctions between these two main Microsoft products are not widely known. Read this blog to learn the main differences between PowerApps and Power Automate.
Introduction to Microsoft PowerApps
The Microsoft Power Platform also includes Microsoft PowerApps, which enable users to rapidly and anywhere construct unique, no-code business applications.
We know how difficult and time-consuming it may be to create unique solutions from nothing utilizing pre-existing applications. If you have no prior programming skills, it's even more difficult. PowerApps takes care of all that hassle, ensuring that your company won't have to worry about developing creative business solutions.
Microsoft power automates overview.
Imagine a scenario where you could eliminate the time you currently waste on tedious and repetitive duties. Imagine living in a world where you could have your workflows work for you as you attended to the important things. Stop worrying because Power Automate has brought that universe into our world.
Microsoft describes power Automate as a "feature that assists you in building automated workflows between your favorite apps and services to sync files, receive notifications, gather statistics, and more."
Consider it your comprehensive toolkit for automating your cumbersome and laborious operations. It is important to note that Power Automate, along with Power BI and Power Virtual Agent, is a member of the well-known Power Platform quartet.
Power Apps vs. Power Automate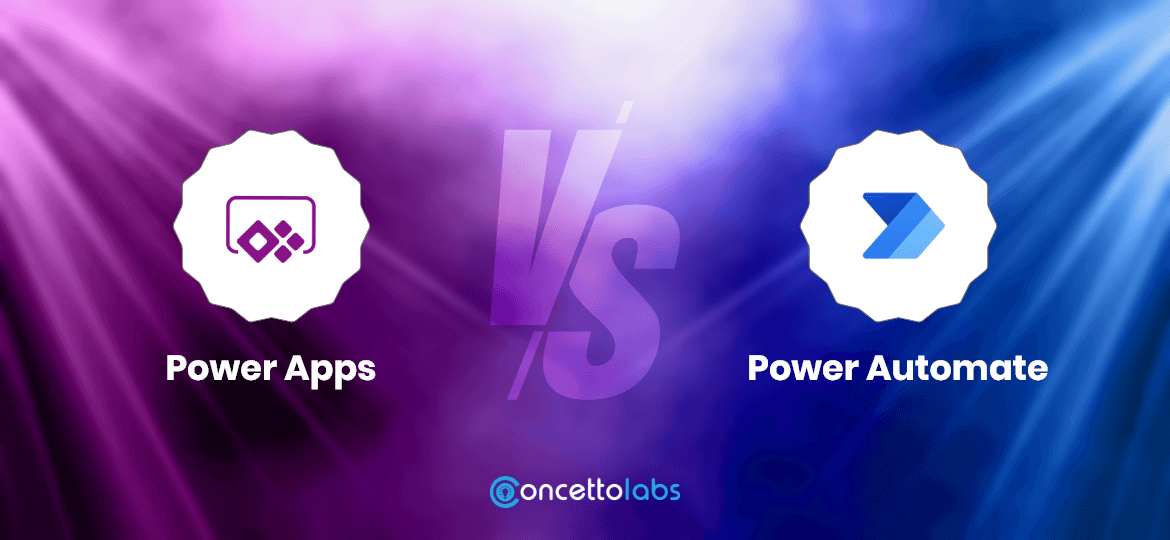 1. Pricing Structures
When considering the broad picture, there are several significant differences between Power Apps and Power Automate that can assist businesses in selecting the best strategy for their needs.
PowerApps development company now offers three different business plans. Under the Per-App Plan, each user and app costs $5 per month. Each per-app license provides access to a single app (canvas/model-driven) or Power Apps Portal. Time management is the goal of this technique for businesses.
The following option is the Per User Plan. It's a straightforward concept: for $20 per month, consumers can use as many Power Apps as they want, provided they don't breach any service limits. Pay-As-You-Go is an alternative. Customers who have this subscription can buy Power Apps with an Azure subscription.
There are two pricing tiers for Power Automate, formerly Microsoft Flow. The original and most widely used plan is the Per User Plan, which has a monthly cost of $15 per user. Customers can use this to control the flow of as many clouds as they want, based on their needs. It is possible to buy extra flows separately.
The Per User Plan with Attended RPA is the second choice. Comparable to the per-user bundle, but with exclusive access to RPA and AI. Each month, you will receive 5000 AI Builder service credits in addition to 1 active, attended RPA bot. Another plan is the Per Flow Plan. For five flows, this subscription costs $500 per month.
2. Automation
PowerApps and Power Automate can both automate corporate processes and workflows.
Anyone may create original bespoke apps with PowerApps using pre-built templates, drag-and-drop ease, and rapid deployment. In the end, you get fully modernized processes that enable your team to overcome complex problems and concentrate their efforts where they are most required.
The automation features offered by Power Automate are a little different and, dare we say, more sophisticated. The platform includes pre-made templates from which you can select a workflow and start immediately. Alternatively, you might use in-app simple, step-by-step processes to create your workflows from scratch.
3. Safety and Privacy
Power Apps and Power Automate are both easy to use in securing user data, setting access levels, and applying privacy restrictions.
A high-level description of how Microsoft Data verse implements a reliable security paradigm is given below:
Azure Active Directory uses user authentication (Azure AD)
Licensing is the primary barrier to accessing platform components for PowerApps users.
Sharing the business application with the user controls the user's access to see and utilize applications.
Security roles within environments regulate who can create business apps and processes.
4. Managing Documents
Using powerful low-code websites known as Portals, Power Apps enables directly storing and showing documents to and from SharePoint in a simple or sophisticated form.
With Power Automate, real-time documentation is straightforward. All you need to do is build up a document management process.
The automation features offered by Power Automate are a little different and, dare we say, more sophisticated. The platform includes pre-made templates from which you can select a workflow and start immediately. Alternatively, you might use in-app simple, step-by-step processes to create your workflows from scratch.
5. Collaboration
The "new normal" very much includes remote work. Currently, 62% of workers between the ages of 22 and 65 work remotely at least periodically. Not to mention that 16% of businesses worldwide operate entirely remotely. If these numbers indicate, implementing collaboration software for your company should be a top priority.
Power Apps and Power Automate are two applications that compete to be the best choice for your remote office within the Microsoft Power Platform ecosystem.
However, there is a significant catch: for the collaborative potential of both technologies to be fully fulfilled, Microsoft Teams integration is required.
You can make use of several advantages when integrating Power Apps with Microsoft Teams, including:
Meetings: You can plan, hold, and link meetings to calendars
Outlook Calls. You can still make your call using the platform even if the person you're calling doesn't have a Teams account.
File exchanging: With the software, you can create Excel, Word, and PowerPoint documents and communicate in real-time on the same page.
Businesses can combine flows and fill organizational workflow gaps using Power Automate and Teams. For instance, you may quickly and on the go create a Teams meeting using the new "Teams connection" function.
How Power Apps and Power Automate Can Boost Innovations Together?
Power Apps and Power Automate are both tremendously strong on their own. However, they work even better as a team.
By using these two platforms, you can get an advantage at a time when a staggering 41% of businesses continue to advance. Older software may promise more stability, but it inevitably prevents your team from unleashing its creative potential. Your team will ultimately do the bare minimum and not drive your business toward true excellence.
PowerApps, a low-risk method of accelerating innovations using non-code or low-code custom solutions, is one option. Power Automate, one of the most powerful automation platforms ever made, is available as an alternative. With easy access to over 200 connectors and a plethora of Azure resources, Power Automate provides a surefire approach to make your innovation journey "a walk in the park" rather than a difficult one.
Power Automate and Power Apps are unlike any other two services in the entire Microsoft Business suite in how well they operate together.
Which is Better for Your Workplace?
Choosing between PowerApps and Power Automate is ultimately a business decision. The best option for your business will rely on several variables, including the particular business use case and how you intend to use your apps. When choosing how to use these two technologies most effectively, you might consider the following two use cases. The first method is developing a more excellent app and using them as the building block to construct a more complicated app. The other involves using them to build a customized solution or a hybrid app.
Final Words
Depending on the circumstances, you can utilize PowerApps or Power Automate to the fullest extent. Microsoft PowerApps can be an excellent tool for developing a unique solution for small enterprises with a constrained user base. Let's take an example where you wish to employ a real-time analysis-supporting online collaboration platform with a team of five people working on a project. PowerApps can assist you in building an app that will provide you access to all the data being gathered and visualizations and graphs to help you better understand what's going on.
It can be challenging for large enterprises with thousands of users to choose between the two technologies. In this situation, you should assess which tool has the most potential to assist you to succeed more. Power Automate can help you in this situation by developing a hybrid app that will enable you to gather your team's data, offer real-time analytics and visualizations, and work with your team remotely.
Contact our team at Concetto Labs for any Microsoft Power Automate Consulting Services. We will be glad to help you!
Microsoft Power Automate
vs PowerApps
That's exactly what we do
Contact Us
The post Microsoft Power Automate vs PowerApps [Updated] appeared first on Blog Concetto Labs.