Introduction:
The year to follow will be a great one, given the worst of the lockdowns have eased up, and the party and nightlife are about to be restored to their former glory. While there are so many apps for food and restaurants, there is a gap in providing the best alcohol delivery apps. Alternatively, wine is the go-to selection for many this holiday season, which requires the best wine apps. Finding a good wine-searcher app that can tell you everything about the brand is a must-have in the party inventory for the upcoming festivities. Our blog will list the ten top wine apps on Android and iOS. Are you excited to read about them? Let's get started right away!
Our Top 10 Picks of Wine and Spirit Apps for 2023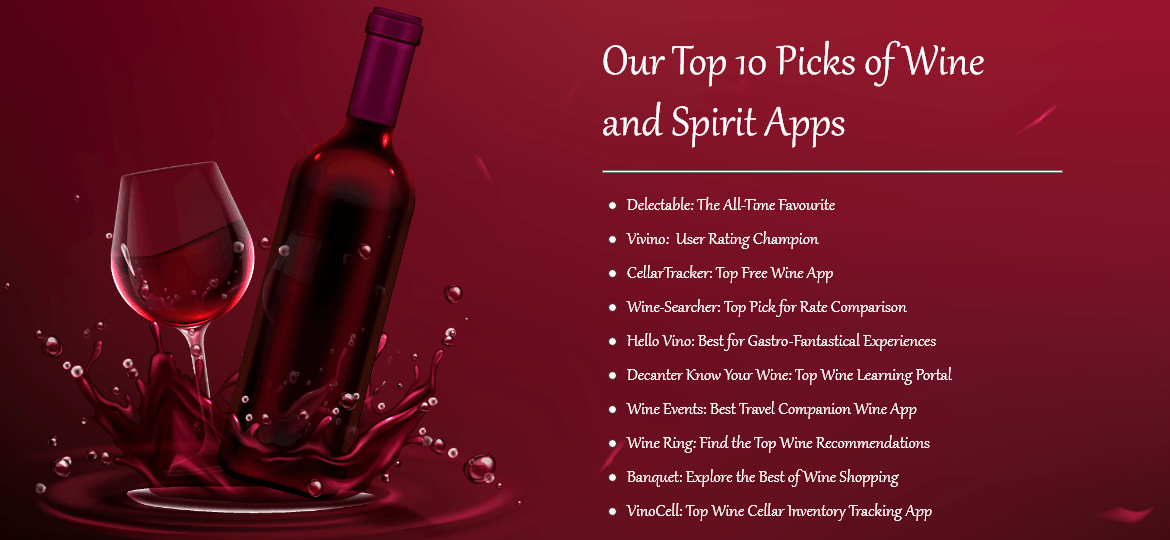 1. Delectable: The All-Time Favourite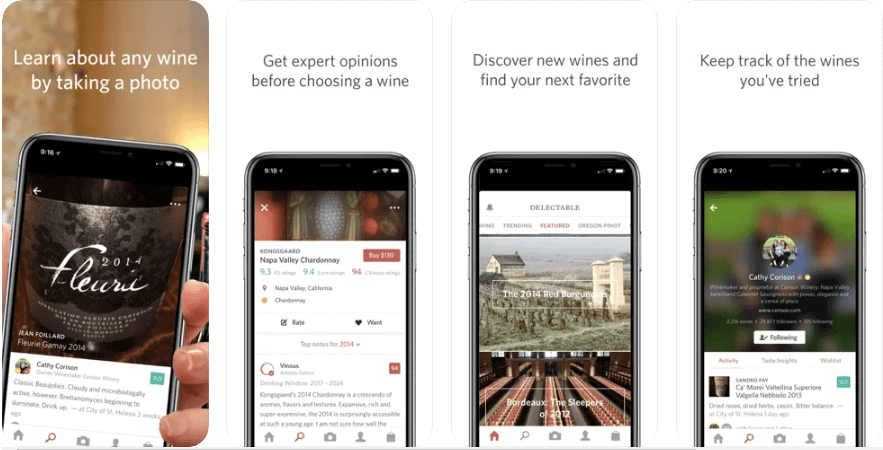 Delectable is one of the most in-demand apps and our top pick due to the spectacular social features and discoverability in 2023. Wine lovers can download Delectable to scan, choose to connect with other users and read more from wine connoisseurs globally for wine recommendations and other exciting updates. Delectable users can browse the app's wine selection lists to discover new collections and make a personal journal to write about their favorite brands and experience. Unlike other apps that only stick to wines, Delectable includes beers and spirits.
What we love about Delectable:
Downloadable free version
Works on all beers and spirits
Quick scanning
Awesome social features
Economical In-app purchases start at $1.99/item
Email Customer Support
A great wine bottle barcode scanner app
Drawbacks:
The registry does not include all brands and labels
Download: Delectable iOS Apps Now!
2. Vivino: User Rating Champion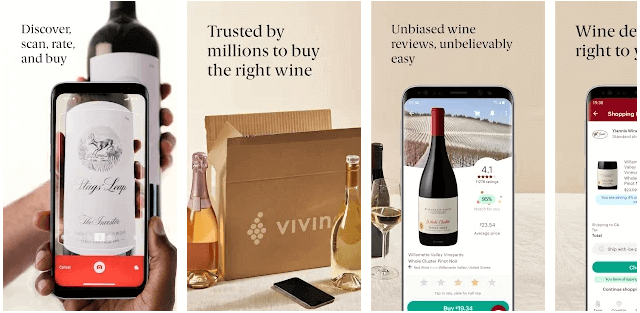 Vivino makes wine less for the blue-blood elites and makes it more approachable. This app is for novices and seasoned connoisseurs to choose the best wine for them. When it comes to Delectable vs. Civino, this delivery app development sports 20 thousand new downloads each day and 53+ million app downloads to date. Vivino application is the best wine app android possesses at the moment. The crowd-sourced data helps users curate personalized recommendations for wines and alcohol, making beer apps like Vivino a crowd-pleaser.
What we love about Vivino
Downloadable free version
Globally the largest directory
Affordable subscription plan: $4.99 per month for Premium
Personal recommendations for wines and spirits
Email, telephone, and help center customer support
Drawbacks:
Lacks a few brand inclusions
Download: Vivino Android Apps Now!
3. CellarTracker: Top Free Wine App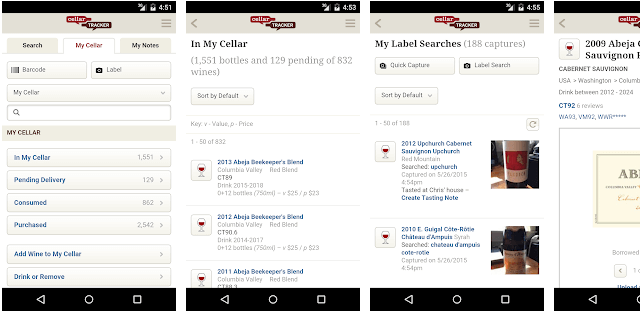 CellarTracker is the best free wine app for people who wish to track their cellar collections. Food and wine app users look for easy collection management, which CellarTracker makes easy with the UPC given on each bottle. Alternatively, you can use this app's search engine if the bottles have no UPCs. You will find reviews and tasting notes curated by pros and members in their database, which helps select the correct brand. Like Vivino tracking, CellarTracker helps members track the prices of every bottle if they plan to sell their wine.
What we love about CellarTracker:
Open to all and free
Extensive customer support via Email, help center, chat, and a members' forum.
Drawbacks:
There is no manual entry system for the users if they wish to add more detail.
Download: CellarTracker Android Apps Now!
4. Wine-Searcher: Top Pick for Rate Comparison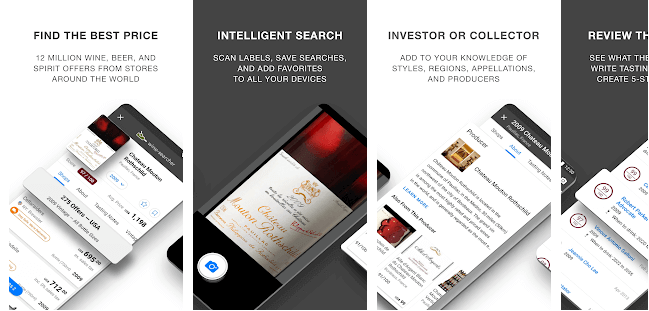 Wine-Searcher gives you an easy way to find and compare wines based on many factors. Users can find the details about a wine bottle by scanning the label or looking up the name. You'll find professional ratings, reviews, and retail prices when you search for a bottle. The app allows users to compare the prices of wines across multiple years. You can view a price graph to track the changes in a bottle's MRP over time.
What we love about Wine-Searcher
Free version available
Subscription plans: Pro: $8.49/month
Support available: Phone, Email, Contact Form
Drawbacks:
Lack of socializing feature
Download: Wine-Searcher Android Apps Now!
5. Hello Vino: Best for Gastro-Fantastical Experiences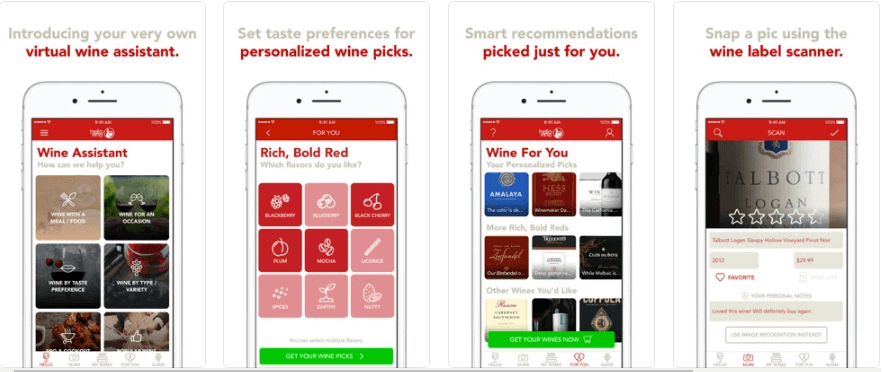 Hello, Vino is the best app in the market for obtaining food pairing ideas and wine recommendations on the go. While other apps may offer basic food pairing recommendations, this app is meant to act as your sommelier, giving you wine suggestions for meals and special occasions based on your personal preferences.
What we love about Hello Vino:
Free version available
Wine gift recommendations
Personal recommendations
Wine rating forum
Support available via Email, phone, and a contact form
Drawbacks:
Download: Hello Vino iOS Apps Now!!
6. Decanter Know Your Wine: Top Wine Learning Portal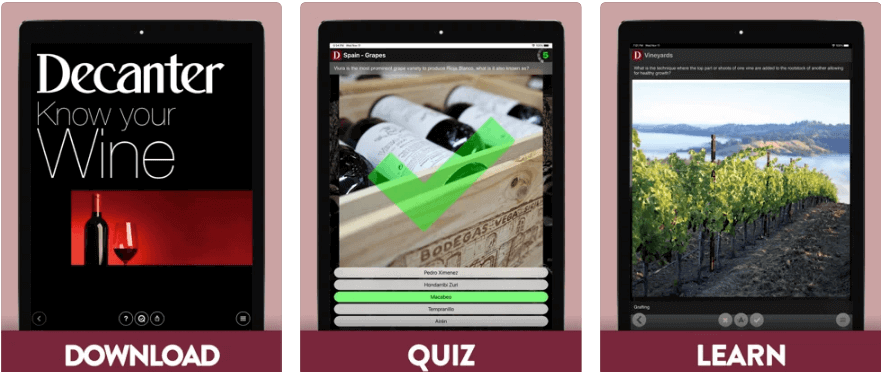 Many of the apps in this review are ideal for seasoned wine lovers who wish to explore new wines and add to their collections. However, for newbies, Decanter- Know Your Wine is the best choice to improve their wine knowledge. The free version includes ten learning modules, and users can unlock more through in-app purchases or a monthly subscription.
What we love about Decanter:
Free version available
Free quizzes
Customer support via Email
Drawbacks:
Lack of reliable support for members
Download: Decanter Know Your Wine iOS Apps Now!
7. Wine Events: Best Travel Companion Wine App
Traveling is a joy when you don't have to struggle with a hundred pages searching for the best wines in town. Why not find wineries and events in the area to explore instead? Wine Events is one of the best wine apps for iPhone if you're outdoorsy. Founders created Wine Events to assist members in finding global and local wine tasting fests and events.
What we love about Wine Events:
Free version
Wine events database and food ideas
Crazy event discounts
Drawbacks:
Events and pages open on the browser rather than the app itself.
8. Wine Ring: Find the Top Wine Recommendations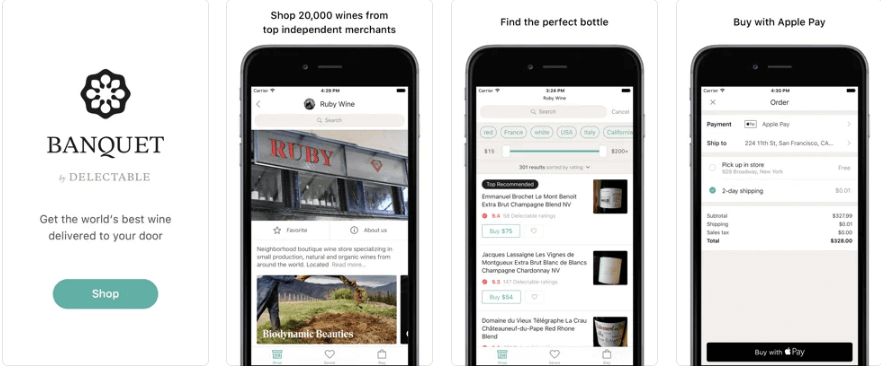 Wine Ring is an ace app to delivers personalized recommendations to the users depending on your wine ratings and personal preferences. If you're a tech geek, this app will blow your mind. Machine Learning will help users curate wine recommendations based on their activity on the app. A bonus is to scan the wine bottle at a store and determine if the composition is to your taste.
What we love about Wine Ring:
Free version
Support database available
Wine label scanner
Demerits:
No curated pairing with food.
Download: Wine Ring iOS Apps Now!
9. Banquet: Explore the Best of Wine Shopping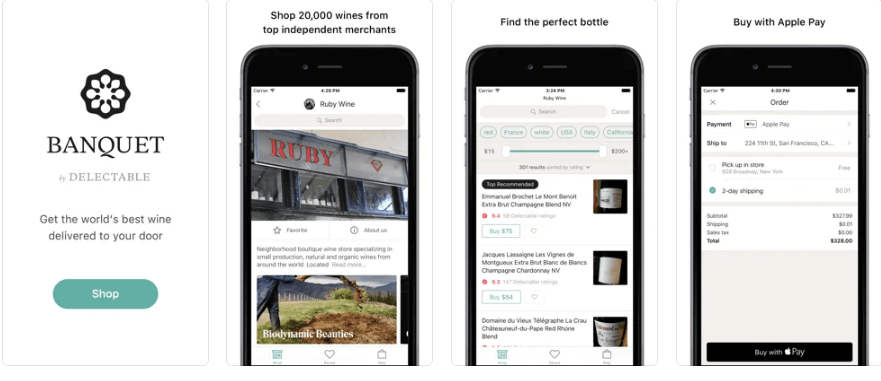 The banquet is one of its kind, being the only wine marketplace that's reliable. The banquet is a creation of Delectable, which connects you to independent and boutique wine merchants. However, this applies to the United States. Users can search for wines filtering them per price, theme, notes, composition, etc. The wine collection contains more than plenty for you to order.
What we love about Banquet:
Free version on iOS is available
A curated collection of 20+ thousand wine types with merchants
Demerits:
Download: Banquet iOS Apps Now!
10. VinoCell: Top Wine Cellar Inventory Tracking App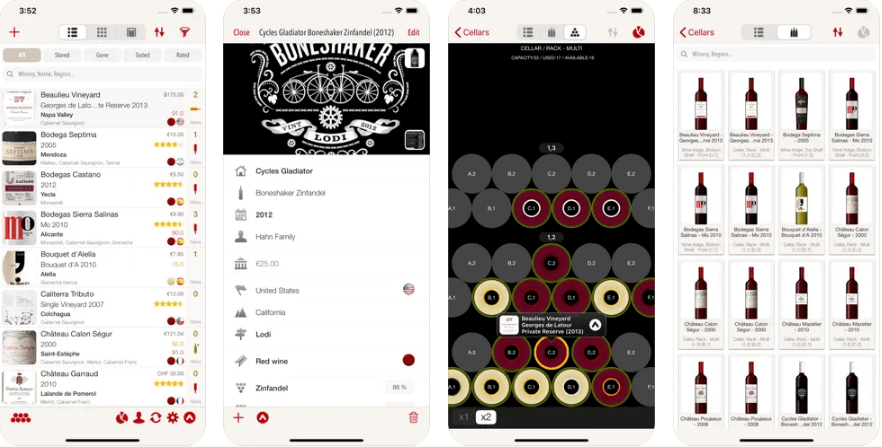 VinoCell is one of the best on-demand wine apps for an extensive collection of wines and needs better cellar management. VinoCell works well with all devices, including iPads. It becomes effortless to use the search tool to include more wines in a user's collection. The detailing is excellent with adding pictures, 50 fields, and a graphical representation of the cellar.
What we love about VinoCell:
No subscription plans
Email and FAQ support are available
Wine inventory with over a million wines in the database
Demerits:
No free version is available
Not available for Android devices
No label scanner
Download: VinoCell iOS Apps Now!
Wrapping Up:
As you can see, there is a vast market available for more wine apps globally. We hope you liked these roundups and would love to help you set up a stellar wine app for the Indian market. If you want to get a wine app like Banquet or Decanter, Concetto Labs is an on demand app development company at your service. Our team has multiple years of expertise to create apps from scratch or low/no-code, depending on the customer's preference. If you'd like to know more about our mobile app development service offerings, contact us at Concetto Labs today!
Are you in search of developing an App for Wine Aficionada?
Hire our Developers today!
The post The Best Apps In 2023 For Wine Aficionados appeared first on Blog Concetto Labs.