Mobile applications have become a basic necessity now. These statistics show it clearly.
A smartphone owner uses ten apps daily, while 30 in a month.
49% of smartphone users open an app more than 11 times in a single day.
With the vast popularity and demand of mobile applications, more businesses are developing mobile apps to promote their businesses. But the biggest concern among entrepreneurs is the cost of developing a mobile application.
They are always bothered about the budget for developing mobile applications. In addition, they are concerned about the hidden costs that can increase their App Development budget.
In this blog, we will discuss the cost of building a mobile application with detailed factors and features that affect the overall cost.
How much will the app development cost?
The answer to this question is not straight. The cost of developing a mobile application is not the same for each App. Many factors affect the cost; thus, we cannot directly answer the question- how much will it cost to build an app?
So what are the factors that compose the ultimate cost?
The geographic location of the App development team
How You Hire: In-house, Outsource, Freelancer
Mobile App Type
The complexity of your App
Features & Functionality
App development platform: Android, iOS, or Hybrid
Additional Costs
App Maintenance Costs
Factors Affecting The Cost Of Developing An App According to a survey by GoodFirms:
Developing a simple app ranges between $25,000 to $59,000.
Developing a complex app ranges from $36,000 to $85,000, while an advanced app costs between $59,000 to $137,000.
But how is this calculated? What are the factors that affect the cost of an application? Let us look at them.
How You Hire: In-House VS Outsource VS Freelancing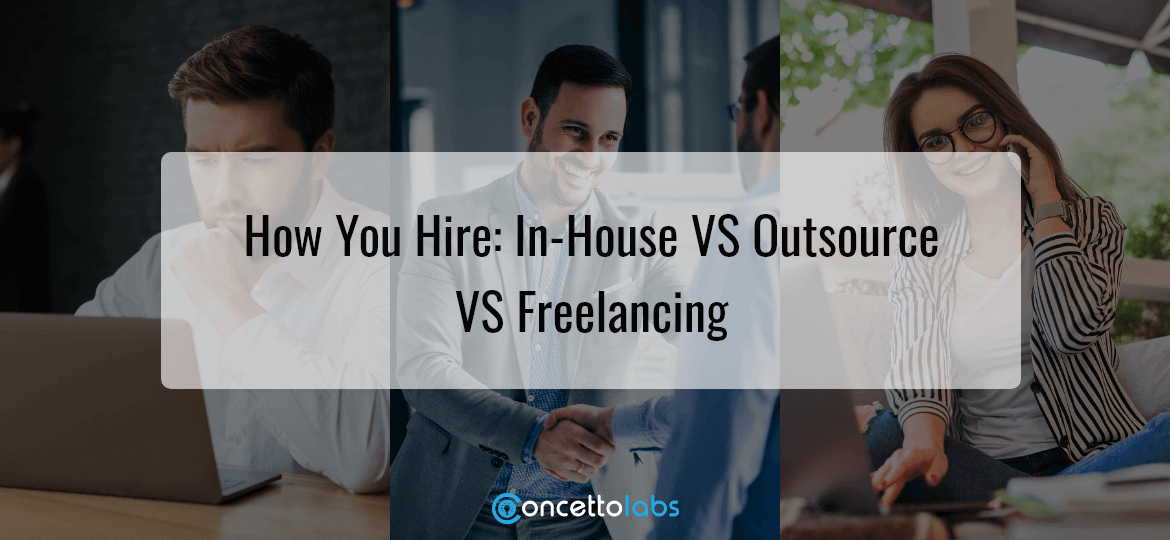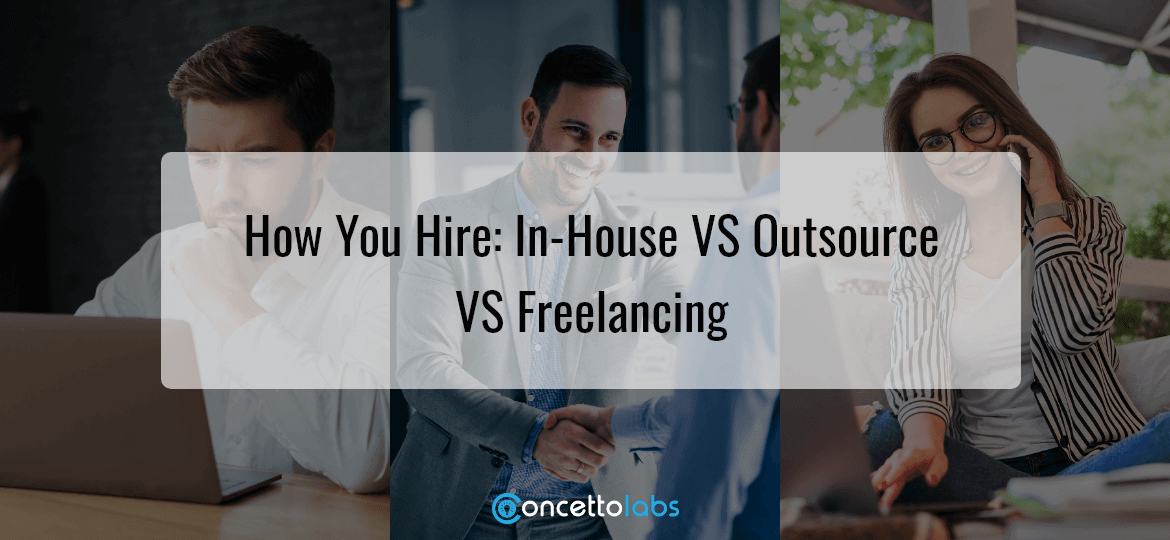 You want to build a mobile app, so you need a mobile app development team. There are different ways in which you can hire app developers.
1. In-House Team
The first option is to hire an in-house app development team. Hiring an in-house team is the most reliable option if you build complex and high-budgeted applications.
Pros Of Hiring an In-house team
Direct Communication
Greater Control
Immediate Availability
Cons Of In-house Team
Local reach
Huge initial investments
Office Infrastructure expenses
2. Outsourcing Agency
You can count on outsourcing agencies when you need a trusted team of mobile app developers on a limited budget. Outsourcing your mobile app development project to an offshore team can offer several benefits.
Pros of Outsourcing:
Cost-effective Hiring
Hire Globally talented developers
On-Time Project Delivery
No Overhead Expenses
Flexible Hiring
Cons Of Outsourcing:
Time zone differences
Lack of personal control
3. Hire Freelancers
Hiring freelancers can be a good option if your App is too basic and does not involve much complexity. You can find freelancers across the globe from websites like Upwork, Freelancer.com, etc. By hiring freelancers, you can get your mobile apps developed by investing very little.
Pros of Hiring Freelancers:
Low Investment
Easy Availability of Developers
Cons Of Hiring Freelancers:
No Project Completion Guarantee
Inexperienced Engineers
No Security
DIY Mobile App Development
We get many questions about developing mobile apps using a DIY app builder. It may sound excellent and affordable, but the reality is the opposite.
You may create a mobile application using a DIY builder, but the App will be essential. You cannot develop a complex or advanced technology mobile application through a DIY builder.
A DIY app builder costs you between $15 and $100 per month. You can choose a subscription plan and create mobile apps.
However, developing mobile applications using a DIY builder wastes effort, time, and money. As per Apple's new guidelines, app stores reject mobile applications developed through a DIY builder.
This is because people or inexperienced freelancers create many applications using a DIY builder to get some work. However, such applications never get genuine reviews or traction. Thus, PlayStore and AppStore reject such applications.
Develop Customized App at an Affordable Price at Concetto Labs

Enquire Now
Location of App Development Team
Once you have decided to hire an app development team from an outsourcing agency, the next question is your team's location. The hiring rate of developers is different at every location.
| | | | | | | |
| --- | --- | --- | --- | --- | --- | --- |
| Title | North America | Central Europe | Eastern Europe | Latin America | South Asia | Southeast Asia |
| Project Manager | $88 – $95 | $50 – $70 | $25 – $62 | $41 – $68 | $30 – $50 | $24 – $50 |
| Graphic Designer | $65 – $85 | $55 – $70 | $25 – $57 | $44 – $70 | $20 – $45 | $24 – $50 |
| Junior Developer | $55 – $80 | $32 – $50 | $22 – $31 | $28 – $55 | $21 – $30 | $20 – $25 |
| Middle Developer | $65 – $90 | $36 – $70 | $27 – $40 | $27 – $60 | $22 – $35 | $25 – $30 |
| Senior Developer | $78 – $125 | $45 – $80 | $30 – $59 | $32 – $65 | $25 – $50 | $24 – $33 |
| Junior QA | $60 – $80 | $26 – $70 | $18 – $30 | $35 – $45 | $15 – $30 | $20 – $26 |
| Senior QA | $85 – $125 | $40 – $80 | $34 – $55 | $41 – $60 | $22 – $44 | $24 – $33 |
Outsourcing mobile app developers from different countries may lead to time zone differences. However, the developers from outsourcing agencies work flexibly and in different time zones. You can choose a nearby country with a few hours time gap and stay in touch with the development team.
Type of App- Native VS Hybrid
The app type is the next factor affecting the cost of building an application, whether you want to build a native or hybrid app.
Native App Development
Native mobile applications require specific coding for each platform (iOS and Android). Thus, it also requires a separate development team for each platform. So, native app development costs higher than a hybrid app.
App Development Platform
If you choose a native development route, the next question is, which platform would you prefer? Android, iOS, or both. However, the cost of developing a mobile app for Android and iOS is almost the same.
Yet, if you want to test the functionality of your apps, you can first launch your apps on a single platform and then go for both platforms.
Hybrid App Development
Hybrid app development involves reusing the single code for all platforms. So, a single development team with a single code is enough to launch your applications on both iOS and Android platforms. It costs way less than a hybrid application.
UI /UX Design
The success of your mobile app development depends majorly on its user interface design. An attractive mobile app design gives you higher chances on the app stores to stand out from the rest and grab the user's attention.
Another factor to consider is the user experience. Once users install the App, they expect it to be friendly, with easy navigation to all the features and functionalities. Users may switch to an alternative if they find it hard to search for features.
Technical or software errors and security loopholes are a big NO. A single error and you lose your users may be forever. You don't want to spoil your first impression or reputation. The cost for UI/UX design of a mobile app depends on factors like app screens, design complexity and elements. It may cost nearly up to $5000 for 10- 20 screens.
The hourly rate of UI/UX Designers in different regions:
| | |
| --- | --- |
| Region | $/hour (Average) |
| North America | $15-$75 |
| Western Europe | $20-$73 |
| Eastern Europe | $10-$59 |
| Southeast Asia | $6-$25 |
Post Release & App Maintenance Cost
Even after launching your mobile App, the expenses will continue. These expenses include app promotions, marketing, domain hosting, and more. While quoting the cost for mobile app development, these costs are generally not mentioned, but the business owners must keep these expenses in their mind and plan their budget accordingly.
You need to invest money to maintain your apps running smoothly. According to Good firms, the average annual cost to maintain an app is around $21,000.
Studies also show that in the first year of launch, the app maintenance costs 50% of the actual app development cost. While in subsequent years, it may cost between 15-25%.
Post-Launch & App maintenance includes:
App Hosting
App Licenses
Promotions & Marketing
Bug fixing
App Stability
Performance Improvements
Code Optimization
App Upgrade to the latest OS versions
Adding New Features
Thus, business owners must consider app maintenance costs while estimating the cost of developing an application.
Related:
How Much Does It Cost To Build On-Demand Telemedicine App Development?
Hidden Mobile App Development Cost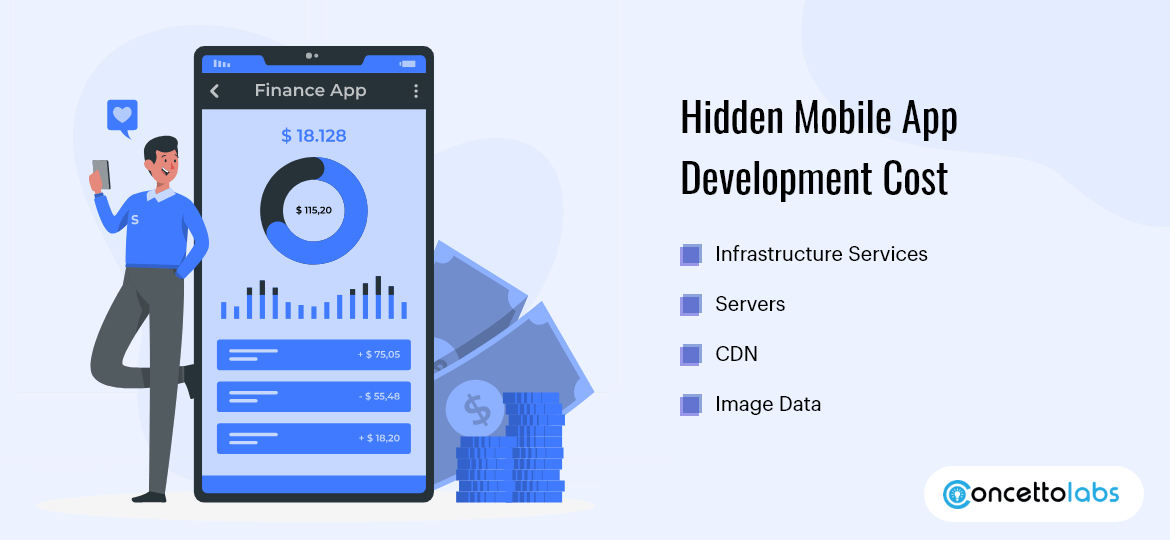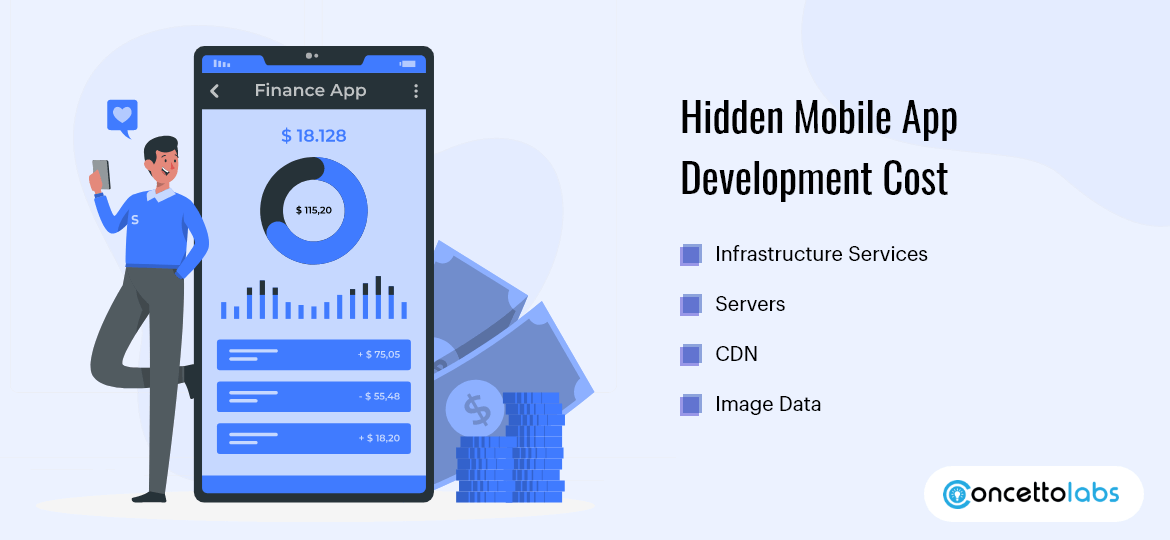 Besides the apparent costs of mobile app development, many expenses are less considered and thus are called hidden expenses.
To keep business owners well-informed of all the costs incurred in the app development process. Thus, we have listed the hidden or surprise costs here in detail.
1. Infrastructure Services
Some apps may require a database to store and host user data. User data and information is crucial, and you must keep them safe and secure. Thus, it would help if you had an infrastructure to store users' data and then deliver when requested. Infrastructure costs are an addition to the entire app development cost.
2. Servers
Servers are the places where you can store your business and app data. Some large enterprises also have local servers. Small and medium enterprises can use cloud servers like Azure, Google Cloud, Amazon, etc.
3. CDN
Enterprises that serve customers in multiple countries require CDN (Content delivery network) services. CDN enables business owners to deliver content based on geographic regions. If users from different countries try to retrieve content from a single location, it will slow down the App's performance.
Companies like Cloudflare, KeyCDN, Akamai and more offer CDN services.
4. Image Data
Applications like Instagram contain and receive a lot of image data. Thus, such applications require a place to process, download, and store such image data. App owners can use these services from companies like Google and CloudImage.io for image optimization and CDN delivery.
| | |
| --- | --- |
| Expense | Annual Cost |
| Data Storage | $3,600 |
| Servers | $12,000 |
| CDN | $3,600 |
| Image Data | $4,800 |
Final Cost: How Much Does it Cost to Create an App?
After considering all the factors that form the app development cost, it's time to calculate the final cost of a mobile application. According to the app calculator formula, the total cost of developing an application can be calculated by multiplying the total hours of app development by the hourly developer rate.
Total Development Hours * Hourly Rate= App Development Cost
To find out the total hours needed to build an application, we must look at all the stages of the mobile app development process. Each stage also has its own cost.
Discovery stage
UX and UI design
App Development
App testing and quality assurance
Market Research
The app development process begins with discovery and market research. Every business owner wants to be well-informed before investing a massive amount in developing an application. Market Research involves:
Research and Analysis on Competitors & Target Audience
Identify Current Market Trends
Creating Wireframes & Prototypes
Deciding a Development Timeline
UI/UX Design
The next step is to design your mobile application. The interfaces and navigations of an application are crucial to its success and, thus, require an eye for detailing and perfection. The UI/UX design cost depends on the number of app screens and design complexity.
App Development
The app development stage involves combining all the parts of an application and shaping it into a full-fledged, feature-rich mobile app. Developers consider using a combination of cutting-edge technologies, third-party integrations, and frameworks to develop a top-notch quality application.
Quality Assurance
The next step is to check the quality of the App developed. Quality Assurance engineers test the app codes, technical and security loopholes, screen compatibility, etc. Once the App is checked for all parameters and meets the required standards, it is launched on the app stores.
The cost of building an app also includes the stage of testing and app deployment.
| | |
| --- | --- |
| Development Stage | Cost |
| Discovery Stage | $5,000 to $25,000 |
| UI/UX Design | $5,000 to $50,000 |
| App Development | $10,000 to $300,000 |
| Quality Assurance | $5,000-$10,000 |
CONCLUSION
The demand for mobile apps will surge in the future, creating more opportunities for startups and enterprises. It is fruitful to start early and avail of the benefits of the boom in the app development industry.
Post-pandemic, individuals seek a mobile app for all their needs. The future is moving towards digitalization. The time is apt for business owners to develop mobile apps and grow their businesses online.
Have you decided to build a mobile app? Are you seeking a reliable mobile app development company to guide you on the cost of developing the App? We at Concettolabs can guide you through the entire process and calculate the cost for your unique mobile App. Connect with us by mailing us at [email protected] or calling us at + 958 677 7575.
Contact us For Quote of Developing an App for Your Business?
That's exactly what we do
Contact Us
The post How Much Does it Cost To Make An App For Your Business appeared first on Blog Concetto Labs.