Things are becoming more convenient every day due to technological advancements. We are not the only ones turning to food delivery apps even before the COVID crisis, as the food delivery sector has grown 300% faster than dine-in traffic since 2014 and has experienced an epic surge in demand post-pandemic. Global revenues are also expected to reach almost 97 billion U.S. dollars by 2024.
We started embracing convenience before the pandemic even started. Even though consumers and establishments have separated themselves, only 14% of Americans have not yet ordered meals online.
Indian food delivery apps have become a necessity in our daily lives. People can order stuff from the comfort of their homes with free food delivery apps in 2022.
We will learn more about the best food delivery service apps and each one's specialized market. You can consult a food delivery app development company and turn your vision into reality if you operate a restaurant and are wanting to establish a food delivery app as well. Check the below-mentioned list of most popular delivery apps by city:
Top 13 Food Delivery App List
1. Uber Eats
2. PostMate
3. DoorDash
4. Instacart
5. GrubHub
6. Eaze
7. goPuff
8. Amazon Flex
9. Caviar
10. Delivery.com
11. Chow Now
12. Seamless
13. Swiggy
Which is the Best Food Delivery Service App?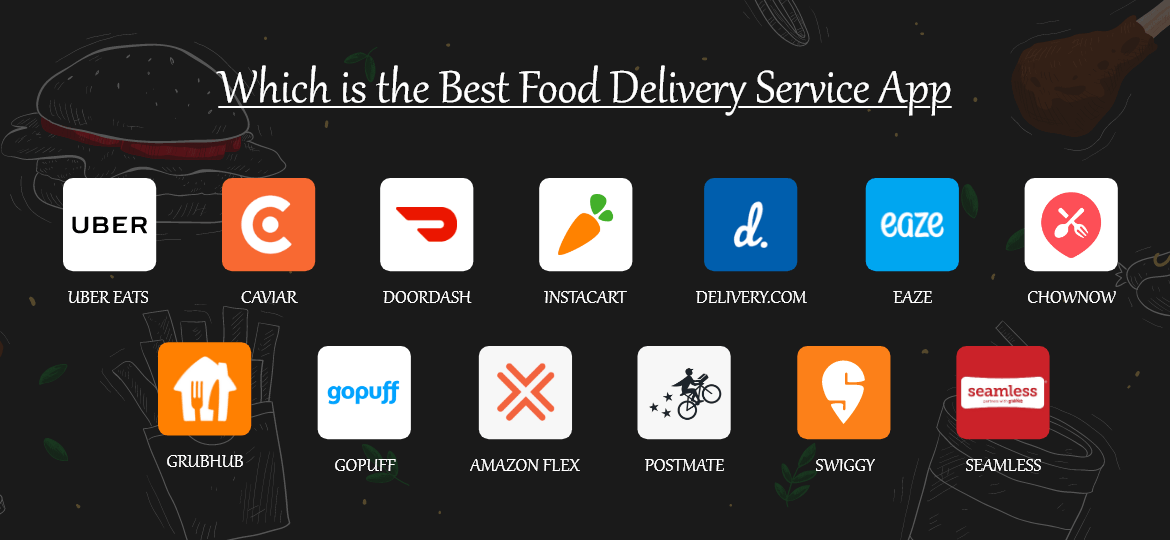 1. Uber Eats: Food Delivery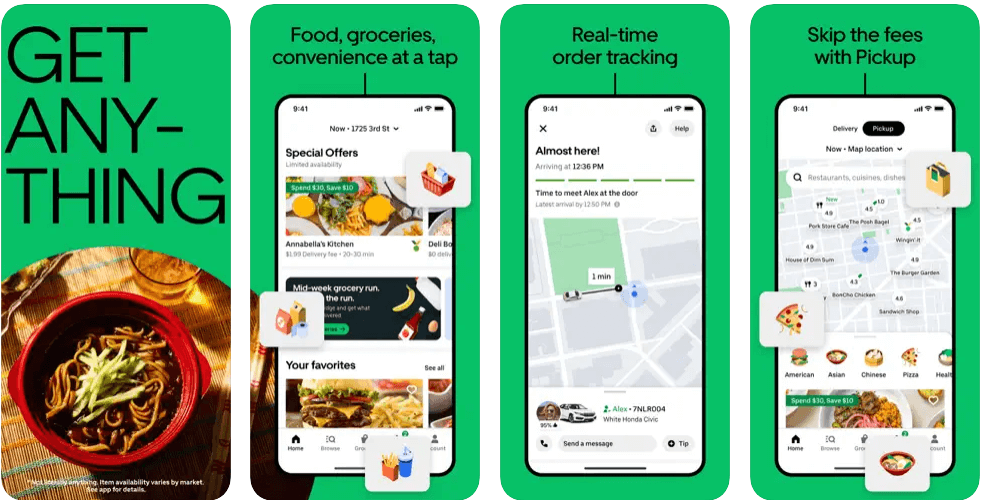 With more than 4.5 million downloads in the second quarter of 2019, UberEATS is the second most popular app in the US. UberEATS, which gained popularity via the Uber app for ordering cabs, enables customers to place food orders using their Uber profiles. The app provides coverage for both rural and large cities. It offers deliveries from grocery stores and eateries. Even in smaller cities, UberEATS is a great option for accessibility. The usability and browsing friendliness of the app are also given high marks.
Requirements of Uber Eats Delivery Driver
Attain the legal driving age in your city
Possess at least one year of legally permissible driving experience; if you are under 23, you must have three years.
A legitimate U.S. driver's license
Eligible automobile (this varies by city, but you can expect requirements for a 4-door vehicle that is at least a 1998 model or newer)
Provide evidence of your state or city of residence
Having auto insurance
Features
Customer App
Driver App
Provider/Restaurant App
| | | |
| --- | --- | --- |
| Pros | Cons | Availability |
| If you're interested in rideshare driving as well, Uber Eats works seamlessly with the Uber app. | In other areas, Quest, one of the reward schemes, is being phased away. | Available across 500 cities in 24 nations. |
| Uber Eats drivers are allowed to have a passenger in the vehicle while they deliver as long as they are not also driving for Uber at the same time. | Once you begin driving for Uber, you may see that the pay structure has changed. This is typical of the majority of delivery applications, though. | |
| Quest (meeting specific trip goals), Boost (multipliers during busy times), and higher pricing during busy times are some of the incentives it offers drivers to earn more money. | | Amsterdam, Austin, Baltimore, Singapore, Tokyo, Portland, and a plethora of additional locales scattered over the world |
2. Postmates – Food Delivery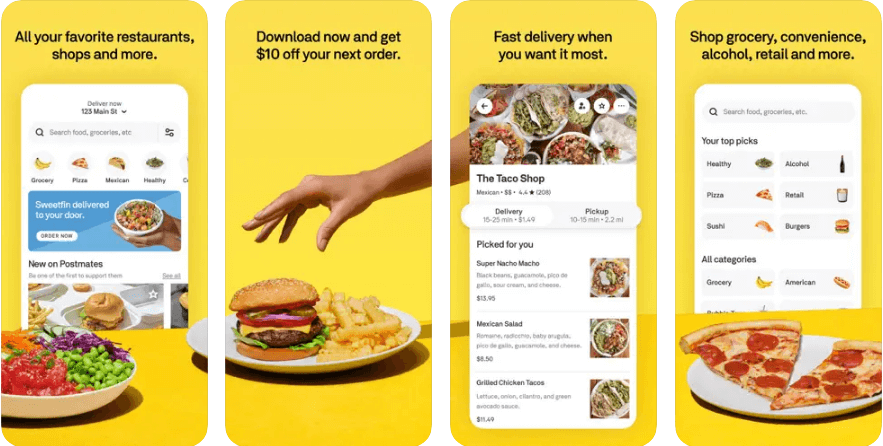 An app that delivers food service also delivers items from more than 10,000 restaurants, grocery stores, and other establishments, depending on the use case. Because the app doesn't work with eateries, customers can only order from nearby establishments. Every order from Postmates is subject to a delivery fee known as Blitz pricing fees, which increases during busy times.
DoorDash Driver Qualifications
A minimum age of 18 is required.
In some markets, having access to a car, scooter, or bike
Number of a valid driver's license
Vehicle insurance
Features of App
Customer App
Driver App
Restaurant App
| | | |
| --- | --- | --- |
| Pros | Cons | Availability |
| With a smaller marketplace, UberEATS offers all its benefits, including access to its network of delivery drivers. | Only in some regions are Postmates well known. | Currently, Postmates is accessible in more than 4,200 cities across the United States, including D.C. and all 50 states. |
| Offers a special benefit structure to clients who are Postmates members. | Competition from the substantial UberEATS restaurant network, which can be accessed through the Postmates app. | |
| Strong brand recognition due to prolonged delivery hours in various cities. | | |
3. DoorDash – Food Delivery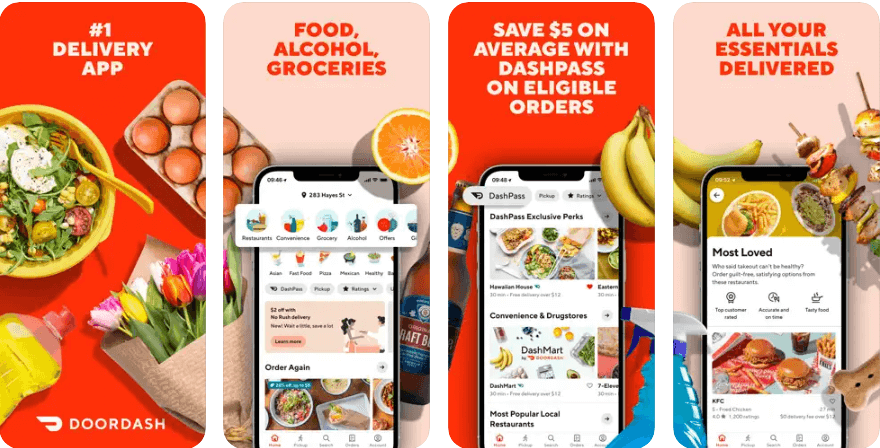 A well-known app for its features is DoorDash. Practical functionality is the focus of this software. Among its features is a joy mode that rates restaurants based on comments, the typical delivery time, and the fee amount.
Users can assess restaurants using criteria including popularity, turnaround time, and client feedback. By using the scoring system, customers can locate the most popular restaurants in their area. Users can also follow the delivery of their food in real-time.
DoorDash does not have a minimum order requirement, although it occasionally levies a hefty service fee that increases during busy times. However, because of the quick delivery, real-time tracking, and excellent service, consumers adore using the app.
DoorDash Driver Qualifications
A minimum age of 18 is required.
In some markets, having access to a car, scooter, or bike
Number of a valid driver's license
Vehicle insurance
Features
Customer App
Driver App
Restaurant App
| | | |
| --- | --- | --- |
| Pros | Cons | Availability |
| Several driver incentives are available through DoorDash, such as Peak Income (increased pay when you drive during busier hours) and Challenges (completing a certain number of deliveries in a set amount of time). | No hourly salary is promised. | DoorDash is accessible in more than 800 U.S. |
| You have the choice to withdraw money from Fast Pay on the day you work | Driver help is only available through chat. | Including Atlanta, Seattle, Boston, New York, and Chicago. |
| Hours can be scheduled in advance or whenever there is additional time for driving | Grocery stores and other food businesses, not simply other restaurants, compete with restaurants on the DoorDash marketplace. | |
| Drivers are permitted to have a companion while delivering. | | |
4. Instacart: Grocery delivery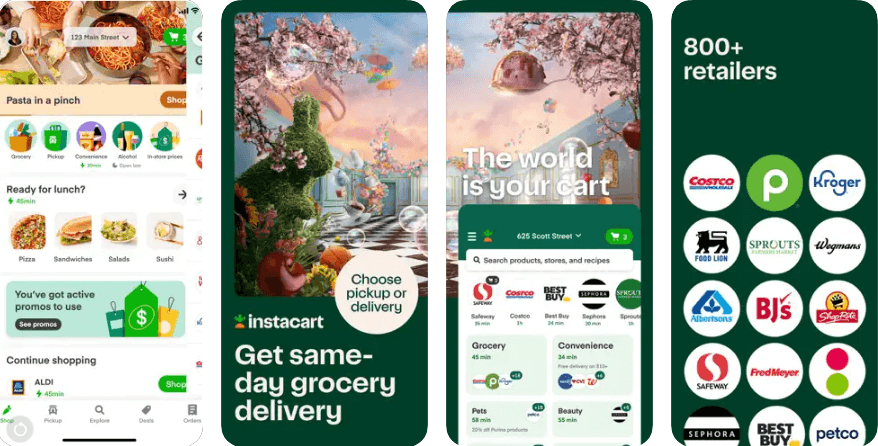 Instacart is the go-to app if you want groceries delivered on the same day. The grocery list and app allow you to receive everything within an hour. Every order has a delivery fee of roughly $6, and the app also provides a subscription for $150 for the entire year.
In addition to delivering groceries and other home supplies, Instacart also gives its customers discount coupons. Instacart is generally regarded as one of the top grocery delivery applications.
Shopper requirements for Instacart:
Own a vehicle, a driver's license that is current, and auto insurance
The age of majority is 18 years.
Can lift 50 lbs.
Work in U.S
Features
Customer App
Driver App
Grocery App
| | | |
| --- | --- | --- |
| Pros | Cons | Availability |
| Full-service and in-store shoppers (who don't require a car to work) are the two choices available to Instacart customers for employment. | You can't just open the app and start working whenever you have free time when you schedule hours in advance. | Instacart offers grocery delivery and pickup services in the U.S. and Canada. |
| Set your hours in advance to organize your week. | Because you are delivering groceries, you might have to handle big bags. | |
| Estimated earnings are available before accepting orders. | | |
5. Grubhub: Food Delivery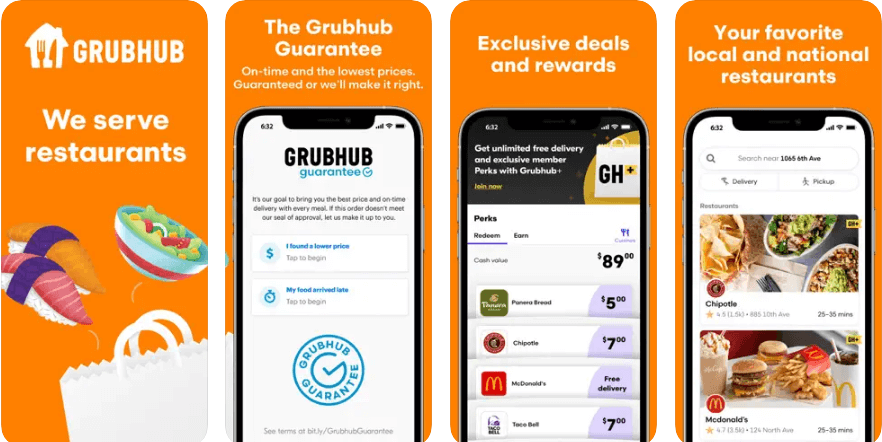 Food delivery applications like this are widely used in the USA. Over 50,000 restaurants and local food deliveries are available through Grubhub, which operates in over 1,100 cities. It comes in at number five among the most popular food delivery applications in the US. Users can use it to search for their preferred cuisine, and the search results return restaurant menus for ordering.
GrubHub's meal delivery app also features location tracking. One tap is all it takes for the app to locate your location so you don't need to manually enter anything. Additionally, you can choose to name it "home," "friends," or "office," as well as save a location and a personalized message in that order.
Requirements for GrubHub Delivery Drivers:
Age requirement: 19 or older (at least 21 in Chicago and Las Vegas)
Possess both a valid driver's license and automobile insurance
Have a data-capable cell phone (iOS 11 or higher or Android 5.0 or higher)
Features
Customer App
Driver App
Grocery App
Location Tracking
| | | |
| --- | --- | --- |
| Pros | Cons | Availability |
| For delivery drivers in the United States, GrubHub offers live phone-based support | Compared to other restaurant-based delivery services, there are fewer incentives. | More than 3,200 American cities including London offer Grubhub. |
| Customers are urged to leave big tips; the default is 15%. | Drivers must register for particular delivery locations. | |
| Before placing an order, you may view highly specific information about the order on the app, such as the total payout (less the tip), the pickup location, and the drop-off location. | GrubHub's acquisitions have resulted in a sizable network of restaurants, increasing competition in their sector. | |
Experience the best app development service by Concetto Labs!
Contact Us
6. Eaze: Cannabis Delivery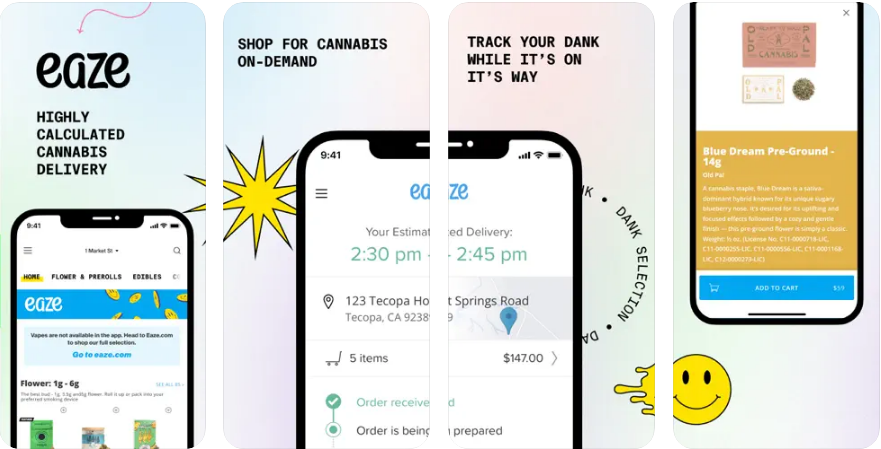 Requirement for Eaze's Driver
The age of the majority is 21.
Your vehicle must be a 2004 model year or newer and have a functional car alarm.
Smartphone
Automobile insurance
Good driving history
Withstand a criminal history check
| | | |
| --- | --- | --- |
| Pros | Cons | Availability |
| The pay for Eaze drivers is higher than for other delivery applications. | Eaze has the most stringent regulations for drivers. | Available across USA and UK. |
| Mileage reimbursement is given to drivers, | The approval process can take a few weeks; one driver said that it took five weeks after completing their applications. | |
7. Gopuff – Grocery Delivery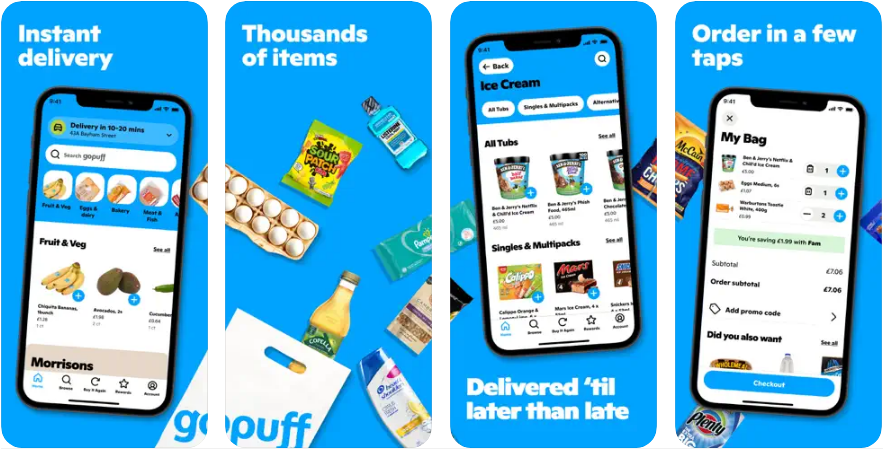 The goPuff delivery app is more than just a typical food delivery app because it gives you the ability to purchase anything from a simple bag of chips to a pair of socks. GoPuff is primarily a food delivery app, although they eventually began transporting everything.
The fact that this program has a $2 fixed price is its best feature. Other than that, the features of this software stand out. The goPuff program provides you with incredibly smooth and AI-based search algorithms, allowing you to look for any product not just by name but also by business, category, and related products. A user can also compile a list of their preferred food items to order at a later time. The development of food delivery apps is already generating innovation and expanding at a fast pace.
Driver Requirements of goPuff Application:
The age requirement is 21 or older.
Registration of a vehicle and access to an insured vehicle
Smartphone
A valid driver's license and a background check are required
Key Features
Free to use
Membership plan: $5.95/month
Fees: $1.95 flat rate
| | | |
| --- | --- | --- |
| Pros | Cons | Availability |
| You don't have to travel far to pick up deliveries because they all arrive from the same delivery hub. | Due to goPuff's lesser popularity, there might be fewer opportunities for rookie drivers. | Although GoPuff is accessible across the country, it is concentrated in more than 150 Southern and Midwestern cities and regions. |
| There is a minimum wage that is assured. | You may have to deal with having a lot of cash on you because orders can be paid for using cash. | |
8. Amazon Flex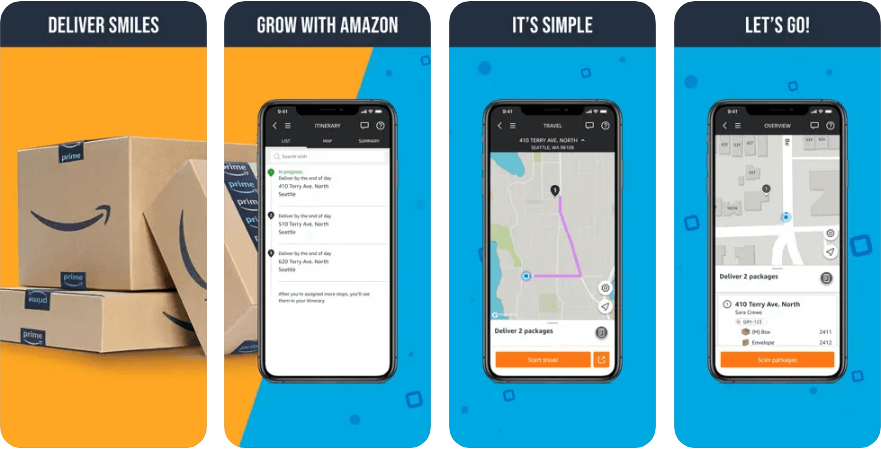 For Prime Now, Amazon Fresh, and Amazon Restaurant Delivery, Amazon Flex is a service that outsources drivers. In addition to offering meal delivery, it also offers package delivery.
Although there are no set hours for drivers, you will need to drive in blocks of three to six hours. To maintain the temperature of frozen or refrigerated foods, you will also need insulated bags or coolers. The more orders a driver completes, the more money he or she earns. A larger vehicle allows you to handle more requests.
Requirements for Amazon Flex Delivery Drivers:
The age of the majority is 21.
Possess a valid driving license
Drive a 4-door, large or mid-sized vehicle.
Possess auto insurance
| | | |
| --- | --- | --- |
| Pros | Cons | Availability |
| In contrast to the majority of the other services on this list, payouts are made. One of the highest hourly pay rates is for Amazon Flex. | Only a few positions are open at this time. | Available across the entire USA. |
| Even if you finish your deliveries earlier, you will still be paid the same amount. | You must possess the strength to lift larger packages. | |
9. Caviar – Order Food Delivery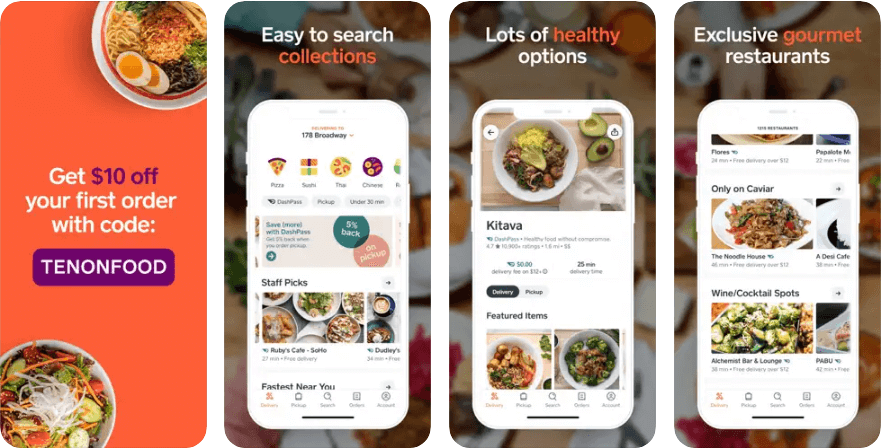 Most restaurant, cafe, and snack bar bases are found in the caviar application. To initiate the program, it is necessary to create a profile. However, this software handles everything by itself once you've created an account. Everything, including the search bar and location feature, is completely customizable. Additionally, Caviar has a smart choice option that enables you to look for restaurants that offer free shipping or have the quickest shipping times. You can evaluate a café based on its reviews thanks to the fantastic review and rating system. In conclusion, this is the greatest option for you if you are looking for a convenient application that will not need a lot of searching.
Features
Free to use
Premium subscription: $9.99/month
Fees: $1.99 – $8.99
| | | |
| --- | --- | --- |
| Pros | Cons | Availability |
| Before accepting an order, you can view all of its data, including the payment. | Since DoorDash now owns Caviar, you're not only delivering from upscale restaurants, which means driver income has slightly fallen. | Available across the entire US. |
| Low order acceptance rates are not penalized. | Only DoorDash partners have access to the app. | |
| Due to its smaller distribution zones, caviar may have fewer dead miles | Hours must be scheduled via the app, which is not ideal for drivers who value flexibility. | |
10. Delivery.com: Food, Alcohol, L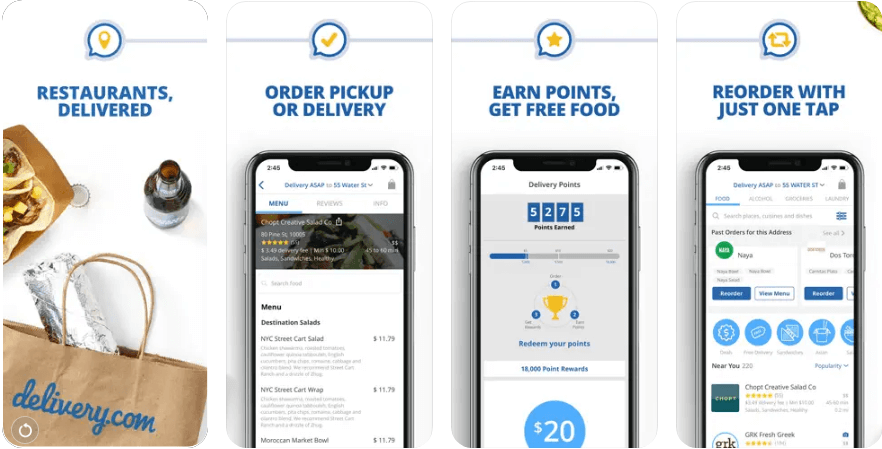 Every order placed on Delivery.com earns consumers points that may be exchanged for a discount or free delivery. The software organizes everything into categories for users' convenience and suggests restaurants or meals based on their prior orders.
Delivering Requirements for Delivery.com
Older than 18
A valid driving permits
Evidence of auto insurance
Cell phone
Withstand an investigation
| | | |
| --- | --- | --- |
| Pros | Cons | Availability |
| There are modular standards for drivers. | Delivery drivers receive lower remuneration than other applications. | More than 12,000 business owners in 100 different American communities. |
| The hours are variable on Delivery.com. | According to some evaluations, the management of the organization is chaotic. | |
| Other than groceries and takeout, there are additional delivery alternatives available, such as laundry and alcohol delivery. | | |
Latest 3 Updated Food Delivery App Features
11. ChowNow: Local Food Ordering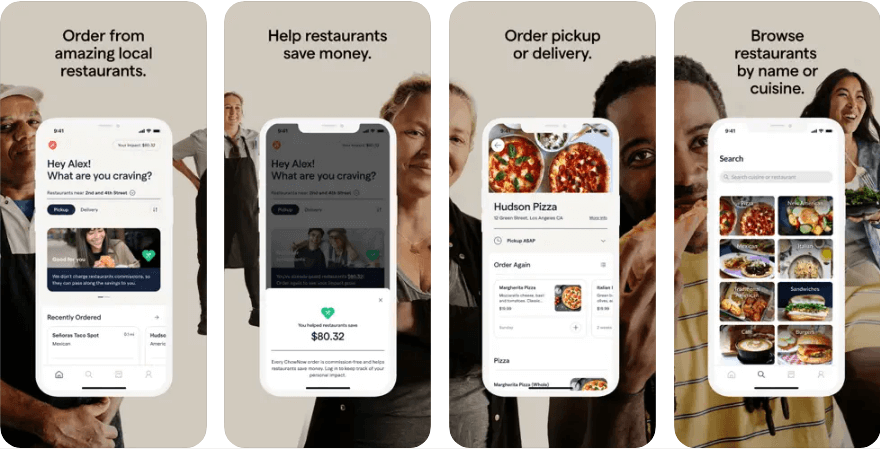 Compared to other food delivery applications, ChowNow operates rather differently. While customers place their orders using the app, it provides restaurants with digital capabilities to accept orders directly on the restaurant's website. Customers can use this to find restaurants based on their location or preferred cuisine. ChowNow is one of the best food delivery apps in Dallas
Conditions for Delivering to ChowNow:
Older than 18
Good driving history
iPhone or Android, and a working license and insurance
Withstand an investigation
Features of the ChowNow Application
Free Use of Application
Consistent Local Membership: $25 – $100/year
Fees: depends on the restaurant
| | | |
| --- | --- | --- |
| Pros | Cons | Availability |
| Facilitates the connection of eateries to a delivery driver network. | Increases the burden on the restaurant owner to promote their brand. | In the country's major cities, including New York, Chicago, LA, Seattle, Denver, Portland, Atlanta, and Dallas, you can find this app. |
| No branded apps or websites impede the customer's experience with your brand. | There are only certain delivery areas. | |
| Has a variety of marketing tools that may be used to promote your brand. | | |
| Combines with the POS software of your restaurant. | | |
12. Seamless: Local Food Delivery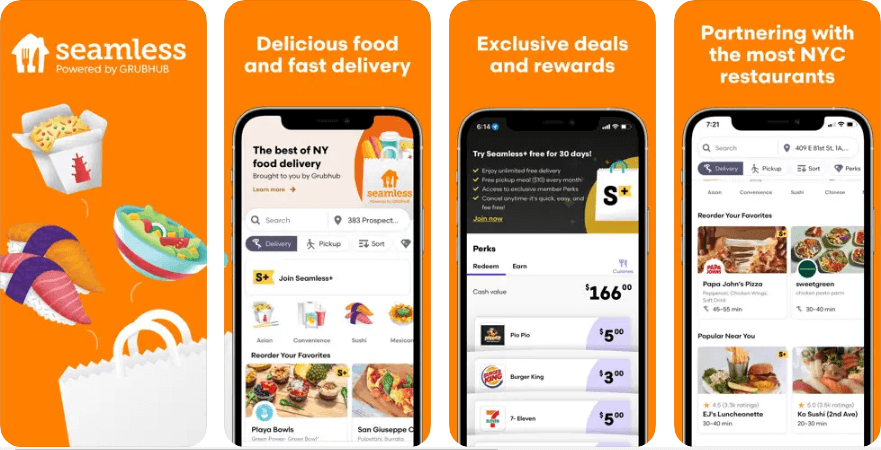 With an easy ordering process and rapid meal delivery, Seamless, which is owned by GrubHub, has been in the business for approximately 20 years. The app may not be accessible in smaller cities because it concentrates on big cities like New York and Los Angeles. The software allows the user to take meals outside in addition to delivering food to their home. The program additionally offers intriguing discount codes for well-known cafes and restaurants to stay one step ahead of the competition.
Delivering Requirements for Seamless
Older than 18
A valid driving permits
Evidence of auto insurance
Cell phone
Withstand an investigation
Features
Customer App
Restaurant App
Delivery App
| | | |
| --- | --- | --- |
| Pros | Cons | Availability |
| The entirety of GrubHub's adaptable restaurant delivery options. | Outside of major cities, there is less brand recognition. | Majorly focuses on Los Angeles and New York |
| expanded delivery and increased brand awareness in specific cities. | Making your brand stand out is more challenging now that the Seamless marketplace is open to all GrubHub partners. | |
13. Swiggy Food & Grocery Delivery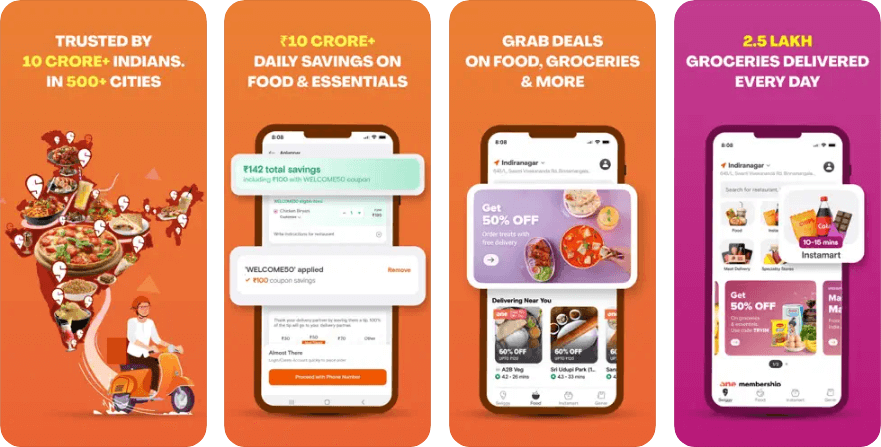 One of the top meal delivery applications in India is Swiggy. Indian food delivery app Swiggy is well-liked and has a sizable user base. Swiggy delivers one of the quickest food deliveries of any other delivery service. In the Swiggy order online menu, Swiggy also provides on-demand delivery of groceries and fresh meat.
Additionally, using this app to order food is quite simple. Simply open the app, choose your favorite restaurant, and then choose your meal from the Swiggy foods menu. The food will then be brought after the delivery person has finished preparing it.
| | | |
| --- | --- | --- |
| Pros | Cons | Availability |
| There won't be a cost for Swiggy Super's users. When there is a lot of demand or it is raining, they don't charge for delivery. | Only when order exceeds 99 rupees does Swiggy offer free delivery without a cost. | Available across India |
| Additionally, Swiggy Surprise is a service where users receive desserts or other small treats with every order. | There are currently no free sweets or treats available to Swiggy Superusers, nor has Swiggy Surprise been launched. | |
| Super users of Swiggy are given priority and receive assistance from a dedicated customer care team. | Only prestigious cities like Hyderabad, Chennai, Mumbai, Gurugram, and Bengaluru offer Swiggy Super. As a result, not every user can access it. | |
Conclusion
The most demanding applications are included in the list of top food delivery applications above. Many other applications for food delivery, however, are in significant demand.
If you are a business person or someone who wants to create an app similar to this, then you are at the right place. With the use of cutting-edge technologies like AI and ML, Concetto Labs, a leading on-demand food delivery app development firm, helps businesses and restaurants create feature-rich on-demand delivery service apps that are powered by consumer buying behavior and motives.
Looking to Develop The Best Food Delivery App? Contact Concetto Labs today!You can ask us for a price if you want to develop any of the popular meal delivery app development solutions mentioned above. We offer distinct options for hiring our dedicated developers for food delivery online service apps.
Looking to Develop the Best Food Delivery App? Contact Concetto Labs Today!
Request For a Quote!
The post Best 10 Food Delivery Apps to Satisfy Your Hunger appeared first on Blog Concetto Labs.