The popularity and demand for electric vehicles are surging due to their cost-effectiveness. In addition, electric cars are environment-friendly and reduce emissions. In addition, they consume less energy.
Electric vehicles run on electrical batteries that need Charging. Thus with more electric vehicles, there is a higher demand for electric vehicle charging stations. The way fuel cars need a petrol station, electric vehicles need EV charging stations. First, let us understand what an EV Charging Station Finder app means.
What is an EV Charging Station Finder app?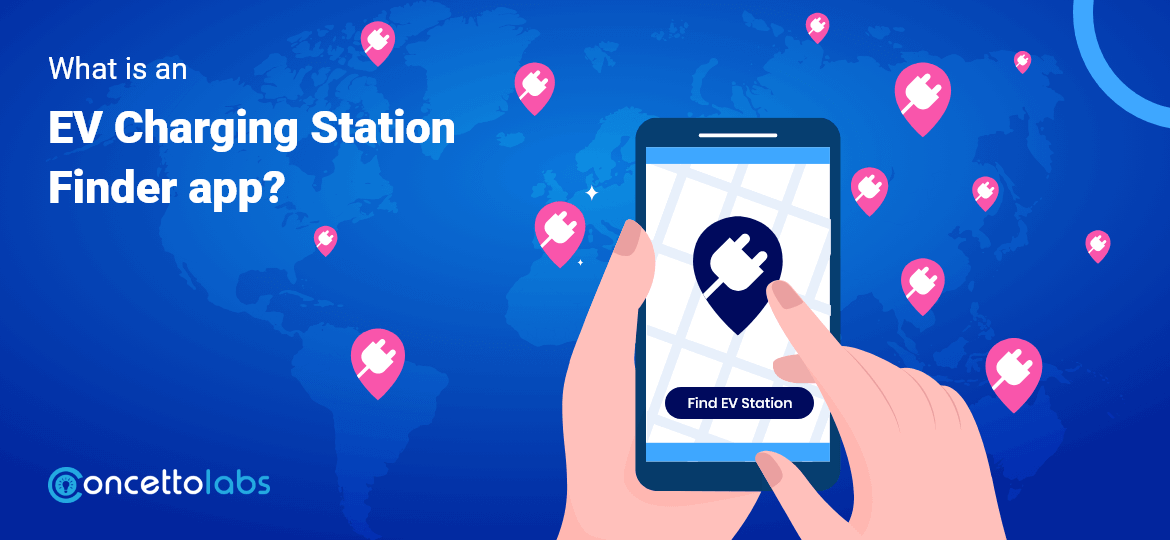 Think of an online restaurant app that allows users to browse and find nearby restaurants and book their orders. They can also book or reserve a table in the restaurant.
Similarly, an EV charging stations application allows users to browse and find nearby EV Charging stations. They can also book a charging slot based on availability and plug type. In addition, if the users are traveling, the app notifies users if an EV charging station is nearby.
There are three different types of EVs:
1. Battery Electric Vehicle (BEV): Such electric vehicles run entirely on electricity from rechargeable batteries. These vehicles do not have a gasoline engine and thus have zero emission of polluting gasses.
Examples: Volkswagen ID.4, Volvo XC40 Recharge, Tesla Model S Plaid, Rivian R1S, and more.
2. Plug-in Hybrid Electric Vehicle (PHEV): These electric vehicles have both an ICE and an electric motor. Users can switch between the two. However, Plug-in Hybrid EVs work better with ICE. These electric vehicles have larger batteries and can go 10-40 miles on batteries before their gas engines assist.
Examples: of PHEVs are the Audi A3 E-Tron • Audi Q5 TFSIe PHEV, Hyundai IONIQ PHEV • Hyundai Sonata, and more.
3. Hybrid Electric Vehicles (HEVs): are low-emission vehicles with electric motors and gas-powered engines. They have smaller batteries compared to PHEVs and can travel 1-2 miles on the batteries.
Why Invest In An EV Charging Station App?
The Electric vehicle market is still in its infancy and less saturated. Investing early in an On-demand EV charging Station Finder App will benefit your business in many ways.
The sale of electric vehicles reached 6.6 million in 2021, double the sales in 2020. The sale of EVs covered 10% of global car sales.
There are about 16.5 million electric cars on the road as of 2021.
The global EV market is expected to reach 2,495.4 billion USD by 2027.
The above statistics show that the electric vehicle market is rapidly growing and will be more prominent soon. Thus, business owners can get higher returns by investing in EV charging apps. Since EVs are affordable and environment-friendly, more people are switching from fuel vehicles to electric vehicles. Thus, they need more apps for EV charging stations.
How Does An Electric Vehicle Charging Finder App Works?
People can register for the online EV Charging Station finder app via email, contact, or social credentials.
Once signed in, you can create their profiles, adding the details of their electric vehicle.
Next, they can enable their location to find nearby electric charging stations.
You can check the compatibility of the stations, images, details, charging costs, and availability of the charging stations.
After checking the availability, they can book a slot for their vehicle to get their cars charged.
Users can pay online via the electric car charger finder app and track expenses on their electric vehicle charging.
What are the Key Features of the EV Charging Station Finder App?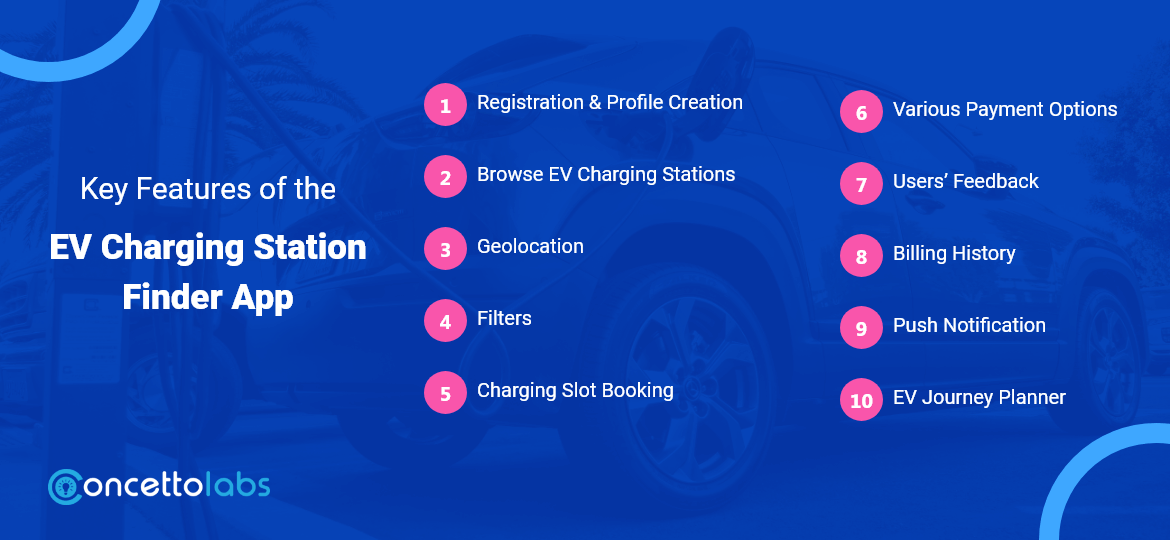 1. Registration & Profile Creation
New users can register to the EV Charging stations app using email or social credentials. They can create their profiles and add the details of their vehicles.
2. Browse EV Charging Stations
Once users enable their location, the app shows nearby electric vehicle charging stations.
3. Geolocation
The geolocation feature allows users to see the nearby stations in real time. Users can also search for a station manually by entering the name and place.
4. Filters
They can filter their search by adding the type of plugin or location.
5. Charging Slot Booking
Users can book a charging slot for their electric vehicle online by checking the availability.
6. Various Payment Options
The online EV Charging station finder app allows many payment methods to allow users to pay at their convenience. For instance, you can integrate to pay with eWallets, UPI, PayPal, a debit or credit card, etc.
7. Users' Feedback
Users can rate the services of an electric vehicle on the app and share their feedback. Feedback from users allows companies to improve their services.
8. Billing History
Users can see their past charging bills, power consumed, and the amount spent on charging weekly and monthly. Thus, the app helps users track expenses on charging.
9. Push Notification
The on-demand EV charging station finder app sends alerts and notifications to users about upcoming bookings, etc.
10. AI-Powered Chatbot
The AI-based chatbot allows users to get the support and help required for their queries.
11. EV Journey Planner
The EV journey planner feature allows users to plan long-distance trips. The planner sends alerts about the nearing EV charging stations. Also, it alerts users when the battery is too low.
12. Promotional Discounts
The station app owner can offer various discounts to users for promotions like discount vouchers, coupons, free membership for a limited time, and more. Thus, they can increase the sales for their station.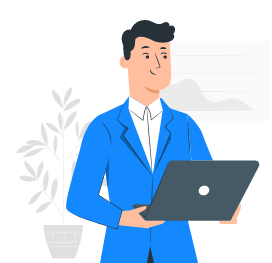 Are You Looking For a Top EV Charging Station Finder App Development Company?
Talk To Our Experts
Steps to Develop an EV Charging Station Finder App
1. Research
Analyze the market and your competitors to know what unique things you can offer to gain more sales. It also gives you an idea of the current market demands and standards.
2. Choose The Platform
Once you know your requirement and market, the next step is to choose the platform. Whether Android or iOS or both will decide your app development budget, the type of development team you will hire, and more.
3. Hire an App Development Team
The next essential step in developing an EV Charging Station Finder app is to hire your development agency. You can hire an outsourcing agency to avail the services of expert developers at affordable costs.
Concettolabs is the leading EV Charging Station Finder app development company with an expert team of experienced engineers and programmers.
4. Design the App
Create your app's wireframes and design a beautiful and user-friendly EV Charging station finder app. The app should offer smoother navigation and friendly interfaces.
5. Create an MVP
You can start with an MVP for your EV Charging station finder app to limit your budget. The MVP offers the essential features and leaves scope for further improvement based on user preferences and choices.
6. Testing & Deployment
Once developed, test your app for errors and software glitches. Eliminate all the security and software loopholes to make it ready for launch. The development team will launch the app on relevant platforms.
7. App Maintenance & Updates
After the launch, ensuring the app runs smoothly on all platforms with no errors is necessary. The app also requires regular version updates and upgrades.
Technology Stack For EV Charging Station Finder App
One of the essential elements of any application is the technology stack. The success of your application depends on its frontend and backend technologies, database, servers, and compatibility.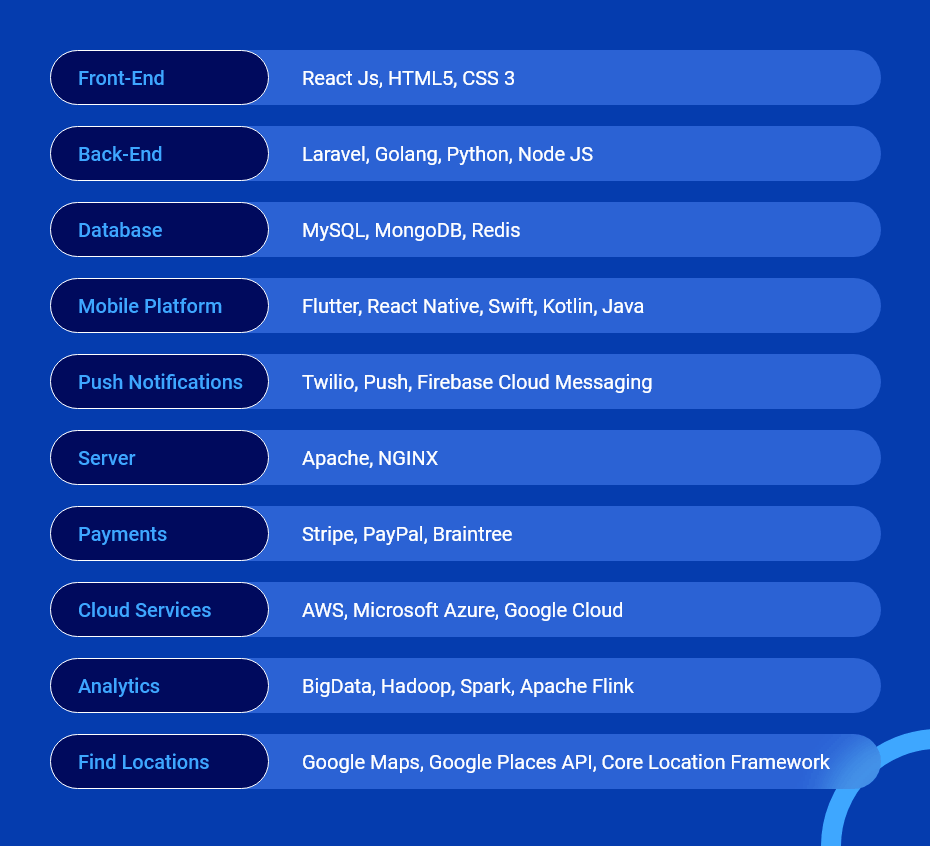 What are the Popular EV Charging Station Finder Apps?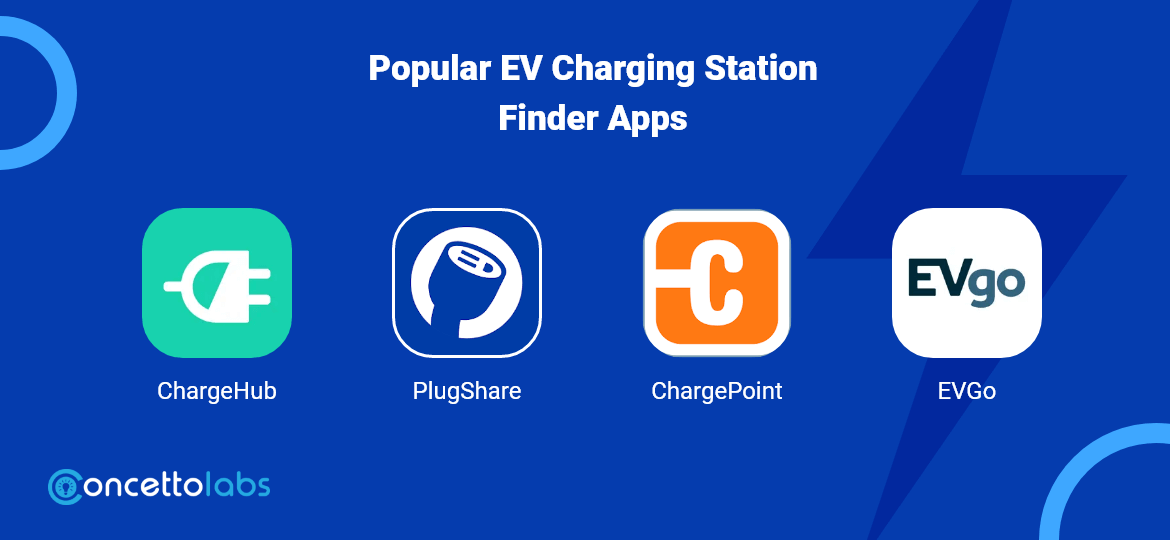 1. ChargeHub
The next on the list of the top EV Charging Station Finder apps is ChargeHub. The app shows different EV Charging stations allowing users to pick the one compatible with their cars. The app for EV charging stations allows users to filter their search based on plug type, charging network, and speed. Thus, users can quickly find the stations based on their car's plug type or speed.
ChargeHub offers a beautiful design and smooth navigation to features. Users can download and install the app for free from Google and Play Stores.
2. PlugShare
Plug Share is one of the best apps to find EV charging stations that allow users to browse EV Charging stations and find the one compatible with their cars. The app is free to use on both iOS and Android. Users can see nearby stations, plan trips, and book a charging slot on the app. They can add the details of their car to find relevant stations. If the users find a station unavailable on the app, they can add it. The app allows users to share their reviews on any charging station.
One disadvantage of the PlugShare app is that its interface needs to be updated and has a few errors.
3. ChargePoint
Another best app to find EV charging stations is ChargePoint. The app offers over 10 thousand charging stations allowing users to choose the one relevant to their cars. Users can find electric vehicle charging stations using filters like type of chargers, price, speed, and more. Users can check the availability of the stations and book a slot. If the station is full, they can join the waitlist.
4. EVGo
Another leading EV charging stations app for android and iOS is EV Go. The app lets users see nearby charging stations covered in its network. EV Go collaborates with ChargePoint, allowing users to see the availability of the chargers. EV Go also allows users to add new charging stations to the app unavailable on the app. Users can also quickly filter their search to find their cars' stations. The app also offers reward points to use the EVGo chargers, which they can redeem to charge their cars free. EVGo is available in 34 states of the USA and costs 10 dollars to use it.
Some of the popular EV charging stations app India are Recharge India, Chargegri, PlugNGo, and more.
Ready To Invest In EV Charging Station Finder App?
Contact Us
How much does it cost to develop an EV Charging Station Finder App?
So, the biggest question every developer has before developing an online EV Charging Station Finder app is its cost. The cost of developing an electric car charger finder application varies depending on the app's complexity, features, design, and integrations. These factors affect the cost of developing an EV Charging Station Finder app.
Location of the development team
Cost of the app development team
Number and complexity of features
Third-party integrations
App Platform
Time to develop the app
UI/UX design of the app
App Architecture
So, developing an online EV Charging Stations app will cost you between $20,000 to $65,000. It is advised to start with an MVP, so there are fewer initial investments. The MVP app allows owners to show their app to users, gather feedback, and improvise.
Conclusion
With more users' inclination toward electric vehicles, there is rapid growth in the demand for online EV Charging station finder apps. Electric vehicles are cheaper, so users nowadays prefer to purchase more electric cars.
We hope the blog gives you a clear idea of building an EV Charging Station Finder app. If you are looking to hire offshore EV Charging Station Finder app developers, you can rely on Concetto Labs.
Do you wish to build an EV Charging Station Finder app? To get the most out of your investments, you have a proper plan, a trusted development partner, and expert guidance on how to build an EV Charging Station Finder app.
Concetto Labs is one of the top mobile app development companies in India. We have delivered many successful EV Charging station finder apps from around the globe. With our experience, we are here with this blog to guide you on the detailed process of developing an EV Charging Station Finder app. The blog discusses the business models of the EV Charging Station Finder app, how to find the right developers, and the cost.
Hire our experienced EV Charging Station Finder app developers at flexible models and hiring costs. Connect with us by mailing us at [email protected] or calling us at +91 958 677 7575
Ready To Build Your EV Charging Station Finder App?
That's exactly what we do
Contact Us
The post How to Build an EV Charging Station Finder App? appeared first on Blog Concetto Labs.