"Management is a practice where Art, Science, and Craft meet"
Upon reading this quote, you might question― "If management is all those things, what does it make managers?"
Well, managers are the ones who establish themselves as the backbone of the organizations. They have loads of responsibilities on their shoulders and are accountable for executing and supervising every process, development activity, planning, assigning responsibilities and more.
In the same respect, Product Managers and Project Managers have their own set of responsibilities to fulfill. They are accountable for the management of their respective teams and also their performance.
To delve into it further, let's get on with discussing what is Product and Project management to clearly understand the brief difference between product managers vs project managers.
Defining Product and Project Management
Product Management
Product management definition goes something like this― It is a function performed in all organizations that contain the planning process, forecasting, production and marketing of products. It is a crucial aspect needed at all stages of the product life cycle. This process ensures that a product is developed with the best resources available, on time, possesses unparalleled features and is irreplaceable in terms of quality. Marketing also falls under this category.
Project Management
Project Management definition can be summed up as― tools and processes that help in organizing and prioritizing numerous tasks and activities that need to be completed. It enables the team to work within tight deadlines and tackle limitations related to cost and quality. It is a process of applying project management methodologies, processes, tactics, skills, experience, etc in order to achieve project management goals.
Meaning of the terms "Product Manager" vs "Project Manager"?
In the very basic sense, "Product managers deal with the What? and Why?, project managers with the How? and When?"
Product Manager
Product managers are often denoted as the CEOs of the products under their supervision. Their role as a product manager is to establish and examine the overall product direction and the whole product lifecycle. Analyzing users' demands, decoding them into a design or well-developed MVP, and directing the team on the path of goal-oriented actions: all these functions fall under their expertise.
Project Manager
A project manager's role is a little, but significantly different than that of the product manager. The role is tactical while majorly focusing on the execution process of a project.
Firstly, they obtain the product vision and then develop a project timeline around it. They connect with the product manager in order to acquire insight into the product, for developing efficient plans, which show a roadmap to attaining goals. They create deadlines for project completion for the team. They handle one-project-at-a-time within a set time-frame, budget, and quality.
Difference Between Product Manager vs Project Manager
To put it simply― "A Project Manager is like a midwife – he/she delivers the baby, hands it over to the mother and moves on. The baby is the product and the mother being the Product Manager."
Now that the basics are out of the way, let's move towards the intricate differences between product manager vs project manager. To give you a clear understanding, we have segregated the differences into certain elements on the basis of which we will differentiate.
Experience
Product Manager
1.

Creates Roadmap

Without a roadmap, it will be a lot more challenging for the team to accomplish goals and deliver the product on time. This is why experienced product managers create a vision of the product life cycle and set a strategy for other members of the team to follow.

Having the experience of building a well-articulated roadmap makes the management of the whole production process far easier. It allows product managers to establish their priorities, create new ideas and innovations, take initiatives, plan the terms of implementation, and systematize the whole process in general.
2.

Analyzing and Prioritizing

Product Managers are a pandora's box in terms of ideas. However, not every idea is worth entertaining. In this case, product managers have the experience to examine and analyze the ideas brought forth and it is only after extensive study on the proposed ideas that they are able to choose the most ideal ones.
3.

Determine and align features

Product managers are experts in closely studying the features a product is said to possess and then align them with the strategic goals and initiatives of the business.

Well, this is not a piece of cake as it requires complex trade-offs for the effectiveness of the product is prominent for both the customers and the organization. It is in this respect that the involvement of the development team and product manager's technical qualities is crucial.
4.

Launch the product

The market is a highly dynamic and unpredictable place, except for product managers. Under such circumstances, it is expected that the product's popularity and growth are entirely circumstantial.

It falls upon the experienced product manager's shoulders to plan the team's functions and actions like barrier-removal, fixing of bugs, etc. while keeping them all in pre-set time-limit. It is decided irrespective of what methodology for product development is used.
Project Manager
1.

Planning of resources and budget

Project and Planning go hand in hand. Planning is one element for all project managers which enables them to ensure the completion of a project in real-time. Due to this, every competent project manager holds expertise in this.

The exemplary project managers are capable of realistically establishing timelines, evaluating the team's capabilities, and are efficient in determining a project's scope and available resources due to their years of experience.

After this, a concise plan is made to execute the project along with monitoring its progress. Some projects can turn out to be unpredictable, so project managers always ready with a backup plan and solutions. Moreover, they also keep the budget of the project in check.
2.

Time management

If anything is priceless, it is time. A project's success entirely depends on its completion time. Experience gained by a project manager allows him/her to understand the grave implications of the delay in project completion and prepares realistic deadlines while resolving unanticipated issues along the way.
3.

Keep project team in check

Sidelining or micro-managing the team is not a healthy sign and an experienced project manager is aware of this. So, one of the prominent tasks of a project manager is to inspire and motivate the team members. This gives them a sense of importance and they eventually strive for delivering great results.
4.

Monitor progress

Observation is key. Project managers are required to be experts to monitor the progress of the project on every stage. This helps avoid any blunders that may lead to time and resource wastage. They can also implement pre-designed contingency plans immediately in case of any discrepancies.
5.

Manage documents

Reports and documents are important elements that should be properly managed for future use. Project managers take it under their responsibility to manage necessary documents related to past and on-going projects. With years of experience under their belt, efficient project managers present comprehensive reports documenting project requirements that were fulfilled, project history comprising of what was done, when was it done, persons involved, and more.
Tools Used in Product & Project Management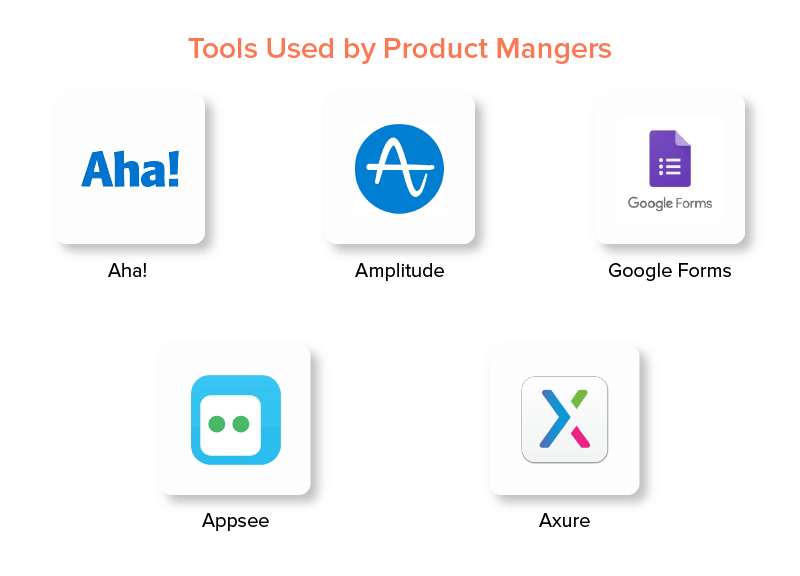 Tools for Product Managers
1.
Aha!
This tool is utilized by the product managers to build a visual product roadmap that helps in outlining the strategy, features, functions, and ideas. It helps in prioritizing features and user stories that ultimately assist in highlighting business value.
2.
Amplitude
Amplitude is a tool used for data analytics. It helps to set product strategy, improve user engagement, understand and analyze what users want, etc. With the help of this tool, product managers are able to grow the business across mobile and web.
3.
Google Forms
Customer feedback plays a crucial role in the development and improvement of the product. For this task, product managers use Google forms that allow them to create feedback forms and promote them across the web for customers to share their opinions.
They can create forms from Google Drive or existing spreadsheets, which makes things easier as it records responses automatically for analyzing.
4.
Appsee
Among other tasks, product managers are also responsible for user experience testing. For this purpose, they utilize a mobile app analytics tool― Appsee. This provides them a chance to analyze and optimize the user experience in your app.
5.

Axure

For Design and Wireframing functions, product managers trust Axure― a tool to create flowcharts, wireframes, mockups, user journeys, personas, idea boards, and so on. They also create diagrams with drag and drop elements from built-in and custom libraries.
Tools for Project Managers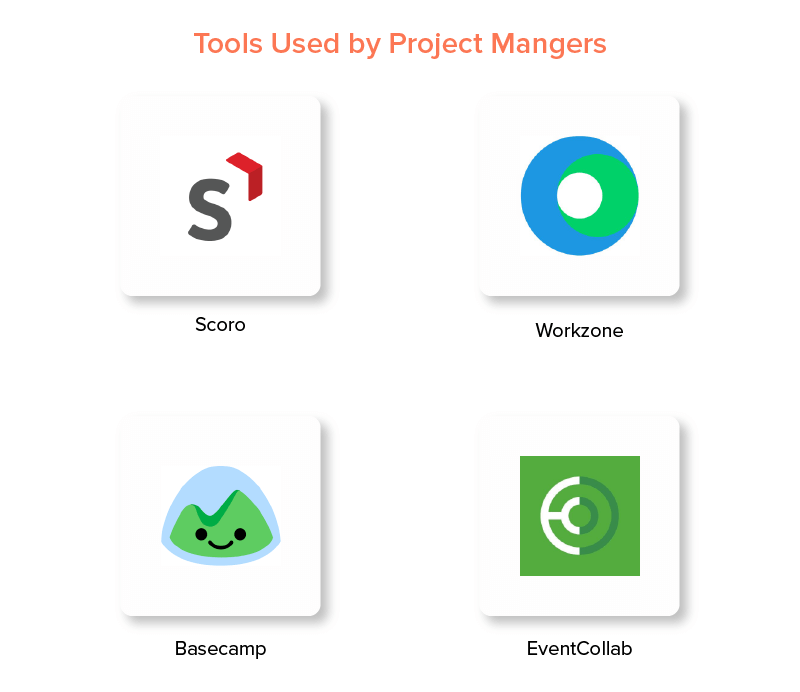 1.
Scoro
Scoro is an effective solution that is loaded with features like real-time KPI dashboard, contact management, detailed reports on on-going projects, sharing meeting schedules and team calendars, etc. It is an all-in-one tool for project managers which speeds up the whole project process.
2.
Workzone
Workzone is an effective tool used by project managers for creating personalized to-do lists and make subtasks and task dependencies. It enables setting permissions for certain users to view projects, tasks, and files. Managers can also see statuses and Gantt charts, thanks to this tool.
3.
Basecamp
Project managers use this tool for team collaboration features. They also review the reporting on project performance, can check email and desktop notifications, and a lot more.
4

. EventCollab

Being a cloud-based tool, it assists product managers in collaborating and sharing project schedules. It is also used to track time, chats and assign tasks.
Challenges Faced By Product & Project Managers
Product Managers' Challenges
1.

Unstable Market Dynamics

If anything is considered unstable, it's the market. Now, one of the most dreaded circumstances for a product manager is when this change is not in their favor. A dynamic market can immensely impact the success of the product.

So, product managers are the ones which develop contingency plans in advance, shall they ever face any unanticipated obstacles. They are also required to study market trends to predict possible outcomes.
2.

Confusion regarding current and long term work

An efficient development process is a mixture of hard work done on features, marketing done for product promotion, and improvisations made in the design. All these tasks need the supervision of the project manager.

With so much going on at once, it becomes challenging for the product managers to focus on the long-term benefits or the strategies which will prove fruitful in the future. So, product managers are constantly torn between the decision of what to prioritize―now or in the future.
3.

Unintentional shift towards Reactive Instead of Proactive

Being proactive is one of the commendable skills which denote an exemplary product manager. However, temptations are always on the move. Even though after determining to take the proactive approach, product managers often succumb to the habit of putting one fire after another. It is also because they get so occupied with the current problems that they do not get enough time to actually practice what they preach.
4.

Tackling varied opinions

With diverse people in the team holding different opinions about products and other matters, it becomes the responsibility of the product manager to keenly analyze each opinion based on solid facts. Sometimes, things backfire and can also slip out of hands. Product managers are often put in awkward positions, where they have to hustle hard to reach just conclusions.
5.

Uphold empathy for customers and team simultaneously

Empathy towards the customer is something product managers are bound to feel, for they are the only representatives for the customers in any organization. Now, the dilemma arises when the product managers are placed in situations where they have to take sides. So, should they empathize with customers or their team? Well, making such a decision is not as easy as a piece of cake.
Project Managers' Challenges
1.

Under-defined Goals

Goals are that element that keeps everyone and every process in check. Everyone works towards it to benefit the organization. Now, most of the time issues emerge and the reason for that happening can be poorly defined project management goals and objectives by the company. This is why project managers may face issues in their process, with no fault of their own.
2.

Inadequate team

Project managers are required to work harmoniously with their team. However, sometimes due to the incompetence of team members, they can face real issues that are a waste of time, money and resources.

The members of the project team are usually selected based on their suitability for a particular obligation, but sometimes they may not turn out to be experts in the fields or competent enough to deal with the given task, which certainly hampers the whole process.
3.

Risk Prediction

Risks are the problems that come unannounced and create havoc. To deal with such scenarios, project managers are assigned the role of assessing and evaluating risks that may hamper the project workflow. The challenge is that it is not as easy as it sounds.
4.

Expectations management

Management of expectations works both ways from managers to team members. Project managers should carefully choose what to expect from the team members, and not expect something unachievable. Similarly, team members should be made known what to expect from their project managers.

Moreover, discussions should be held on the adequateness of resources for the project completion and also while establishing deadlines. Managing all this definitely seems like a challenging by the looks of it.
Where do Product and Project Managers overlap?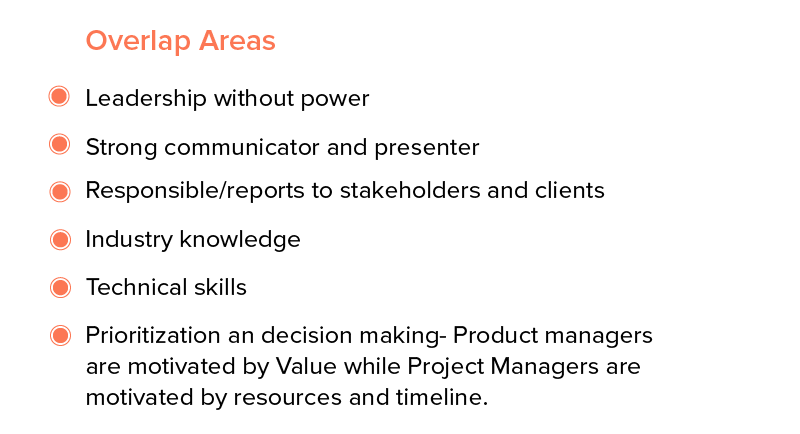 Problems Faced by Overlapping of Roles
1.

Focus Diversion

Say, if a product manager also takes upon the tasks of managing a project, their focus is divided between the product and the project, or vice versa. This can prove a blunder as none of the tasks will be completed with proper focus. So, organizations prefer to hire two individuals for these two distinct tasks.
2.

Incompatible Skill set

It is impossible for anyone to be perfect at everything. In both cases, neither of them have the skill set to perform two distinct tasks simultaneously. Though there are certain characteristics that are common between both product and project managers, there are still some qualifications that are needed to perform each task efficiently.
3.

Conflict of Objectives

It is pretty clear that the objectives of product and project management are different and hence of the product and project managers. If one performs both the jobs, it creates confusion in their mind regarding what objectives to prioritize and what comes secondary. Moreover, in the quest to achieve objectives for these two distinct tasks, they may end up not fulfilling any.
Product Managers vs Project Managers – Whom to hire when?
It is not difficult after this discussion to surmise that both product and project managers are a crucial part of the functioning of an organization. They are assigned different responsibilities and their objectives also vary based on the tasks that they take over.
Now, if you have an understanding of the market, UI/UX Design, and a clear vision of the product, then you should go with a product manager. However, if you are a startup and have no experience or understanding of what goes into making a product, then you should opt for project managers.
They are a great option to start from scratch as they have the knowledge and experience that comes from working with numerous organizations. They can also fill in the shoes of product managers for you do not require to hire one seperatelỵ.

Frequently Asked Questions (FAQs)
1. Why Product Management is NOT Project Management?
Product and project management differ significantly from each other. The former deals with the process of successfully developing a product, while the latter is concerned with devising projects which add to the product development process.
2. Is There Any Overlap Between Product and Project Managers?
In the past, a product manager was also given the responsibilities of a project manager. In fact, small companies and startups do that to date. It is because there are certain features and functions which are similar in both the manager categories. Those features are:
Technical skills
Leadership
Decision Making and prioritization
Strong Communication
The post Project Managers vs Product Managers: Difference, Roles & Challenges appeared first on Appinventiv Official Blog for Mobile App Development.