Healthcare Application Development has changed ever since the concept was conceived. What was originally focused on delivering a platform that made the interaction between patients and their doctor real time and in absence of intermediaries like hospital receptionist, billing counter person, peon, etc. 2017 saw its expansion into other services once the industry started incorporating technologies like AI, and IoT in the picture.
It was in 2017, when one could witness the evolution of Healthcare from 1.0 to 3.0 right in front of them.
All the reasons, comprehensively have brought in a rise in the number of mHealth App Users, globally, while increasing the positive sentiment quotient in terms of Mobile Health.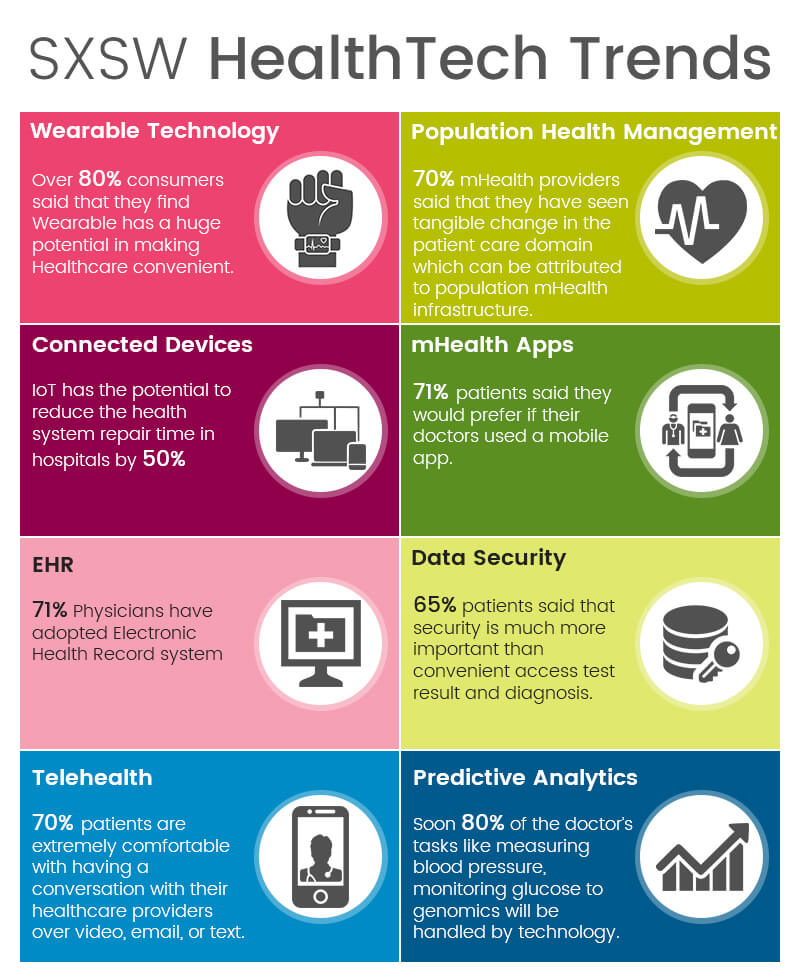 What became massive in 2017 is all set to reach a level in 2018, which was seemingly unrealized even two years back. This year, the Healthcare App industry will see introduction of Blockchain, a greater emphasis on Predictive Analysis, and investments in Cloud Based Solutions.
And these are not all. There are a lot many elements that have come together to form the list of Healthcare Application Development Trends 2018 one of the most exciting years for Healthcare App Development Companies.
Let us look at the 9 Trends that will define 2018's Healthcare outlook.
1.

Gradual Increase in Telemedicine Services

When it comes to mHealth apps, a quick search on the Play and Apple Store will show you how Telemedicine Services is the top most choice when it comes to mobile app development for Healthcare.

The international Telemedicine Industry is estimated to be valued at over $40 Billion by the year 2021. Telemedicine has already started changing how the doctors and patients interact sans the geographical distance between them.

Doctors feel Telemedicine is a much better way to treat and monitor chronic conditions than the regular visits. While that was for the doctors, a recent survey by HIDA, found that over 54% patients feel that a telemedicine visit is much better than the in-clinic visit. The prime three reasons mentioned by them for opting for a telemedicine visit were – cost, convenience, and feeling that the condition isn't "serious".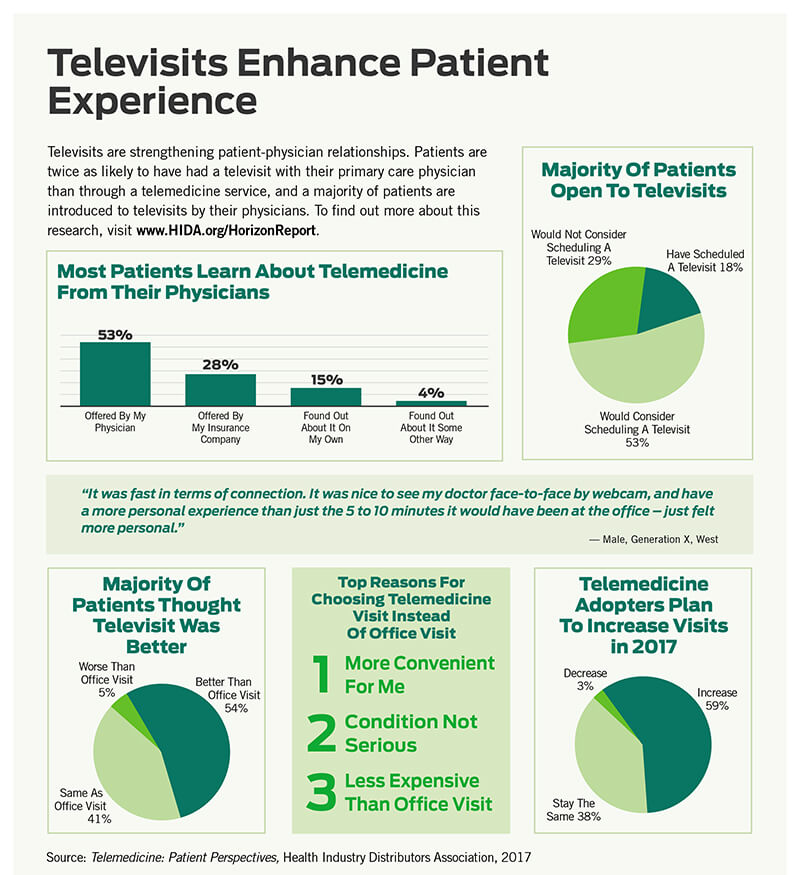 2.

Cloud Solutions will be the Frontrunners

Integrating EMR/HER with cloud based healthcare solutions gives an array of benefits such as effortless sharing of data and checking of e-prescription.

By having every data on the cloud, it becomes much easier to access records, bills, and their health insurance plans. With the presence of Cloud computing, Mobile Health market becomes more accessible and automated.
3.

Greater Application of IoT in Healthcare

2017 gave users the ability to monitor their fitness routine more effortlessly through wearable.

The doing of which extended the demand of fitness app development last year will grow more than just wearable to other connected devices, with the support of IoT technology.
This year, IoT will go ahead of wearable and give a number of other innovative use scenarios to the healthcare industry. From helping the patients to monitor their vitals to empowering hospitals in managing their administrative tasks, IoT will be making various interesting contributions in suggesting treatments, diagnosis, and in the end to better patient care.
4.

Artificial Intelligence will revolutionize the mHealth App Industry

Artificial Intelligence will take Healthcare Apps to a whole different level in 2018. It will bring in some major breakthroughs in areas like Self Examination for the Patients and an opportunity to conduct complex operations using technology, without a patient, for the Doctors.

AI holds the potential to reduce the clinic visit frequency and the involved medical costs.

2018 will see greater investments in technologies like IBM Watson, Google Deepmind, etc. for bridging the gap between traditional medical services and technology based healthcare facilities.
5.

Blockchain will be the Mobile Healthcare Industry Disruptor

Preserving patient data and being compliant are the two vital elements for the healthcare providers around the world. With the presence of n number of regulations, which needs to be abided by, the healthcare providers continues to succumb to the pressure.

This is the number one reason why the life of a series of Mobile Health App so short lived.

Integrating Blockchain technology when building a health app, eradicates this problem completely.

The immutable and highly secure features that Blockchain comes with, make them the perfect partner of EHRs, as the information travels from one network to other. Having singular security procedure eases the process, assures the patients of the data security.

The safety that comes tagged along with Blockchain makes it one of the most looked upon trends in healthcare app development in 2018.
6.

Greater Focus on Healthcare Data Security

Healthcare apps when installed in everyone's phone invites a number of cybersecurity cases. First off, it holds the responsibility of safety of a number of patient data processing and transfers, including not just their medical records and personal information, but even their financial data.

While not new, but the world will continue to witness measures being taken in 2018 for greater security. This is what has placed, Data Security in the list of Healthcare App Trends 2018 and beyond.

Today, mHealth is already bound by a set of regulations that align technology in healthcare with existing systems. HIPAA and HITECH regulations, Food and Drug Administration (FDA) guidance, certification requirements are the starting points that regulate the way publishers design, engineer and distribute apps. Future healthcare solutions will better focus on risk-mitigation, data encryption, and fail safety, both for every personal device and the whole systems.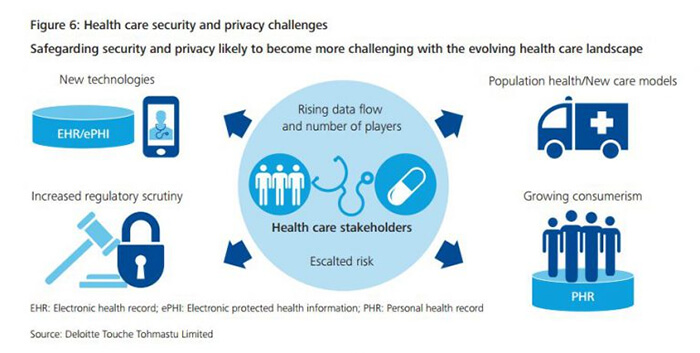 7.

Health Insurance Companies will Become Major Distribution Channel

In 2017, Health insurance companies were yet to come into the mobile app market. But, in 2018, HIC will become the key domain which would ask for medical & healthcare mobile app development services.

Majority of companies (85%) in the HIC market assumes that the patients will be agreeable when it comes to sharing health data with them, if they get a cheaper plan or health recommendations in return.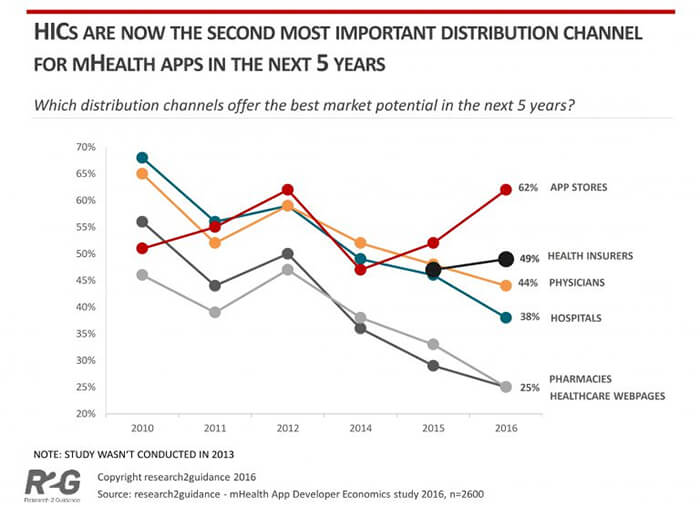 8.

Application of Big Data and Analytics in mHealth Apps

To handle the vast data related to patient's health & finance, and those consisting hospital records, 2018 will see greater integration of Big Data and Analytics in mHealth based apps. While the technology will see itself affecting a number of areas, the three prime ones behind why the world will start investing in Big Data specific healthcare app development will be to ease –

Resource Management

While hospitals are one of the few institutions that require a team of care providers to always be present in the building, even at the unconventional hours. Involving Big Data in Healthcare Application Development process solves this need for the entire staff to wait in anticipation of some emergency, by predicting the number of patients that might need medical assistance.

Big data here makes use of the available statistics to analyze and predict patients' influx.

Electric Health Records

2017 saw an influx in the demand of adding EHR facility in the medical & healthcare mobile app development services. 2018 will only see the demand rise further. Patients focused on maintaining their own digital records in 2017, which included lab results, medical history, and demographics, etc. With the help of EHR, doctors will be able to know if the patient has been working on the suggestions.

EHRs will be used to handle medication list, problems, patient history, care plans, order diagnostic test, and maintain patient specific instruction.

Predictive Analysis

When you mix Big Data with EHRs, what you get is a sea of data that can predict what diagnosis works best, what medicine is most effective on the patient, how much time does the patients takes to recover, etc. It lets doctors take informed decisions to improve the treatment.

While a relatively new technology in 2017, Predictive Analysis will find investors in the Healthcare App Development world in 2018.
9.

Massive Adaptation of Mobile Payment

Mobile Payment have found itself in not just the list of Mobile Application Development Trends 2018, but also in the list of Healthcare App Development Trends that will rule 2018. This year will see a much smoother transaction in emergency situations and at odd hours. By allowing Mobile Payment, the patient will no more have to worry about keeping cash on them at all times.

Are you ready for the changes that are planned to make the Health care Industry more mobile than ever? Know where to start? Contact our team of healthcare app developers, today.

The post The 9 Healthcare App Development Trends to Follow in 2018 appeared first on Appinventiv Official Blog for Mobile App Development.