Michigan 48, Rutgers 42 (3 OT)
Ace
November 22nd, 2020 at 12:39 AM
Congratulations, you just survived the late-night sickos version of the 2010 Illinois game, or the Jersey Shore version of the 2013 Penn State game, take your pick.
For those who went to bed early or chose to do something worthwhile with their Saturday night, Michigan came back from a 17-7 halftime deficit, blew a late eight-point lead, and pulled out a triple overtime victory—at Rutgers. Until one accounts for those last two words, perhaps there'd be some flicker of hope coming out of this, but the overwhelming feeling for Michigan partisans watching this game was wanting it all to be over: the game and this coaching regime.
Quarterback Cade McNamara's five-touchdown (four passing, one rushing) performance in relief of a scuffling Joe Milton gave life to the proceedings and the Wolverines offense. Michigan's overall play, however, was plagued with issues. It took an impressive effort from the running backs, particularly Hassan Haskins, for the team to squeeze out 4.0 yards per carry. The offensive game plan seemed to get scrapped at halftime again, though at least this time it changed for the better.
The passing defense was a disaster, allowing 378 yards on 8.8 YPA to Noah Vedral, whose previous career bests in games with at least 20 attempts were 252 and 7.4, respectively, both of which he posted last week against Illinois. Vedral entered today's game averaging 5.5 YPA with 5 TDs and 7 picks this season; he threw three touchdowns against a lone interception on the game's final, desperation snap.
This game probably didn't move the needle for you. If you thought this coaching staff had run its course, this was a brutal exercise in watching the reasons for that play out in a long, competitive game against freakin' Rutgers. If you thought Harbaugh deserves more time, a win is a win, and perhaps he found a quarterback. (What it says about the coaches that this happened midway through game five is perhaps a point in the former group's favor.)
With this, uh, bounce back to 2-3, Michigan enters next Saturday with a chance to get to a level .500 against a winless Penn State program in a similar state of disarray. Kickoff time is to be announced. Please, you animals, don't put this one under the lights.
[Hit THE JUMP for the box score.]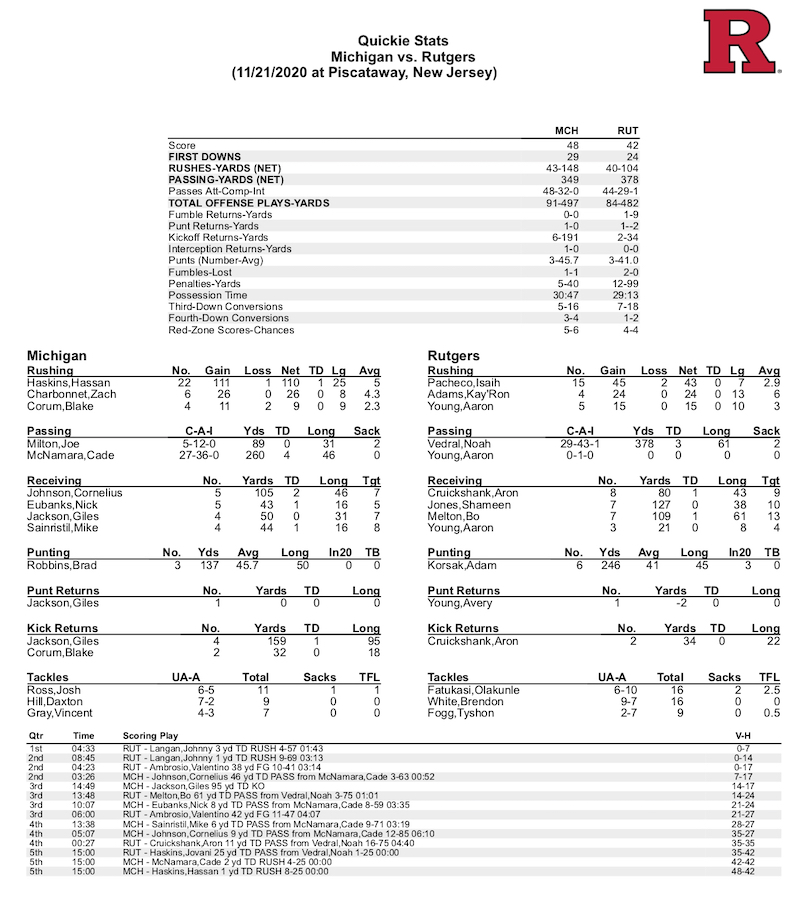 Log in or register to post comments