The question:
Most humiliatingly bad recruiting ranking
The resposes:
Brian: Chris Wormley and Trey Burke spring to mind.
Ace: Can first-hand agree on Wormley. I don't know how anyone could see that guy in person and not think he at least had a good shot at the NFL.
Brian: We've talked about Wormley before. Everyone saw a huge athletic man and ranked appropriately except Josh Helmholdt. He was the #22 player... IN OHIO.
Ace: That dude was built like a house as a senior and it was clear he could add another house.
Seth: Poor Helmholdt. We've probably hung that over his head more than any one ranking by anyone in history.
Brian: He's got a few more in the pipeline if he doesn't drag Mayfield and Hayes into the top 15 in state. But this is a key factor in ridiculous rankings: you miss when everyone else is on point. Sure, nobody saw a draftable CB in Jeremy Clark but I can't blame 'em for that.
Seth: So no Kevin Grady, even though Tom Lemming made him his #7 player in the country.
In. The. Country.
Brian: A key factor, not the. You can fire away on that ranking. By Grady's second year it was clear ranking him as a five star was total nonsense.
Ace: And we were all a little leery of his film when he was a recruit. But nobody flat-out said "De'Veon Smith is better" because of those dang rankings.
Seth: You're thinking of Green.
Ace: Ah crap, same thing.
Brian: A good answer to this question is "any highly touted Michigan tailback."
Seth: A-Train was way up there. #2 overall RB I think.
Brian: A-Train was so far back in the day that it has less impact. Literal mailmen were doing rankings then.
Seth: Well I may just happen to have some of those mailed Prep Football Reports and Prepstars in reach of my desk for some reason.
Brian: Grady was worse than Green because at least Green was a legitimately huge person. I have no idea what anyone was thinking about in re: Grady.
[Hit THE JUMP]
------------------------------
Brian: Remember this blast from the past about Isaiah Bell?
I don't know if the "I" in Isaiah stands for interception or the "B" in Bell means big playmaker, but one thing for certain, this guy is a good football player. … Rules the secondary as a free safety. Has great instincts and plays outstanding zone coverage especially in the three deep. … A real competitor who can break a game wide open. … A magnificent kickoff return specialist … Can change direction without loss of speed or balance. Bell will be a big time player at a big time college. Just a little fundamental work is needed.
Ace: Oh man, that was ESPN right?
Brian: Yessir, and that was a big outlier too. He was a generic three star to Scout and Rivals (24/7 didn't exist yet). This was a guy swinging way, way out of the strikezone. He's lucky he's anonymous.
Ace: I had a hunch this happened but needed to double-check: Scout had Vince Helmuth as a four-star fullback.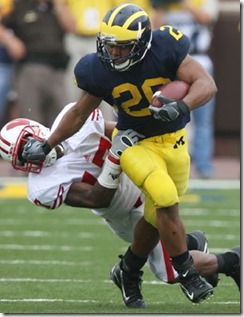 The legends overblow how underrated Mike Hart was. Rivals said he was the #6 all-purpose back and gave him a 5.7 (just under 4-star). Superprep had him the #12 RB. Lemming made him the #6 cornerback. That puts him betwen Brandon Minor and O'Maury Samuels with De'Veon Smith and Jerome Jackson in range.
Brian: On the one hand, props for offering a fullback four stars. On the other, it was not Hammer Panda.
Ace: They even did a full eval!
Area to Improve: Breakaway Speed
Brian: NFW
Ace: …he ended his career as a DT, so that checks out.
Brian: Everyone was wrong about Mike Hart... but shouldn't they have been wrong? I do not blame recruiting sites for going "basically Canadian midget, meh."
Ace: Yeah, his speed and competition level made that a really brutal scout.
Brian: There are probably 100 Mike Harts out there annually and most of them are Sam McGuffie, not Mike Hart. McGuffie, appropriately, is my worst scout ever. I don't want to c&p this but I must
AAAAIIEEEE! Man... this offense is McGuffie's jam, man, and the Church Of Barwis will excommunicate anyone who doubts his his's ability to get up to 200-some pounds without compromising his lightning quicks. Steve Slaton says what.
Seth: I'm going down my list and there's a ton of tall DE-types that Rivals was all up on's in the early years that's throwing off my comps. Pierre Woods, both Masseys.
Brian: In retrospect, Pat Massey had the most insane career ever. He is six foot eight. He did not play OT. He did not play TE. He did not play vaguely plausible DE. He played D-fucking-T. At 6'8". Pad level, amirite?
Seth: How many times was he flailing around as he got edged by a running QB?
Brian: Woods was actually the bomb though until that mysterious thing that almost got him kicked off the team. Even in his doghouse senior year he singlehandedly saved Michigan's ass against Iowa.
Ace: He stuck in the NFL for a long time, too.
Brian: ACE, YOUR WORST SCOUT EVER
I did mine
Seth: Wait, before we do Ace:
Brian: See, Mitchell is the kind of guy I tend to give sites a pass for. He started early and his late collapse was due to factors recruiting sites cannot predict.
Seth: #3 OG in the country? When Scout and Lemming had him a 3-star? Though he played. Fair.
Brian: Mitchell was a good redshirt freshman starter on the 2006 team. If anything Rivals was more correct on him than others, and then Late Carr disease struck.
BiSB: Can I nominate an entire class? Because the top of 2010's class was Devin Gardner, and then:
Demar Dorsey, Cullen Christian, Josh Furman, Marvin Robinson, Ricardo Miller. All top-250 players.
Brian: jumpin' jimmy johnson on a popsicle
BiSB: Meanwhile, Jake Ryan checked in just inside the top 1000
Brian: yoooo my sleeper of the year though
BiSB: (Don't look at that class for too long, though. It will give you the sad thoughts)
Ace: Alright, I found mine.
At 6'6", 265 pounds, Strobel certainly has the size to come in and be an immediate contributor, and I think he has the best chance of doing so out of the three recruits coming in at the five-tech. He needs to add a couple pass-rush moves to his arsenal (or at least utilize a couple more), but he showed a lot of ability against both the run and the pass and the motor to be in and have an impact on a lot of snaps.
Chris Wormley was in that class. And Matt Godin. I'd seen all three. Also I didn't mention Mentor's quarterback, who was a sophomore by the name of Mitch Trubisky.
Brian: Yeah, oof. To be fair, three of the four sites had him a four-star?
Ace: I was young. Those were the Creeper Van days.
Brian: I miss the Creeper Van days. Before we sold out to the man. Your highlight reel for that game literally starts with "Creep"
Ace: Yeah I was bad at not going full Wedding DJ with those videos.
BiSB: Let's give a special shout-out to the talent evaluators at Penn State who saw 30 minutes of Khaleke Hudson doing Khaleke Hudson things, and said "nah."
Ace: This is much better.
Brian: Ditto the folks who saw Caris Levert win the Ohio player of the year and thought that meant he had to literally go to Ohio.
Ace: That one still confounds me. He may have been a rail but the talent was obvious.
BiSB: I guess it's hard to extrapolate when a guy has to triple in size?
Ace: And a super-young-for-the-class player with lots of physical development to do should get the benefit of the doubt, not the opposite.
BiSB: Hudson was a fully formed missile already. GOOD CALL, JAMES.
Seth: I'm still playing with my database over here and Scout had Austin White about one star higher than anybody with like zero explanation:
I'd love to hear Scout's more positive take, but there's not much explanation behind their rankings. His profile is all you get: "An explosive back who can be used in a variety of roles. Has great feet and change of direction ability and makes many people miss in the open field. When he finds a crease, burst and acceleration are good and has breakaway capabilities. Is a fine receiver out of the backfield and has experience playing slot and split."
That comes after a paragraph where Brian sticks up for Jerome Jackson.
Brian: White's another who gets an incomplete. He flamed out because he was a knucklehead. He might have had talent. Pick some dudes who didn't immediately bomb out, man.
Seth: I'm just going off the math, and the ones with huge outliers were all guys who wound up with more stories than snaps, which might explain the outliers.
Brian: In terms of rankings though it's hard to get on the rankers when nobody else saw much until real late. Frank Clark was 210 pounds and had no film. There's no case he should get a fourth star.
Ace: ESPN ranked Mo Hurst as the #54 DT in the country and had an eval to match.
…capable of being disruptive. … You would like to see more consistency but displays a good first-step that can allow him to quickly get penetration. He is at his best when he can fire out and primarily be a penetrator that disrupts schemes. Flashes the ability to be tough when taking on blockers as he can quickly fire out low and gain leverage and with solid strength hold his ground. While he does possess a quick first-step he can at times almost as quickly pop up and play tall and needs to work to consistently keep his pads down. … Hurst is capable of quickly getting off the ball and being disruptive and if he can continue to maintain that while adding size and rounding out his game he can develop into a good and productive college defensive tackle.
Brian: Rivals refusing to give Devin Funchess a fourth star was a bit of a doozy. Everyone who saw Funchess immediately thought "got damn."
Ace: As one of those people: yeah. There's no shame in being the #2 offensive option to high school Aaron Burbridge, who was absurd.
Brian: That was one of those years M had an open fall scrimmage and the instant I saw him I was like "NFL NFL NFL".
Ace: Oops:
On a side note, for those of you who think that Michigan should try to convert Funchess into a wide receiver, I don't see that happening – he already weighs around 215 pounds, and looks like he could easily add another 20-30 before he gets to Ann Arbor.
That was me.
Brian: I get it. You just don't expect a guy his size to be a WR. Hopefully we're about to have the same issue with Gentry.
Seth: I went down the dark hole of Rich Rod defensive backs and do you want to guess who this was before I climb out and replace the rotting board:
Projection: Least outlandish "I will start from day one" semi-prediction in a long time. He might not start but given his advanced understanding of zones—which Michigan is set to play a ton of—and physical talent the chance of a redshirt is zero. He will be on the two-deep as soon as he hits campus and should press JT Floyd and Justin Turner in the battle to start opposite Woolfolk. I think he's at least on even footing with them even as a true freshman.
BiSB: Dorsey? Christian?
Seth: Christian. I take it he didn't pan out at Pitt?
Brian: No but Ray Vinopal did somehow.
BiSB: I was always unreasonably high on Ray Vinopal. So I feel somewhat vindicated.
Seth: Yeah the "2-star true freshman" label was good for narrative purposes but hardly accurate given the coaches blew up their defense before Penn State to insert him.
Brian: There's going to be a 1000% uptick in sad bust defenders from the Rodriguez era in the mags I sign this year.
Ace: You can get quite a few signed just with guys who didn't even make it to campus. Or left before their first fall camp was over.
Seth: How do I know which Talbott signed mine?
Ace: This is more in the "one site nailed it" category but everyone had Boubacar Cissoko as a top-50 overall prospect except ESPN, which gave him a 78 grade. I know a lot of his stuff was off-field issues but he was bad when he played.
Brian: Oh man, Cass corners. They were so overrated for so long that I crapped on Jourdan Lewis
Ace: I'm gonna pat myself on the back for recognizing early that Jourdan Lewis was better than Richardson.
BiSB: It helps that he isn't 5'3"
Ace: He was pretty tiny in high school, too. Not coaching-staff-will-force-feed-you-ribs-at-SMSB tiny, but still tiny.
Seth: I'm closing my database now because it's way less interesting than I thought it would be. But Adam "oh how you will rue the day MSU took out Mike Martin's knees" Patterson was the #7 DT to Rivals and ESPN while Scout had him unranked.
Ace: If we're doing throwbacks, I remember being very excited about this guy because of how good he always got in NCAA dynasties:
Brian: I just want to wrap this up by pointing out that Rivals dropped Trey Burke 20 spots after he committed. Both other sites moved him from generic three star territory into their top 100s.That's some insane business right there.
Seth: Just to avoid 11W's social media interns retweeting this: Kyle Kalis.
Brian: He wasn't good but he did start a lot. There are worse takes.
Seth:
This was a bad take. Never, ever bring out the Holy Steve for an OL recruit.
Brian: YMRMFSPAs are explicitly about players who work out.
Ace: I'm sorry, Brian, but I was inclined to search for this, which includes the tag "boy i hope i'm wrong":
Yes, MGoBlog readers with long memories for slightly uncomplimentary things said about Michigan coaches around these parts will remember a long mailbag post doubting John Beilein's recruiting ability. Picking up Brundidge, who's not a guy you would think finds the Beilein offense a huge selling point, goes a long way towards making that opinion look stupid, and I welcome the opportunity for a fuller mea culpa in the event Beilein picks up either Prather or Zeigler and finishes out the '11 class with a highly-rated post. Stupidity, in this case, is preferred.
We can be done now.
Brian: That take is Beilein is sneaky good at recruiting! THAT IS A GOOD TAKE
Ace: It is! It's just in the wrong post. About a guy you called a considerably shorter Rodney Stuckey.
Ace: It's more that considerably shorter Rodney Stuckey is a huge bust red flag, but fair.
Brian: SO THAT'S A GOOD TAKE TOO
Ace: OKAY OKAY but the blockquote deleted this link.
Brian: I have the best takes. Except about McGuffie. And MSU ten years ago. the end.
BiSB: And MSU five years ago
And MSU four years ago
Brian: By then I was resigned.
Seth: You guys ate mud too so I may as well come clean: "Put in Henson."