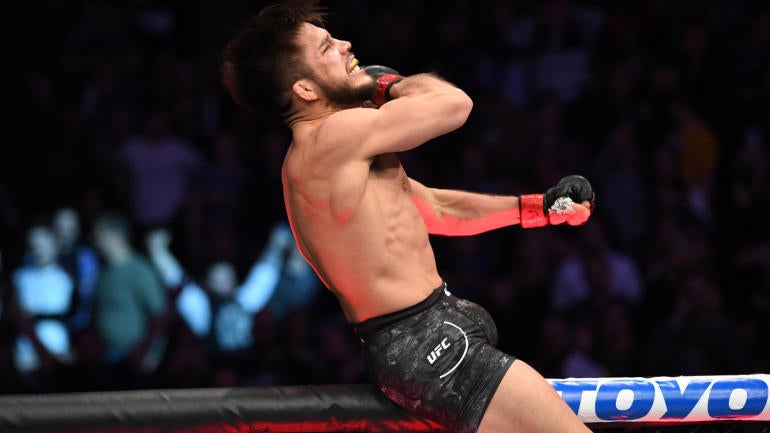 It didn't take long to figure out just why Cejudo didn't seem worried about the challenge he'd be facing against the man some consider to be the best bantamweight of all time.
Just 32 seconds into the first round, Cejudo earned a more-than-convincing TKO victory over Dillashaw to retain the flyweight championship and possibly keep the 125-pound division alive.
As a dejected -- and possibly stunned, as well -- Dillashaw looked on from the cage, Cejudo did say that he'd be willing to run this all back at 135 pounds somewhere down the line.
Cejudo also turned his attention to UFC president Dana White amid all the talk that the flyweight division is on life support.
In addition to Cejudo telling White that it's time to talk about him being compensated properly for his recent efforts, which of course includes ending the historic reign of former champion Demetrious Johnson, he also reiterated one more time that he performed on Saturday night in Brooklyn not just for himself, but for all the other competitors within the 125-pound ranks who have presumably been concerned about their futures.
Dillashaw was not as convinced after the bout that he truly lost, telling reporters after the fight that his opportunity was "stolen" from him.
READ MORE (CBSSports.com)
TJ Dillashaw Asks How Flyweight Champ Henry Cejudo Could Be Happy With Win At ...

Forbes

Henry Cejudo blasts TJ Dillashaw in 32 seconds to retain UFC flyweight title

Yahoo Sports

UFC Brooklyn results: Henry Cejudo blasts TJ Dillashaw by 1st-round TKO; Greg ...

Sporting News

The Latest: Cejudo defends 125-pound belt with 1st-round win

KIRO Seattle

UFC Fight Night 143 Results: Henry Cejudo Stuns TJ Dillashaw, Greg Hardy ...

Yahoo Sports

By the Numbers: UFC Fight Night 143

Sherdog.com

UFC Fight Night 143 predictions -- TJ Dillashaw vs. Henry Cejudo: Expert picks ...

CBSSports.com

Cejudo defends 125-pound belt with record win over Dillashaw

Las Vegas Sun

Henry Cejudo TKO's TJ Dillashaw in Just 32 Seconds in First UFC on ESPN Main Event

Yahoo Sports