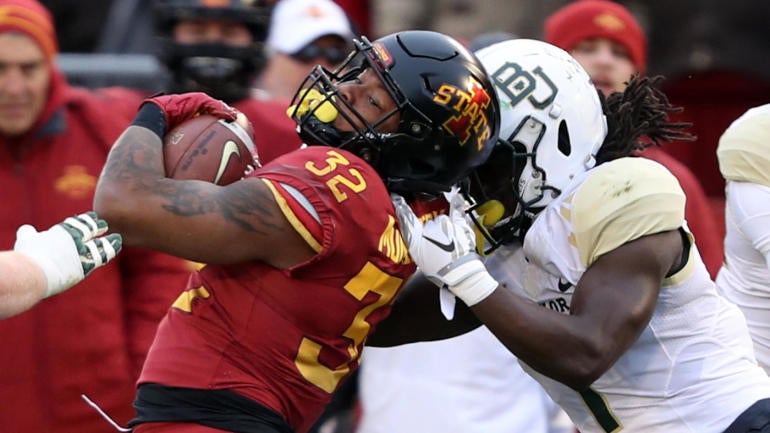 22 Iowa State is hosting Baylor Saturday afternoon, and things got heated between the Cyclones and Bears.
Players rushed over to break things up including Montgomery and Bears defensive lineman Greg Roberts .
Montgomery pulled Roberts off the pile and away from the action, and that didn't seem to sit well with the 6-foot-5, 264-pounder.
The incident came one play after Baylor safety Chris Miller was assessed a 15-yard penalty for a late hit out of bounds on Montgomery.
On that play, Stewart didn't let up when the two ran out of bounds and pushed Montgomery into the Gatorade cart.
He is currently a college football writer for CBS Sports, analyst for CBS Sports HQ and host for the SiriusXM college... Full Bio
READ MORE (CBSSports.com)
ISU's Montgomery, Baylor's Roberts ejected for fighting

mySanAntonio.com

Iowa State RB David Montgomery ejected in third-quarter scuffle vs. Baylor

DesMoinesRegister.com

Breaking down the recruiting visitors expected at Iowa State vs. Baylor

DesMoinesRegister.com

Bears preparing for winter blast at Iowa State

Wahpeton Daily News

Iowa State football vs. Baylor: Predictions, How to watch

The Gazette: Eastern Iowa Breaking News and Headlines

Baylor-Iowa State Game Thread

Our Daily Bears

Red-hot No. 23 Iowa St. hosts bowl-hungry Baylor

Marshalltown Times Republican

How to get Baylor at Iowa State on TV, radio

Waco Tribune-Herald

Red-hot No. 23 Iowa State set to host bowl-hungry Baylor

The Daily Nonpareil