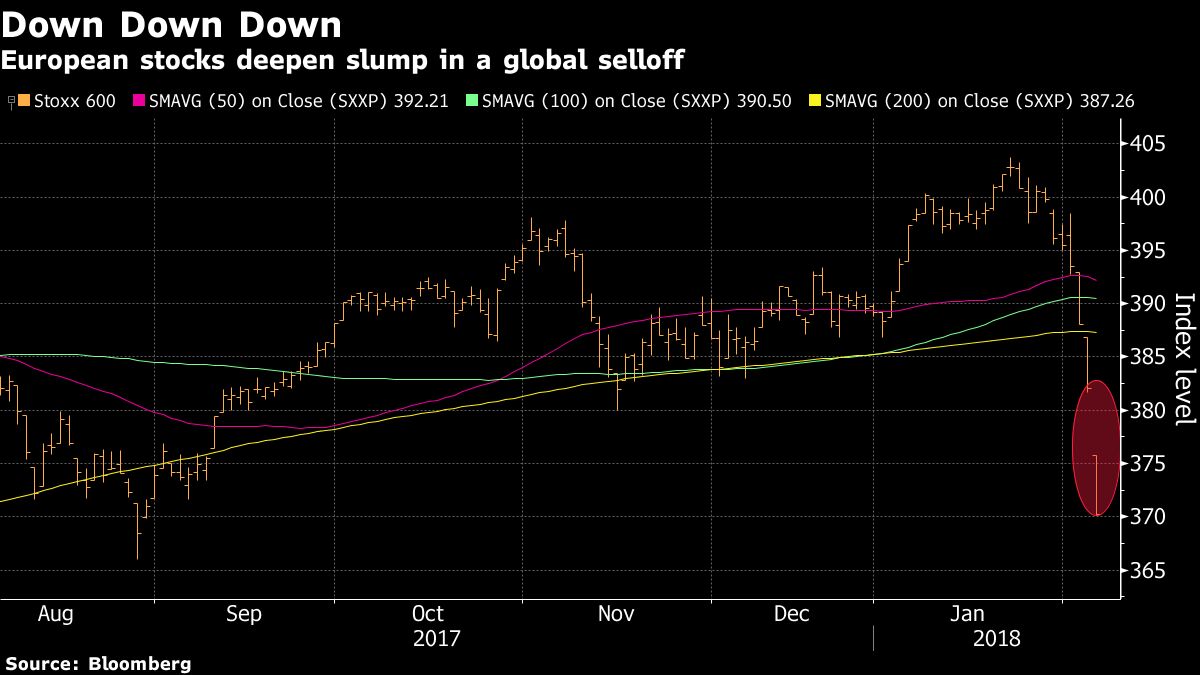 Yesterday's tumultuous U.S. stock session, which saw the Dow Jones Industrial Average drop as much as 1,500 points , has spread across the world.
In Europe, the Stoxx 600 Index was 1.8 percent lower at 5:45 a.m. Eastern Time, with every industry sector losing ground.
Trading in the VelocityShares Daily Inverse VIX Short-Term ETN, which saw returns of 187 percent last year, was halted this morning.
The equity Selloff has investors changing their bets on the likely path of Federal Reserve rate increases , with the Market implied odds of hikes later this year easing.
A barrel of West Texas Intermediate for March delivery dropped to $63.85 by 5:45 a.m. as raw materials were caught in the market selloff.
There are some early signs of the overnight declines in metals easing as the Bloomberg Commodity Index pared losses to 0.1 percent .
Bitcoin briefly traded below $6,000 overnight as weakness in digital tokens continued, with Ripple, Ether and Litecoin also tumbling at least 11 percent.
READ MORE (Bloomberg)
VIX: The 'fear index' has only been this high on 3 prior occasions

Business Insider

Wall Street Turns Positive As Markets Regain Poise; Volatility Continues Surge

TheStreet.com

Wall Street Fear Gauge Spikes Again, Taking VIX Past 50-Point Mark

TheStreet.com

Market Rout Shatters Lull in Volatility

Wall Street Journal

Volatility Jump Has Traders Asking About VIX Note Poison Pill

Bloomberg

'Short-volatility Armageddon' craters a pair of Wall Street's most popular ...

MarketWatch

Investors Suffer Heavy Losses on Bets Against Volatility

Wall Street Journal

BARCLAYS: A group of niche volatility traders will sell $225 billion of US ...

Business Insider

Volatility expectations swell: Vix tops 40 for first time since 2015

Financial Times