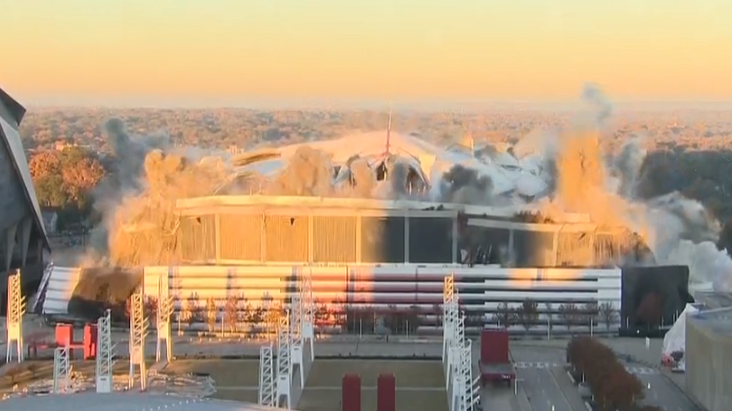 A little more than 25 years after opening, the Georgia Dome, former home of the Atlanta Falcons and the scene for several historic sporting events, was imploded Monday morning.
In 1994, the Buffalo Bills fell to the Dallas Cowboys in Super Bowl XXVIII, losing their fourth consecutive title game.
Super Bowl XXXIV in 2000 had a dramatic finish, with Tennessee Titans wide receiver Kevin Dyson being tackled just short of the goal line to give the St. Louis Rams the victory.
One of the most iconic moments in US Olympic history took place at the Georgia Dome in 1996 when an injured Kerri Strug, later diagnosed with torn ligaments in her ankle, courageously nailed her second vault to help the American women win gymnastics team gold for the first time.
In January, the Falcons defeated the Green Bay Packers 44-21 to advance to Super Bowl LI, ending their tenure in the Georgia Dome with a historic win.
READ MORE (WCVB Boston)
3- 2-1, BAM! Georgia Dome imploded in downtown Atlanta

Sacramento Bee

Goodbye, Georgia Dome – thanks for the memories!

MyStatesman.com

WATCH: Atlanta's Georgia Dome implodes

WJLA

Georgia Dome imploded with nearly 5000 pounds of explosives

Fox News

Georgia Dome about to come down

NBCSports.com

The Latest: Georgia Dome imploded in downtown Atlanta

Daily Mail

The Georgia Dome: A By-The-Numbers Stroll Down Memory Lane

CBS Atlanta

Reaction from the Georgia Dome implosion in Atlanta

WLWT Cincinnati

Goodbye, old friend: Ranking top-10 SEC-related Georgia Dome memories

SECcountry.com