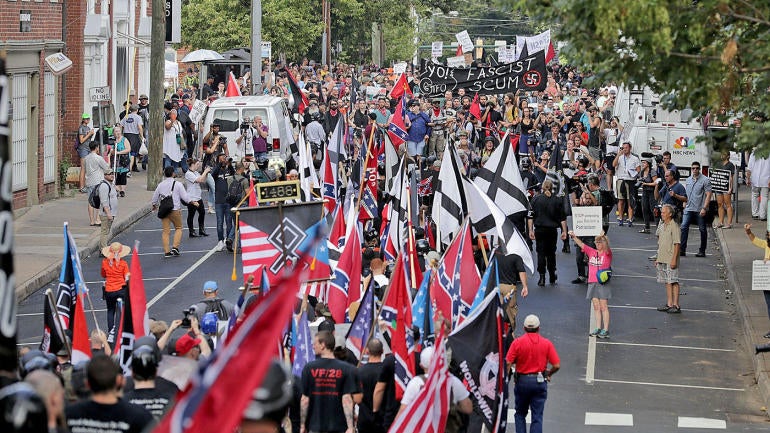 The Detroit Lions have denounced the use of their Logo during the violent "Unite the Right" rally in Charlottesville, Va., over the weekend that left one woman dead and 19 injured.
"We detest and disavow any use or implied use of the Detroit Lions logo or any of our marks in association with the event this past Saturday in Charlottesville," the team said in a statement.
The Lions become Detroit's second professional sports team to disavow the use of their logo during a rally in which white nationalists, neo-Nazis and other far-right extremists gathered to protest the decision to remove a statue of Confederate general Robert E. Lee.
On Saturday, the NHL 's Detroit Red Wingsissued this statement after images showed their logo displayed on some protesters' placards.
"The Detroit Red Wings vehemently disagree with and are not associated in any way with the event taking place today in Charlottesville, Va.," the team said in a statement via Twitter.
READ MORE (CBSSports.com)
Lions Detest Use of Logo at White Nationalist Rally

Sports Illustrated

Detroit Lions condemn 'any use' of logo at Charlottesville event

CBC.ca

Lions denounce use of their logo by racists at Charlottesville rally

NBCSports.com

Detroit Lions denounce use of their logo in alt-right Charlottesville protest

Detroit Free Press

Detroit Lions Denounce Use Of Like-Image During White Nationalist Rally In ...

CBS Detroit

Lions logo used by white nationalists at Virginia rally

WXYZ

Lions latest to protest use of logo by white nationalists

The Detroit News

Lions condemn 'any use' of logo at Charlottesville event

WHIO

Detroit Red Wings denounce use of their logo by white nationalists in ...

Yahoo News Canada (blog)