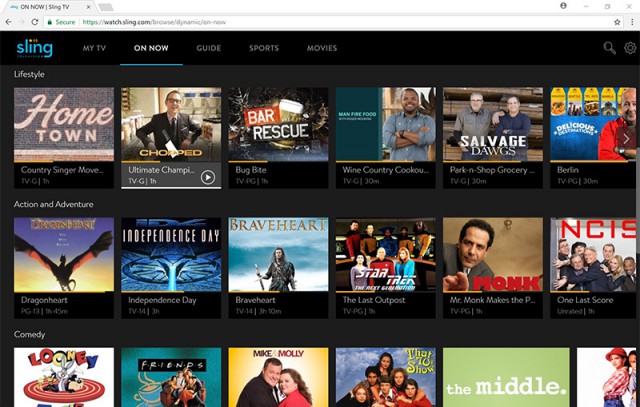 Making a streaming service available on as many platforms as possible is key to attracting more and more customers in the cord-cutting era, and, to that end, Sling TV is now opening its doors to Google Chrome users.
Sling TV says that its new player, which is available in beta at this stage, can be used by Chrome users on Windows devices and Macs and comes with support for both live and on-demand content.
"The Sling TV experience on Google Chrome is not only fast, intuitive and incredibly simple to use, it also gives customers the added benefit of seamlessly starting live and on-demand television with a click of their mouse," says Sling TV vice president of product management Jimshade Chaudhari.
"Sling customers can stream their favorite can't-miss content, like live NFL games or the next episode of 'Game of Thrones' on Sling.com without the hassles of downloading plug-ins or logging in to another device."
Chrome, according to the latest data from NetMarketShare , has a usage share of 59.57 percent on desktop devices, making it the most-popular browser by far in this market.
READ MORE (BetaNews)
Sling TV Debuts Desktop In-Browser Player for Google Chrome

Mac Rumors

Sling TV subscribers can now watch TV through Google Chrome

ExpressNewsline

Sling TV streaming in Chrome browser goes live

SlashGear

Sling TV Gets Beta In-Browser Player For Google Chrome

Android Headlines

Sling TV now lets you watch with Chrome on Windows and Mac

The Verge

Stream Sling TV on the web from the comforts of Chrome

Engadget

Sling TV Adds Support For Google Chrome In Browser Viewing

Streaming Observer News

Sling TV Introduces In-Browser Viewing on Google Chrome, Now in Beta

Cellular News

Sling TV Polishes Player for Google Chrome

Multichannel News