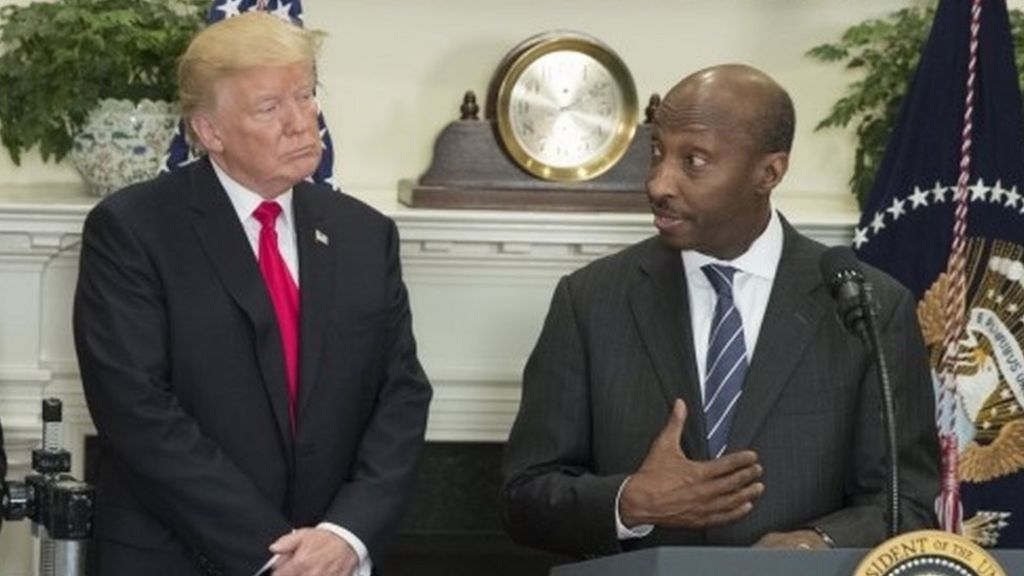 "America's leaders must honour our fundamental views by clearly rejecting expressions of hatred, bigotry and group supremacy, which run counter to the American ideal that all people are created equal."
One of only a handful of black heads of Fortune 500 companies Resigns from a White House advisory board in protest at Donald Trump's tepid response to the Charlottesville attacks, and the president cannot resist kicking the man on the way out of the door.
Leaders such as Thea Lee of the AFL-CIO, Jamie Dimon of JPMorgan Chase, Indra Nooyi of PepsiCo and Mary Barra of General Motors are sure to feel the heat from members and shareholders.
The White House has been scrambling since Saturday night to control the damage caused by Mr Trump's "both sides" comment, when ascribing blame for the Charlottesville violence.
The president has faced sharp criticism from the left and the right, as conservative members of Congress show newfound willingness to distance themselves from Mr Trump on this matter.
READ MORE (BBC News)
Merck CEO resigns from White House council to 'take a stand against ...

Los Angeles Times

Merck CEO resigns from Trump council over Charlottesville

Reuters

Merck CEO Resigns from Trump Council after Charlottesville

Scientific American

Trump lashes out at black CEO who quits council

CNNMoney

Cramer to Trump: 'Get the facts straight' on Merck CEO Ken Frazier and drug ...

CNBC

Merck CEO quits Trump's manufacturing council over Charlottesville — and ...

AOL

Trump lashes out at Merck CEO who resigned from council after Charlottesville

CBS News

Merck executive resigns from president's council, and Trump lashes out

Marketplace.org

Merck CEO joins these high profile execs abandoning White House councils

Fox Business