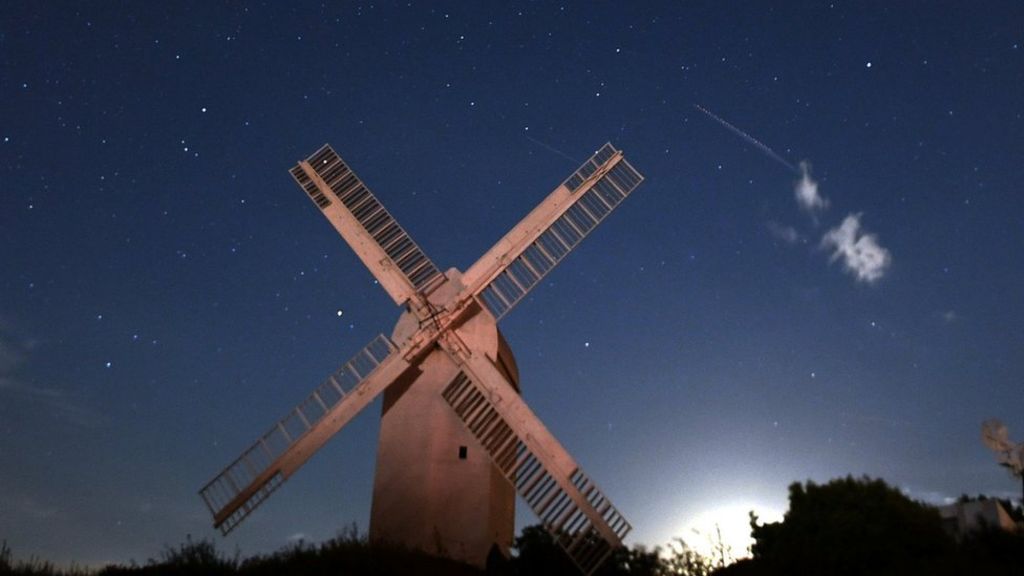 The shower was due to peak in the UK on Saturday night, in a display also visible in other parts of the world.
The Perseid Meteor shower occurs every July and August as the Earth passes debris from the Swift-Tuttle comet.
Image [email protected] caption BBC News website reader Keith Trueman captured the Meteor Shower against the background of the Milky Way on Exmoor Image copyrightBob GirlingImage caption Bob Girling witnessed this impressive sight above Chilton, Oxfordshire, at around 23:20 BST Image copyrightMichiko SmithImage caption Michiko Smith took a series of photos, including this one, from his back garden in Normanton, West Yorkshire Image copyrightAlan SaundersImage caption Relatively clear skies above Ide, near Exeter, gave Alan Saunders a chance to photograph the meteor shower from his house Image copyrightDarren FelgateImage caption Reader Darren Felgate said this was taken from his back garden near the cricket ground in Scarborough Image copyrightBrian GibsonImage caption Brian Gibson captured a Perseid meteor passing through the constellation of Ursa Major from his back garden in Milngavie, Glasgow at 23:03 BST Former England cricketer Paul Collingwood was among those who attempted to spot the meteors.
BBC political correspondent Chris Mason tweeted that he had tried to view the shower, but missed many of the shooting stars.
Image copyrightBarry BirdImage caption Reader Barry Bird captured this view of a Perseid meteor, the Pleiades and Venus rising over Winchcombe, Gloucestershire Image copyrightJohn-Paul BrophyImage caption A Perseid meteor appears over Beachy Head in Eastbourne in this shot by reader John-Paul Brophy Image copyrightMike DriscollImage caption Reader Mike Driscoll photographed this view of a meteor passing through The Plough over his house in Ashurst, Hampshire Image copyrightJohn CooperImage caption Reader John Cooper witnessed this Perseid meteor from his back garden in Leicestershire at about 02:00 BST on Sunday.
READ MORE (BBC News)
2017 Perseids Meteor Shower Peaks This Weekend

Scientific American

Watch the 2017 Perseid Meteor Shower Peak in Slooh Webcast Tonight!

Space.com

UK: Saturday night to feature better views of Perseid meteor shower

AccuWeather.com

What time is the Perseids 2017 meteor shower tonight and how to watch it

WalesOnline

How you can watch the Perseid meteor shower tonight

Huddersfield Examiner

Perseid meteor shower set to peak this weekend - what you need to know to see it

Manchester Evening News

Clear skies forecast for annual Perseid meteor shower

RTE.ie

Perseid Meteor Shower Provides Opening Act for Solar Eclipse

Voice of America

How Hertfordshire residents can improve the chances of seeing the Perseid ...

Hertfordshire Mercury