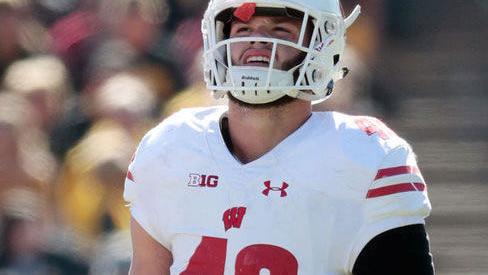 University of Wisconsin inside linebacker Jack Cichy will miss the 2017 season after tearing his anterior cruciate ligament, UW announced Thursday.
Chris Orr and Ryan Connelly will compete to replace Cichy in the Badgers' starting lineup.
UW could apply for a Medical Hardship Wavier for Cichy to regain a year of eligibility, but it likely wouldn't be granted.
If Cichy is not granted a medical hardship wavier, his college career would be over after this season.
Cichy missed the second half of last season after tearing his pectoral muscle at Iowa.
READ MORE (Madison.com)
Wisconsin LB Jack Cichy out for 2017 season with torn ACL

Bucky's 5th Quarter

Badgers' Cichy out for season with torn ACL

Fox11online.com

Wisconsin loses one of its best defenders for season as LB Jack Cichy tears ACL

CBSSports.com

Badgers LB Cichy out for season with torn ACL

FOXSports.com

Badgers LB Jack Cichy suffers torn ACL, out for season

ABC News

LSU makes addition of third Jefferson brother officially official

NBCSports.com

Wisconsin loses standout LB Jack Cichy for season

Sporting News

Wisconsin LB Jack Cichy suffers ACL tear, will miss 2017 season

NFL.com

Badgers lose team captain LB Cichy for season to knee injury

Columbus Ledger-Enquirer