Regular Indian opener Shikhar Dhawan and no.3 batsman Cheteshwar Pujara failed to impress in the tour match between India and Essex
Openers Lokesh Rahul and Murali Vijay scored impressive fifties in the first Innings but the other opener Shikhar Dhawan got a pair in the three-match practice match against Essex which ended in a draw. On day 1, India won the toss and decided to bat first and the combination of Murali Vijay and Shikhar Dhawan walked out to bat. The stand didn't last longer as Dhawan was dismissed on the 3rd ball of the match after the inside edge of his bat went straight to the wicketkeeper James Foster.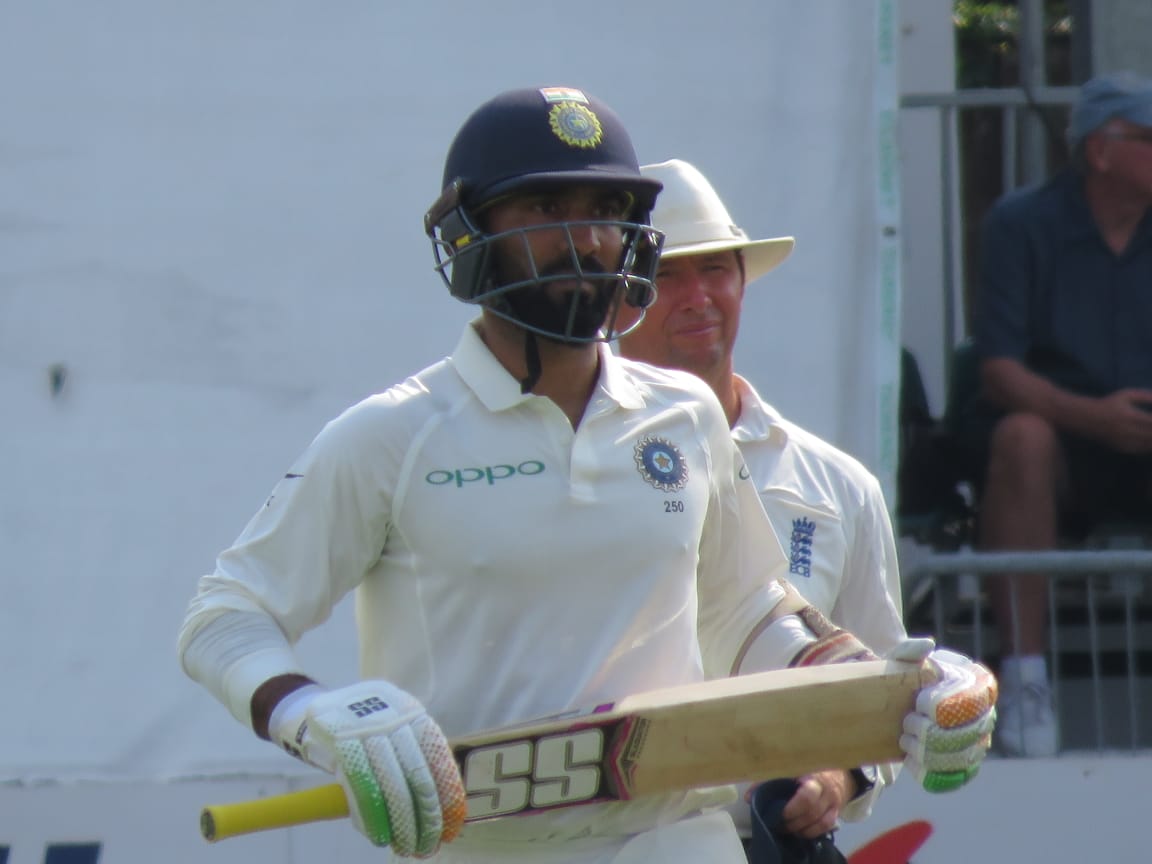 Cheteshwar Pujara came in at no.3 and was dismissed in a similar fashion, caught by Foster and bowled by Matt Coles. Ajinkya Rahane was in at no.4 in both the innings but failed to convert his starts. After his dismissal, the Indian captain Virat Kohli should class and composure as he and Vijay added 90 runs for the fourth wicket. Vijay scored 53 off 113 balls. Kohli followed him to the dressing room shortly as he completed his half-century as well.
It was a pressure situation for India as there were two new batsmen at the crease, but this was the partnership that changed the game. Lokesh Rahul (58) and Dinesh Karthik (82) added 114 runs for the sixth wicket. Karthik was looking in supreme form on day 1 and started his innings with a boundary on the very first ball he faced. He was scoring more than a run-a-ball until he reached his 40s. He and Hardik Pandya added 61 runs for the 7th wicket. Karthik departed on the very first ball of day 2 when he tried to cut a ball way outside off stump but was caught by Matt Dixon.
Pandya went on to score a half-century and India finished their innings at 395. No. 11 Rishabh Pant scored a quickfire unbeatable 26-ball 34. The Indian bowlers started well as Mohammed Shami and Umesh Yadav bowled tight line and lengths in the starting over. Yadav got the early results as he trapped opener Nick Browne lbw in the third over.
Michael-Kyle Pepper and the Essex captain Tom Westley then added 68 runs for the third wicket. The Indian spinners only bowled 11 overs off the 94 that India bowled and remained wicketless. Umesh Yadav was the pick of the bowlers with figures of 4 for 35. Ishant Sharma took 3 wickets and Shardul Thakur got 1 before Essex declared their innings on 359 on day 3.
India tried another opening combination in the 2nd innings. Lokesh Rahul and Shikhar Dhawan opened the innings this time but the latter failed again. Dhawan was beaten on the first two deliveries he faced and was dismissed on the third by Matthew Quinn. Cheteshwar Pujara (23) added 36 runs for the second wicket with Lokesh Rahul (36 not out). Rahul and no.4 Rahane (19 not out) added 49 runs between them for the third wicket. The Indian innings finished at 89 for 2 as the match was abandoned as a draw due to heavy rain.
Some tough selections could be made in the playing XI for the 1st Test as Shikhar Dhawan, Cheteshwar Pujara and Mohammed Shami failed to impress with their performances. There is not much time left for the Test match to begin and there is no clear indication that India has got a settled combination. It is an uphill task for the team management before the 1st Test to get the best of all the players in the squad.
BRIEF SCORES:
India (1st Innings): 395 (Dinesh Karthik 82, Virat Kohli 68, Paul Walter 4-113, Matt Coles 2-31)
Essex (1st Innings) 359-8 declared (Paul Walter 75, Michael-Kyle Pepper 68, Umesh Yadav 4-35, Ishant Sharma 3-59)
India (2nd Innings) 89-2 (Lokesh Rahul 36*, Cheteshwar Pujara 23, Matthew Quinn 1-5, Paul Walter 1-38)
Match Drawn
The post Batting Order Woes for India as Tour Match Ends in a Draw appeared first on The12thMan.