Importance/Benefits of Playing Softball
When the whistle is blown, a little jiggle is seen in the field and some mumble will often be heard. Then, the Softball fans draw closer and the game yelling begins. To most people, there is never greater importance to softball than just that fun. But a little more examination of its importance makes it the "King of The Teenage Ladies Games". Softball is not just enjoyable, but also healthy. Let us examine the scholastic findings.
#1. It improves one's moods
Have you ever watched a live softball game when stressed? Did you feel some relaxation and joy at the end of it? In a softball game, both the players and the fans always have a degree of interactivity. The players will craft the moves as the fans will instill the player's morale by some funny talks. The Mayo Clinic found out that such interactivity and active participation boosts the production of chemicals and hormones that encourage happiness to the players and a relaxation to its fans. This will ultimately enable one to cope with the feminine moody feelings. In addition, it fosters socializing and such like activities that are essential in getting a long-term solution to a lady who is often temperamental.
#2. Softball is great in Body Development
According to the Health Fitness Revolution, ladies who play softball are likely to have a better developed upper body than those who do not participate. That fact is pretty straight and verifiable anywhere softball has taken root. Softball players are often likely to have better hand muscles and better shoulders than most ladies. The triceps, biceps, and forearms are best developed for a lady softball player than any other lady.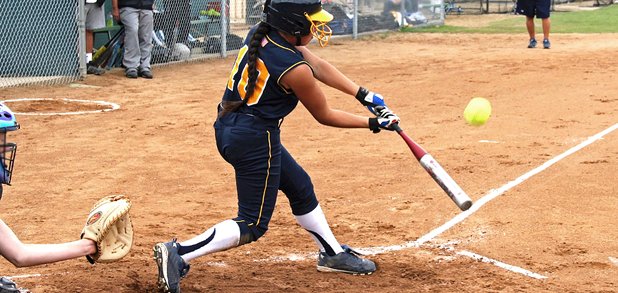 #3. It Helps to Sharpen one's Focus
The American Center for Disease Control and Prevention (CDC) reported this year that field games like softball help one to retain focus on projects and boosts one's mental judgment. Affirming the same, George Krucik advised that engaging in such games for at least 30 minutes every 3 days does nature a skill of concentration and mental development. This skill does not only enable one to be observant but also enables one to learn on how to pinpoint mistakes and how to solve them. Thus, making softball players become good project managers.
#4. Softball "Kills" Stress
Active softball players are likely to have a higher likelihood of producing certain hormones like small amounts of adrenaline and cortisol as reported by the Healthline Publication. Such hormones alongside endorphins (special type of mood filtering hormones) are released and help one to gain a relaxed and an optimistic feeling after the game. This also curbs the production of stress hormones keeping one free from stress and more likely to survive diseases like depression. So, do you mind a smile? Try participating in the game if you don't mind some fun.
#4. It Improves Sleep
Sleeping is one of the best means of resting as well as body healing. Some scholars reported that laughing and good sleeping are the best free cures for everything. Sadly, there is a common outbreak of "No Sleeping Syndrome (NSS)" among most juvenile American ladies. The current world is full of sugar-coated activities that snatch many people time to rest. At times, good sleep is regarded as a luxury to most people. However, the greatest means to ensure sweet dreams (for ladies) is to engage actively in games like softball. The better one gains this knowledge, the longer one is likely to enjoy the games. That is a deal; play well, snooze well.
The post Why Softball? appeared first on Softball.