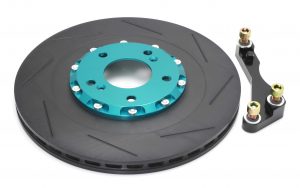 Get More Efficient Braking With a Simple Bolt On Solution From Project Mu
The S2000 is easily one of the most popular roadster for tuners. With tons of aftermarket support and a great amount of knowledge available for this platform, no wonder this chassis is still alive and kicking. Even with the platform reaching the 20 year mark, companies are still producing new upgrades and parts to improve on this nimble convertible. The latest release from Project Mu includes a rotor upgrade for both the front and the rear of the Ap1 and Ap2 Honda S2000. This new set up includes a 2 piece rotor design which not only adds strength, it allows for a lighter weight design which helps with unsprung mass. Since this disk is larger, there is more surface area for the brake pad to come in contact with the rotor. To get this to properly work with the factory calipers, there are brackets that move the mounting point out further to accommodate the added size. Finally these Rotors are machined with a slotted pattern which allows for better cooling properties and pad gassing. Couple this kit with a good quality pad and some up-rated fluid and you will be ready for the track. For more information or to place an order for the new Project Mu upgrade kit, give a performance specialist a call at 1-480-966-3040 or email [email protected]
To view all of our Honda S2000 parts click this link
Project Mu SCR-PRO high performance brake rotors for late model Japanese vehicles are designed specifically for high output tuner vehicles. SCR-PRO rotors are constructed as a two-piece rotor design with Black Chrome finish for extraordinary looks. SCR-PRO rotors are developed from super tough FC Cast Iron Material and are heat-treated for reliability, durability and thermal stability under aggressive driving.
The affixed bell housing is made from a billet aluminum alloy for strength as well as reduction of unsprung weight. Project Mu SCR-PRO rotors are available as front and rear replacements including vehicles with the factory Brembo calipers.
Manufactured from the factory featuring a slotted surface to facilitate better pad wear and maximize cooling and braking performance. SCR-PRO rotors also feature a specially designed internal vane to improve heat dissipation from the rotors.
Features:
Sold as Pair
Slotted Surface for Optimal Cooling
Improved Pad Wear
FC Cast Iron Construction
Fitment:
Honda S2000 AP1 | AP2 00-09
| | | | | |
| --- | --- | --- | --- | --- |
| PBRKF33025AP | | Project Mu SCR Pro Front Brake Rotors Honda S2000 AP1 | AP2 00-09 | $2,125.00 | |
| | | | | |
| --- | --- | --- | --- | --- |
| PBRKR33012AP | | Project Mu SCR Pro Rear Brake Rotors Honda S2000 AP1 | AP2 00-09 | $1,976.00 | |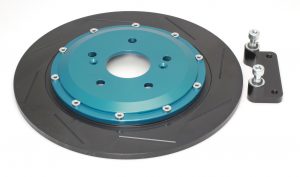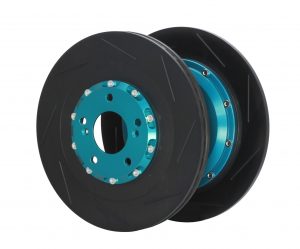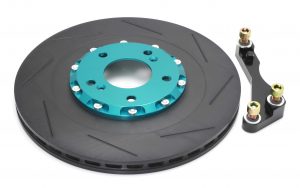 Related Images:
[See image gallery at www.vividracing.com]