Create A More Solid Differential Connection to The Subframe With A Cusco Differential Mount
Cusco now offers a more solid differential carrier for many Subaru models. For some owners who are running more power than stock, this upgrade is perfect for keeping the Differential in place. The factory part has a few down falls due to design, this product is meant to reinforce those weak spots to prevent any potential damage from happening. Since this part is more rigid than the factory, you will feel more instant throttle response and less movement under the vehicle. This is the perfect upgrade for any Forester/Impreza/Legacy/WRX/STI!
On the new generation of recent Subaru cars, there have been great improvements in traction gains as well as stability in handling. Much of these are due to refinements in the multi-link dynamic geometry as well as improved electronic traction control and active management features. However, even with increased performance, there are still many compromises on a standard production car which are aimed for maintaining comfort or noise characteristics. We take these elements and further push the performance traits further.
Cusco Differential Carrier utilizes a box type construction, hand-welded by craftsmen in Japan, and is designed to bridge the main carrier subframe. Not only does it improve driveline response and torque loss, the cross section provides further chassis rigidity, resulting in a more precise suspension pinning points under load, and resisting bowing of the unibody. This carrier has heavy-duty Cusco rubber bushings pre-installed for easy installation.
6A1-489-A
Cusco Rear Differential Mount Subaru WRX | STi | 15-17
$174.00

$165.30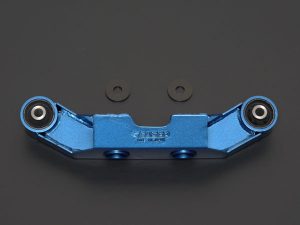 Related Images:
[See image gallery at www.vividracing.com]