My second week of radiation treatment begins in half an hour. One down – seven more to go. Or, more specifically, 4 down and 34 to go. And that gives a bit of a clue as to what "have to stay positive" is about. But only a clue. There's more to it.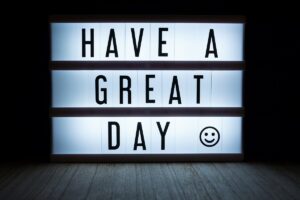 It's easy to say have a great day. It's quite another to actually have a great day. Especially when we don't feel great. But it's not impossible. It depends very much on where we look. And what we look for. In other words, what is a "great day" to us?
For instance, seven to go sounds better than thirty four to go. Unless, maybe, you think about one is weeks and the other is treatment days. Ultimately, it's 34 more radiation sessions no matter how I count it. But the mind plays funny games. Especially when the situation is something potentially depressing. At least, that's the way it is for some of us.
It's not like I don't know better. In my head. But I also know, in my heart. As a Christian, and with the experiences I've had the last ten years or so, I've really felt the peace from God through some difficult times. Four surgeries, one of which was a staph infection that lasted for about 6 weeks. One of the ten doctors (that I know of) working on me said afterwards that I beat the reaper. Miraculously, I also came out of it with no permanent organ damage after they told me the only question was how much there would be, not if it would happen.
Having to put down two of our "kids". The four-legged kind. Dogs, that is. One from liver failure – Donnie. The other with the same thing I have now, although a different variety. Dewey had lymphoma that went to his brain.
Both were so hard to go through. Like losing two best friends. And then there's the third dog, Hachiko, who bit my wife in a manner that gave us no choice but to put him down.
So you see, there's plenty to be depressed about. But also reasons to not be depressed. I'm still here. The significance of that simple reality can only be understood if you read God 0 is it time for me to go home?
Second week of radiation treatment – Have to stay positive
So, if staying positive isn't about the number of treatments, and it's not totally about life over these past ten years, what is it about?
Well, it's about many of the things I've written before this. Even things in this very series.
Depression is a powerful feeling. One that can sneak up and take over before you realize it. And once it starts, even knowing what's happening can be pretty much meaningless. Sometimes I know exactly what's going on. I know I don't want to feel the way I do. Even know I shouldn't feel the emotions I do. Furthermore, I know that God's more powerful than those negative emotions.
And yet, even with all that, I can't stop it. Not fast enough. Sometimes that makes it even worse.
What's not to be positive about?
If you've read other segments of this series, you might wonder, what is that that's not to be positive about? It's this:
But even if he does not …
Do you recognize that? I wrote about that thought in The Problem Of Praying To Be Healed.
Of course, you're more likely to maybe remember where those words were used in the Bible.
The Image of Gold and the Fiery Furnace
Da 3:1 King Nebuchadnezzar made an image of gold, ninety feet high and nine feet wide, and set it up on the plain of Dura in the province of Babylon. 2 He then summoned the satraps, prefects, governors, advisers, treasurers, judges, magistrates and all the other provincial officials to come to the dedication of the image he had set up. 3 So the satraps, prefects, governors, advisers, treasurers, judges, magistrates and all the other provincial officials assembled for the dedication of the image that King Nebuchadnezzar had set up, and they stood before it.
Da 3:4 Then the herald loudly proclaimed, "This is what you are commanded to do, O peoples, nations and men of every language: 5 As soon as you hear the sound of the horn, flute, zither, lyre, harp, pipes and all kinds of music, you must fall down and worship the image of gold that King Nebuchadnezzar has set up. 6 Whoever does not fall down and worship will immediately be thrown into a blazing furnace."
Da 3:7 Therefore, as soon as they heard the sound of the horn, flute, zither, lyre, harp and all kinds of music, all the peoples, nations and men of every language fell down and worshiped the image of gold that King Nebuchadnezzar had set up.
Da 3:8 At this time some astrologers came forward and denounced the Jews. 9 They said to King Nebuchadnezzar, "O king, live forever! 10 You have issued a decree, O king, that everyone who hears the sound of the horn, flute, zither, lyre, harp, pipes and all kinds of music must fall down and worship the image of gold, 11 and that whoever does not fall down and worship will be thrown into a blazing furnace. 12 But there are some Jews whom you have set over the affairs of the province of Babylon—Shadrach, Meshach and Abednego—who pay no attention to you, O king. They neither serve your gods nor worship the image of gold you have set up."
Da 3:13 Furious with rage, Nebuchadnezzar summoned Shadrach, Meshach and Abednego. So these men were brought before the king, 14 and Nebuchadnezzar said to them, "Is it true, Shadrach, Meshach and Abednego, that you do not serve my gods or worship the image of gold I have set up? 15 Now when you hear the sound of the horn, flute, zither, lyre, harp, pipes and all kinds of music, if you are ready to fall down and worship the image I made, very good. But if you do not worship it, you will be thrown immediately into a blazing furnace. Then what god will be able to rescue you from my hand?"
Da 3:16 Shadrach, Meshach and Abednego replied to the king, "O Nebuchadnezzar, we do not need to defend ourselves before you in this matter. 17 If we are thrown into the blazing furnace, the God we serve is able to save us from it, and he will rescue us from your hand, O king. 18 But even if he does not, we want you to know, O king, that we will not serve your gods or worship the image of gold you have set up."
…
There it is at the end. Threatened with death, Shadrach, Meshach, and Abednego told King Nebuchadnezzar that But even if he does not (even if God does not save their lives) they will now bow down and worship his image of gold.
So, I've written many times that no matter what happens in this life, if we truly tried to follow Jesus, our salvation is a promise that will be kept by God.
Salvation brings peace and joy in this life
That's important. Critical to how we live our lives. To how we not only survive, but thrive in the midst of the bad stuff that happens in this life. I know that. I've experienced that. And yet, it's still a problem when depression sets in. It's also surprising, somewhat at least, that it's hitting now.
If you read much of the other stuff in this series, Don't Waste Your Cancer, or in The praying for healing series, you know that it hasn't been an issue during the worst of times. Don't get me wrong, depression is still a problem for "little things". But this is the first time in a long time that it's been during something so major.
It's taken me a few days to get out of it. Part way out at least. And I think that short phrase, But even if he does not, is a big part of the problem.
You see, for much of my life, I remember hearing things about how strong enough faith will, not could or might, will, heal you. That's just not anything that's ever said in the Bible. It's not about us healing ourselves. It's about God healing us. If it's His will.
While Jesus walked the earth, there were reasons He healed everyone who went to Him to be healed.
One location where there were no miracles could be used to justify the claimed link between faith and healing.
A Prophet Without Honor – Matthew
13:54-58 pp — Mk 6:1-6
Mt 13:53 When Jesus had finished these parables, he moved on from there. 54 Coming to his hometown, he began teaching the people in their synagogue, and they were amazed. "Where did this man get this wisdom and these miraculous powers?" they asked. 55 "Isn't this the carpenter's son? Isn't his mother's name Mary, and aren't his brothers James, Joseph, Simon and Judas? 56 Aren't all his sisters with us? Where then did this man get all these things?" 57 And they took offense at him.
But Jesus said to them, "Only in his hometown and in his own house is a prophet without honor."
Mt 13:58 And he did not do many miracles there because of their lack of faith.
See what I mean? Few miracles because of a lack of faith. Each of us needs to decide for ourselves what that means. Based on the full context of the Bible. And also based on what we see with our own eyes in our world today.
Here's just one author's point of view on verse 58.
Because of their unbelief. That is, it would have been useless to the great purposes of his mission to have worked miracles there. We are not to suppose that his power was limited by the belief or unbelief of men; but they were so prejudiced, so set against him, that they were not in a condition to judge of evidence and to be convinced. They would have charged it to derangement, or sorcery, or the agency of the devil. Comp. Jn. 10:20. It would have been of no use, therefore, in proving to them that he was from God, to have worked miracles. He did, therefore, only those things which were the proper work of benevolence, and which could not easily be charged on the devil. He gave sufficient proof of his mission, and left them in their chosen unbelief without excuse. It is also true, in spiritual things, that the unbelief of a people prevents the influences of the Holy Spirit from being sent down to bless them. God requires faith. He hears only the prayers of faith. And when there is little true belief, and prayer is cold and formal, there the people sleep in spiritual death and are unblessed. 1
Today we have, of course, the Bible. God's Word. And we have the Holy Spirit. The miracles as evidence of Jesus' power are no longer "needed".
There's a really good book about this, from today's point of view. It's titled, And He Healed Them All, by Jeffrey McClain Jones. If you want to read it, be sure to match the title and the author. There's at least one book with a similar title, author a different author, that seems to take a very different viewpoint of healing today.
Ultimately though, as I said, we must decide for ourselves. We should know both what we believe and why we believe it. As for me, I believe healing is possible, but it's based on God's will. Furthermore, should we be a recipient of God's healing power, we should also be sure to give Him the credit.
So where's the peace and joy?
Over the last ten years, the peace and the joy have come in the middle of the storms. My storms. In fact, much more so in my storms than in the ones when we have to put down three dogs in the course of just a few years. It was a lot harder to lose them than it was to go through my own medical issues.
During my medical problems, there was a constant feeling of peace. So why is this one different?
I think, probably, one of the big factors has to do with what I've been writing lately. And especially in this series about cancer/prayer/healing and other topics getting into the question of whether or not we are truly trying to follow Jesus. I believe, based on context and the original language Jewish and Christian scriptures are written in, that there's much more to believing than we are aware of today. In Biblical times, believing in God/Jesus meant knowing and following. Not just claiming belief.
The Old Testament spoke about turning away from God and turning towards other gods. The New Testament is about following Jesus.
When I started the series, Prayer for healing, it became what it did because I had a strong feeling that I needed to get into the Daniel Passage we read above.
But even if He does not is important. It's something we need to understand. However, at the same time, it shouldn't be something I focus on so much that it brings me down. When I did the series on the Beatitudes, beginning with the very first one, Blessed are the poor in spirit, it's had a huge impact on how I view my faith and other people.
I feel like with so much focus in trying to help others not miss out on God's promise to us and blessings for us, that I'm not missing out myself. Burnout? I'm not sure. But something I need to take care of. With God's help.
Conclusion – Second week of radiation treatment – Have to stay positive
With all that, the question is how do I stay positive, especially when this is only the second week of radiation treatment? I began this segment before today's treatment. I'm now ending it several hours later.
Apparently I've reached my first side effect. It's not horrible. But it's disappointing. I love spicy food. In no particular order, well, maybe, Taco Bell Fire Sauce, Jalapeno's, Sriracha, spicy Chinese food, and on and on. Apparently that's going to have to be put aside for a couple months. Very sad. I don't like bland food. I love lots of flavors. When I cook, I have dozens of spices and herbs to choose from. Even when I make something that starts off as a Trader Joe's meal, I usually add fresh veggies, maybe some fish, and pretty much always more herbs and spices to it. It's going to be a difficult couple of months. And it's only week two.
But seriously, the much larger issue is feeling God's peace throughout this. Feeling the joy that comes with acknowledging His presence. And part of that comes from writing this. Something that will, I pray, help others.
Let's go back to the image at the top. Have a great day. What are you looking for in a great day? And where are you looking for that great day? I know, from my own experience, that a great day is any day spent with God. The catch is to remember that.
So – if you get to the point where I'm at right now, you know in your head that you should feel God's presence, peace, and joy – but don't – I hope this helps as well. You're not alone. It does happen. But I know, when we ask God to help us, He's right there, ready, willing, and able to do just that.
Here I am God. Asking. Thanks in advance for what you're going to do.
---
Image by Sam Williams from Pixabay
---
The post Second week of radiation treatment – Have to stay positive appeared first on God versus religion.
Footnotes
1 Barnes, A. (1884–1885). Notes on the New Testament: Matthew & Mark (R. Frew, Ed.; p. 150). Blackie & Son.