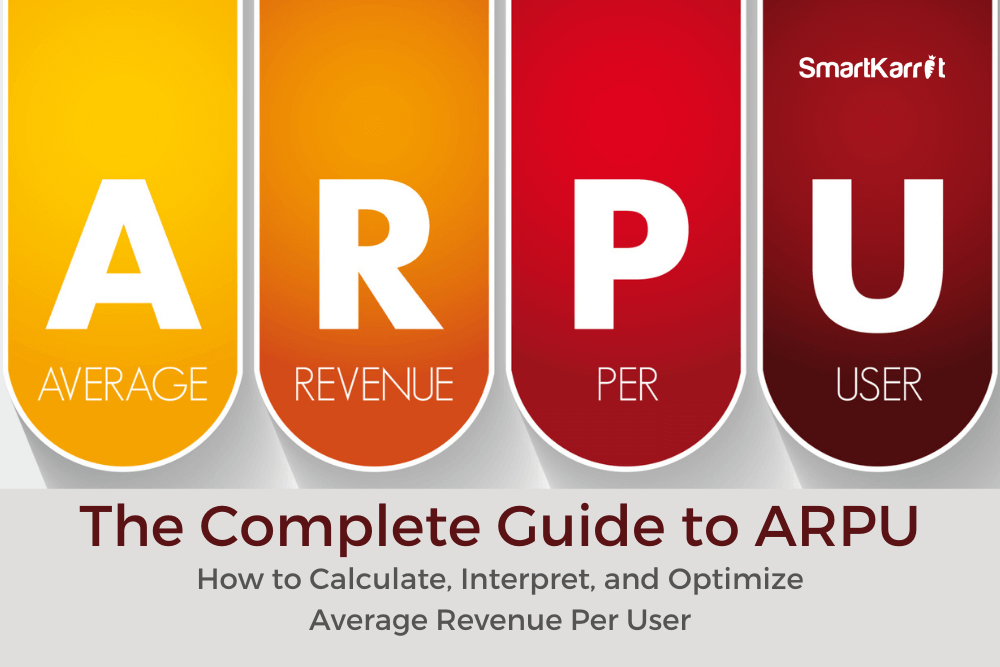 Let's cut to the chase! You may talk all about knowing your customer, or serving them well, but ultimately, it all boils down to one single question – what's their worth to your business? Average Revenue Per User (ARPU) gives you the exact same information.
In other words, all the customer-centric strategies you put in place, all the marketing and sales efforts, and all your product developments will not have their purpose until you realize the value they are generating for your business at an individual level.
According to ARPU definition, it is nothing but the average revenue a user (or a customer) generates for your business in a specific timeframe. This is the most basic metric used by companies even before they start any other financial calculation. All their strategies and efforts are dependent on this particular metric.
It's like a two-way funnel where you start with marketing, sales, and all other efforts to finally acquire a set of customers, know their ARPU and then, based on that, you readjust your investments back in all the functions.
Calculating ARPU
ARPU formula is to simply divide the total revenue of your business by the total number of customers you have in a given duration.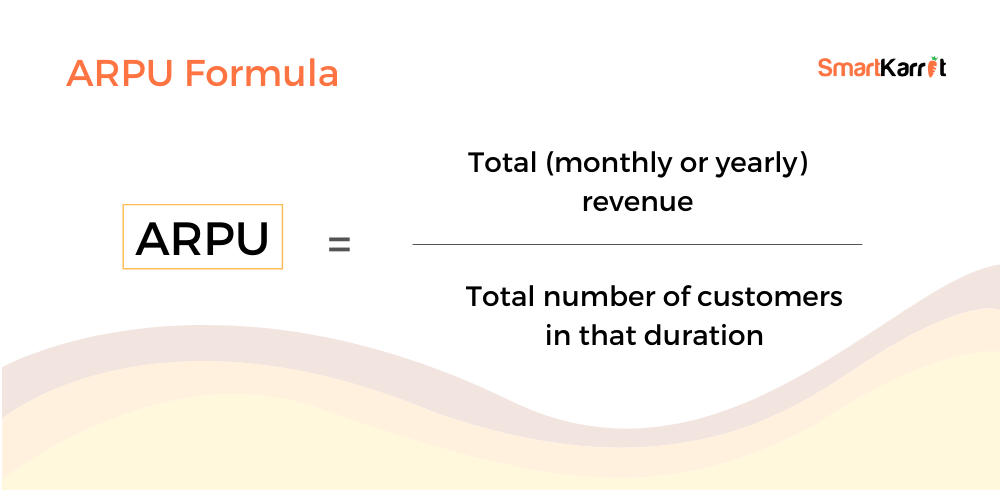 Total number of customers should include only paying customers. Inactive or free users should not be a part of ARPU calculation, else it would give you a wrong figure.
And, your Total Revenue should include:
Fresh purchase: Customers buying your product for the first time with an upfront fee.
MRR or ARR: Recurring revenue through account renewals or subscription in a month or a year.
Upsells: Revenue generated by plan upgrades, or product upgrades.
Cross-sells: Revenue generated from customers buying other products from you.
Many companies also include revenue churn or account downgrades in this calculation by subtracting them from the total and that is a pure mistake. You don't have to subtract that amount from the total. Simply ignore them by not including in your calculation because they are the non-performing assets for your financial calculation. How to reduce or eliminate churn is a different topic altogether and doesn't fall under the scope of this discussion.
Interpreting ARPU
ARPU has a direct correlation with the total revenue of your business. But more than that, it is also a leading indicator for you to decide upon the strategies and investment you must make to grow your organization. Let's look at them individually.
MRR or LTV
Your MRR or Customer Lifetime Value (LTV) are the best indicators of your business health. Investors rely heavily on these metrics to decide whether to pump more investment in a business or not.
The higher your SaaS ARPU, the higher the MRR (in short-term) and LTV (in long-term). To increase your MRR or LTV you have to work towards your ARPU growth at a granular level.
Size of customer base
The amount of ARPU decides the number of customers you need to meet your business goals. For low ARPU, you naturally need more customers to meet your targets. Inversely, your business targets can be met with a smaller number of customers with high ARPU. Hence, you need to tweak your SaaS growth levers on a timely basis to maximize your overall revenue.
Price-value equation
To find the right amount of ARPU that you can generate from your customer, you need to quantify the value they are getting from your product. If, e.g., enterprise customers are getting a lot of value from the product but only paying a minimal price for it, then you must consider raising your price.
Customer Success accountability
The primary goals of customer success function are to retain the customer and grow them. Hence, your ARPU must increase over time if your customer success team is working at its best. Your ARPU should grow exponentially when compared to the customer success cost for them to justify their role in your organization.
Just for reference, look at the year-on-year growth of Facebook revenue per user over the last decade: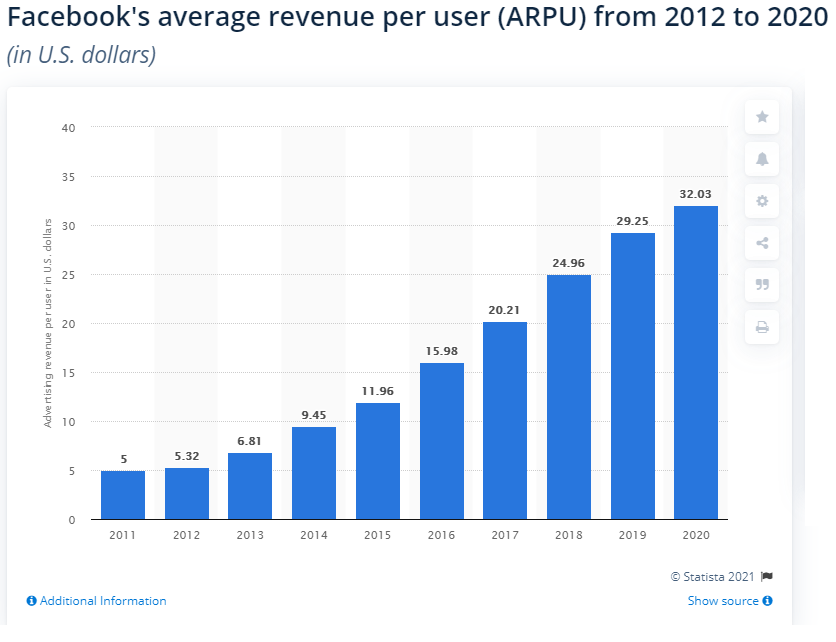 Source: Statista
Optimizing ARPU
The first step towards optimizing your revenue per user is working on customer segment levels. Then identifying areas in each segment to maximize ARPU would be the next step that include many strategies as stated below.
Segment your customers
It would be wrong to calculate ARPU for your entire customer base at once. Different sizes of customers avail different levels of services that have different costs involved. Hence, average revenue per account must be calculated separately for small, medium and enterprise customers. Then each segment should be dealt differently to optimize the revenue streams.
Prioritize retention over acquisition
It is the nature of any business that a customer grows over time in a continued relationship. Hence, retention becomes the foundation for sustained growth. And retention doesn't happen through siloed function. It should start right from the beginning where marketing and sales efforts are targeted towards finding the right-fit customer who would stay for long.
Upgrades or Cross-sells
The most direct way of increasing average revenue from users is to upgrade them to a higher plan or cross-sell relevant products. Your customer success manager plays a crucial role here. Also, your product should be in a constant phase of evolution for the customers to have an option to upgrade from time to time.
Paid value-added services
Your customer success team would be handling different customer segments with different levels of engagement. A lower or mid-size customer might not be availing benefits of a dedicated CSM. However, you can provide them an option to avail this service for a certain price. Not all would be needing this, but keeping this option of revenue stream always open would be a wise decision.
Final Thoughts
Sometimes, ARPU is confused with LTV. While they are similar, they are not same. LTV is calculated for the entire customer lifetime in the business while ARPU is calculated on a monthly or annual basis. Hence, ARPU gives you a more realistic current scenario rather than LTV which is a long-term projection of your business.
Average revenue per customer can also be used to compare different industries' ROI. This is especially useful for investors to decide upon the most lucrative industry they must get into.
The overall health of your business depends fundamentally on an individual customer. Only by understanding, interpreting correctly and optimizing your processes at the granular level you can enhance the long-term performance of your business.
You might also like:
What is Customer Revenue and How to Optimize It? – Understand what is customer revenue and what are the different ways through which it can be generated.
To understand how SmartKarrot can helps SaaS companies keep and grow loyal customers, Request a Demo.
The post The Complete Guide to ARPU: How to Calculate, Interpret, and Optimize Average Revenue Per User appeared first on SmartKarrot l Comprehensive Customer Success.
This post first appeared on SmartKarrot, please read the originial post: here