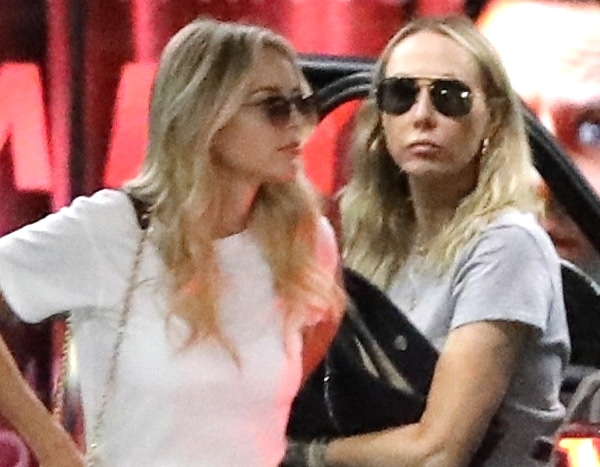 Mum's the word!
On Saturday, a week after Miley Cyrusand fellow newly single star Kaitlynn Carter raised eyebrows when they were photographed kissing in Italy, the two were spotted out to lunch with the singer's mother, Tish Cyrus, back in L.A.
"Miley and Kaitlynn have been spending time at Miley's mom's house," an eyewitness told E! News. "They all went out to lunch together on Saturday afternoon at Soho House in West Hollywood. The three of them drove together in Tish's car. They were deep in conversation."
"They had lunch in the restaurant and stayed at the club for almost two hours," the eyewitness said. "They all left together and returned to Tish's houses at the end."
All three dressed casually for their lunch outing. Miley, 26, wore a white crop top and cropped blue jeans while Kaitlynn, 30, sported a white T-shirt tucked into a long pink skirt. Tish, 52, wore a grey shirt and skinny blue jeans.
This marks the first time Kaitlynn has been photographed with Miley's mom. Several days ago, she and the singer returned from their Italy trip and were seen driving together in Los Angeles.
Miley's rep announced last Saturday that the singer and Liam Hemsworth had broken up after a 10-year relationship, and less than eight months after they wed.
E! News later learned the two have been separated for a while.
In recent weeks, the 29-year-old actor has been spotted in his native Australia with his family.
Liam was last photographed on Sunday with friends at a restaurant in Byron Bay, where his brother Chris Hemsworth lives with wife Elsa Pataky and their children.
Days before the former couple's breakup announcement, Miley began a girls' trip to Italy with Kaitlynn, who recently split from The Hills: New Beginnings star Brody Jenner, and her sister Brandi Cyrus.
Miley and Kaitlynn have not commented on the photos of them kissing and cuddling on vacation. E! News had learned that the two have been friends for a while and had bonded even more over their breakups, and that the two were having some fun and there is nothing serious between them.
Liam has not commented on the kissing pics, while Brody, 35, has poked fun at them.
The PDA came months after Miley told ELLE, "I'm in a hetero relationship, but I still am very sexually attracted to women."
Both Miley and Liam's families have "urged them to take some time to breathe before they make any final decisions" about their relationship, a source had told E! News.
"There's definitely a chance that they will get back together," the insider said. "Neither Miley or Liam have decided when they are going to take the next step of filing for divorce, because there is a chance of reconciliation."
Amid her breakup from Liam, Miley recently released a new single, "Slide Away," that many fans think is about her ex. She has not confirmed this.
The post Miley Cyrus Spotted With Kaitlynn Carter and Mom Tish as Liam Hemsworth Remains in Australia appeared first on NewsWorld.
This post first appeared on NewsWorld™, please read the originial post: here