The hero police officer poisoned by Novichok in the bungled assassination of ex-KGB colonel Sergei Skripal has revealed he was "petrified" to learn he had been exposed to the deadly toxin.
Wiltshire Detective Sergeant Nick Bailey was left in a critical condition after coming into contact with the nerve agent as he searched Skripal's house in Salisbury last March.
Skripal, 66, and his daughter Yulia, 33, were left fighting for their lives after the nerve agent attack – thought to have been ordered by Russian despot Vladimir Putin.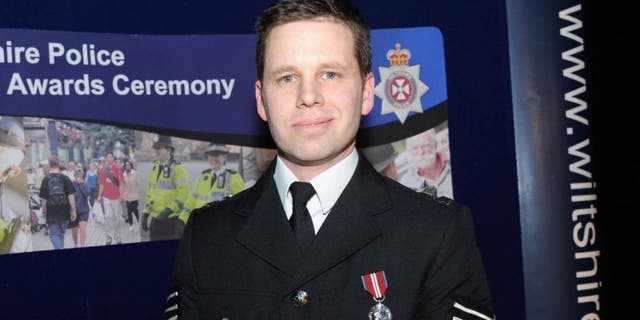 Bailey made a miracle recovery in hospital – but the poison later claimed the life of mum Dawn Sturgess after partner Charlie Rowley handed her the discarded poison bottle.
Speaking to the BBC's Panorama program, Bailey said he was "angered" that the bungling hitmen used Novichok to try and kill the ex-spy.
2 RUSSIANS CHARGED OVER NOVICHOK POISONING OF EX-SPY, USED FAKE PERFUME BOTTLE, BRITISH OFFICIALS SAY
He fumed: "It's such an outrageous, dangerous way of doing something that it angered me as well because any number of people could have been affected by that.
"I didn't understand how it had happened, scared because it's the fear of the unknown because it's such a dangerous thing to have in your system.
POLICE 'SUPER-RECOGNIZERS' HELPED ID SUSPECTS IN NOVICHOK POISONING OF EX-SPY
"Knowing how the other two (the Skripals) were or how badly they'd been affected by it, I was petrified."
"I don't know whether, if it's gone through the gloves, I don't know whether, I mean, I could have adjusted my face mask and my goggles whilst I was in the house with it being on my hand."
This story originally appeared in The Sun.
This article was curated by Alvin F. de Levie, one of NewsWorld's Content Curation Experts. http://feeds.foxnews.com/~r/foxnews/world/~3/cZ6hRe-dM_Y/uk-cop-poisoned-by-novichok-speaks-for-first-time-about-terrifying-ordeal
The post UK cop poisoned by Novichok speaks for first time about terrifying ordeal appeared first on NewsWorld.
This post first appeared on NewsWorld™, please read the originial post: here