Almost all newspapers today covered the comments made by the Leader of Iran's Islamic Revolution Ayatollah Seyyed Ali Khamenei about the unmatched unity among Shiite and Sunni Muslims in Iran.
Iranian papers today widely covered the unprecedented growth in foreign currency rates, particularly the rate of dollar in the Iranian forex market, and the reasons and consequences of such fluctuations.
The remarks made by President Hassan Rouhani about the possibility of holding a referendum on the country's controversial issues also remained a top story in several papers.
The above issues, as well as many more, are highlighted in the following headlines and top stories:
19 Dey:
1- Unprecedented Dollar Rate in Iran
---
Abrar:
1- Erdogan: It's Time for ISIS Theatre to End
2- British Defence Secretary: Increase in Challenges Posed by Iran, Russia, China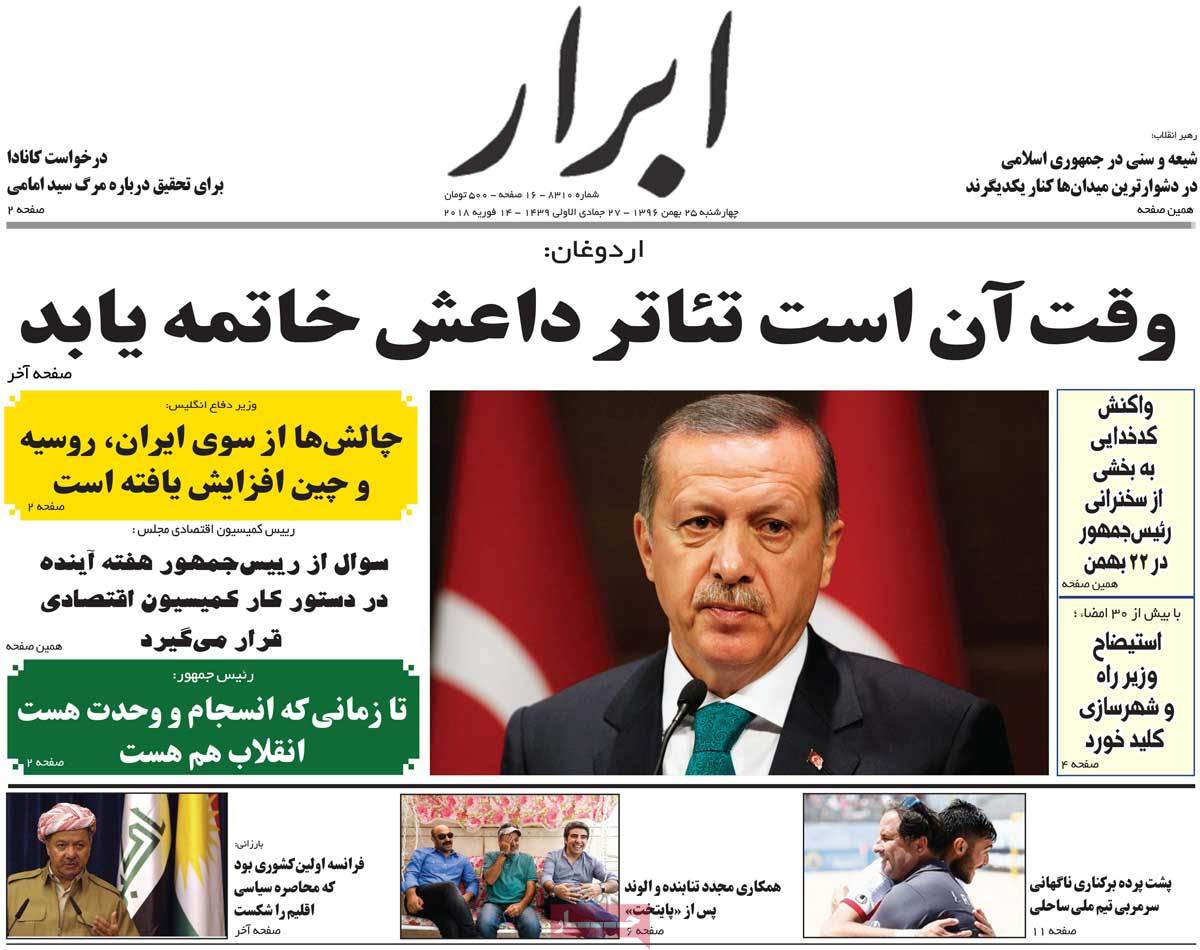 ---
Afkar:
1- "Dobermann":
Israeli War Minister Avigdor Lieberman Defends Airstrike on Syria
"We Won't Bark This Time, We'll Bite"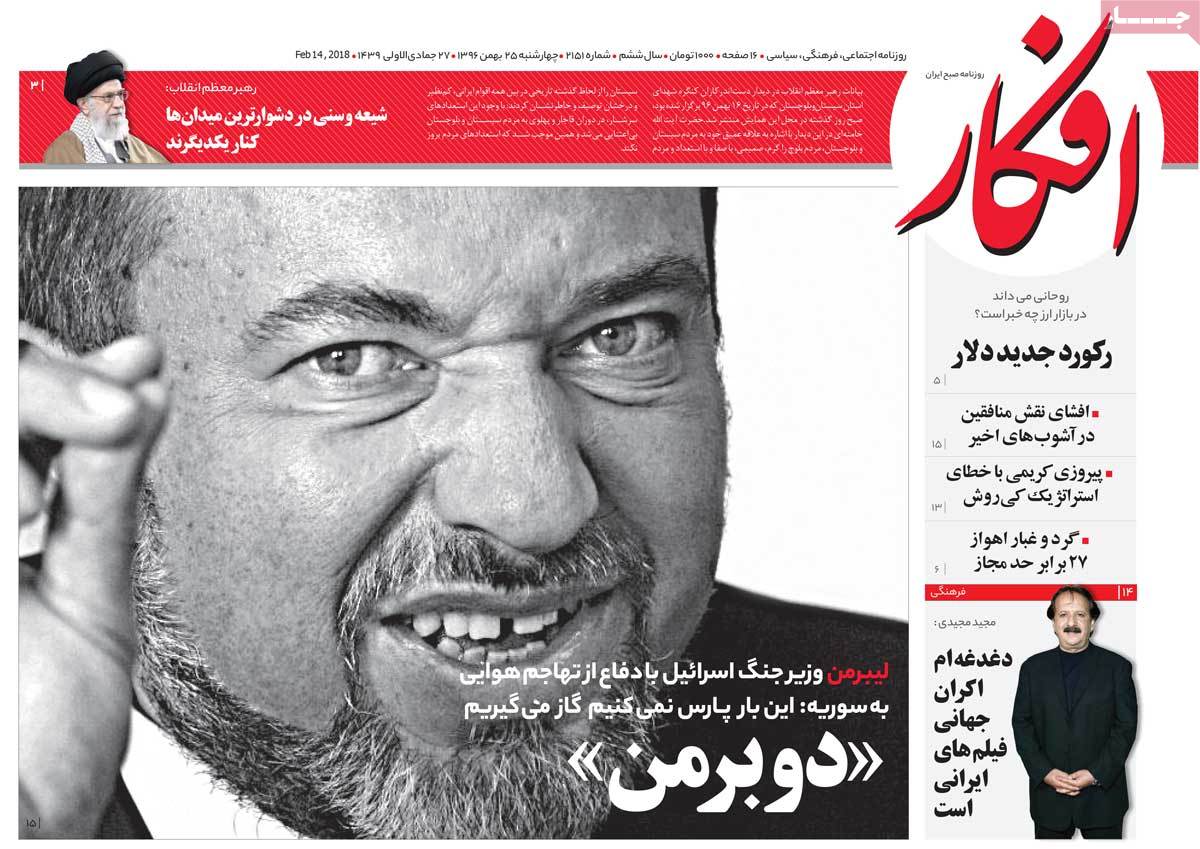 ---
Aftab-e Yazd:
1- Iran Leader: Shiite, Sunni Muslims Together in Toughest Situations
2- Rouhani: We Shouldn't Interfere in People's Lives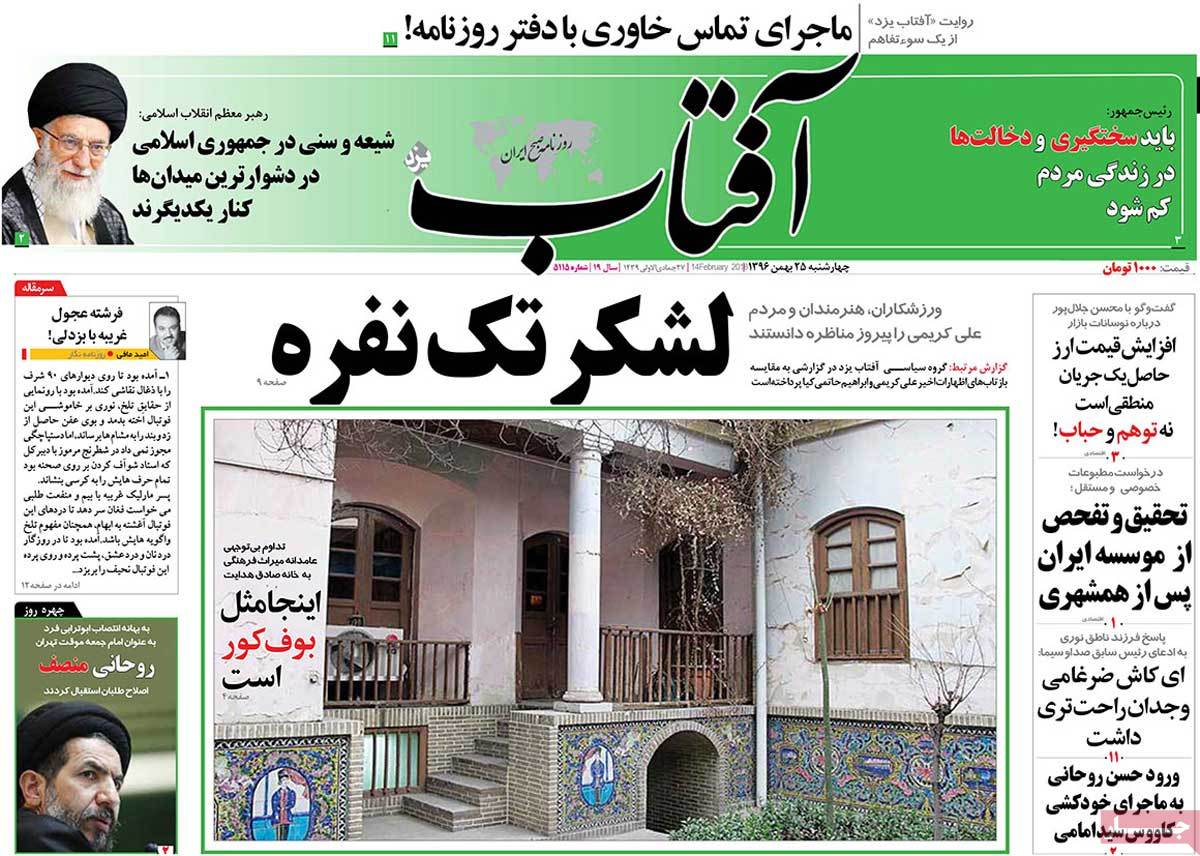 ---
Arman-e Emrooz:
1- Canada Presses Iran on Seyyed-Emami's Case
Case in New Phase after Autopsy
2- Rouhani's Response to Critics of Referendum Plan
President Responsible for Implementation of Constitution
3- VP for Women Affairs: Use of Force on Hijab Doesn't Work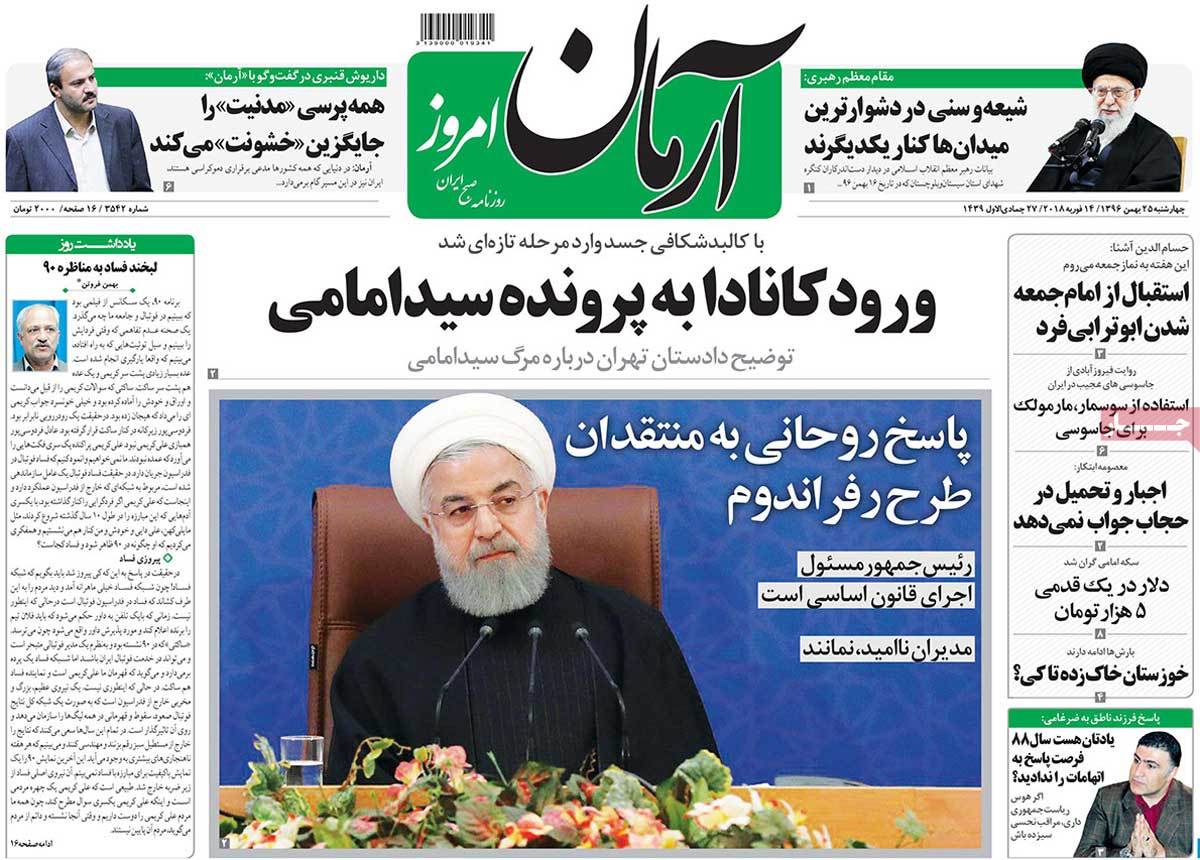 ---
Asrar:
1- Rouhani: Revolution to Live on as Long as People Are United
2- Political, Economic Factors behind Growing Forex Rates [Editorial]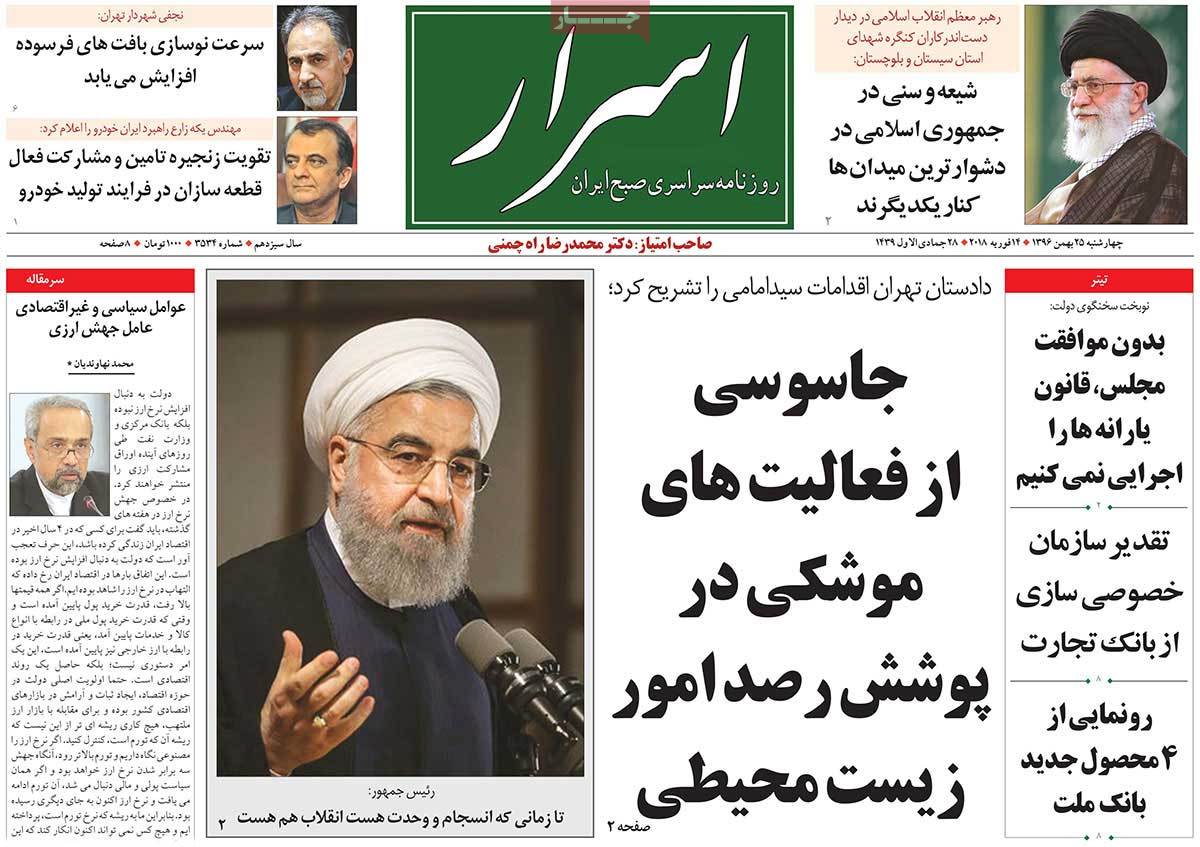 ---
Ebtekar:
1- Central Bank's Futile Efforts on Forex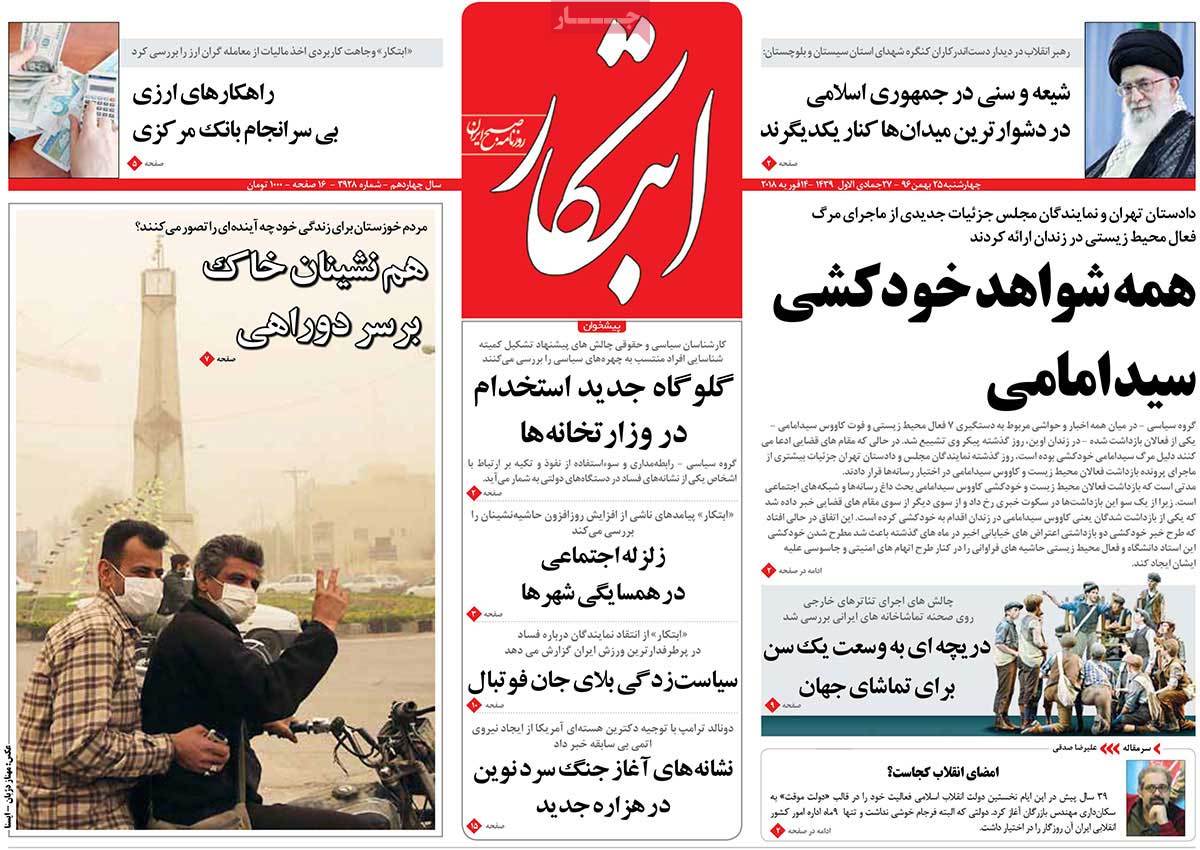 ---
Etemad:
1- Moderate Preacher: Iran Leader Appoints Abutorabifard as Tehran's Friday Prayers Leader
2- Afghan Gov't, Taliban Hold Talks in Defiance of Trump
---
Ettela'at:
1- Iran Leader: Islamic Republic's Resistance to Modern Ignorance Indebted to People's Sacrifice
2- Rouhani's Economic Deputy: Root Cause of Forex Rates Fluctuations Non-Economic
3- US Provides Syria's Armed Kurds with $550 Million Aid
---
Ghanoon:
1- Global Convergence for Iraq's Reconstruction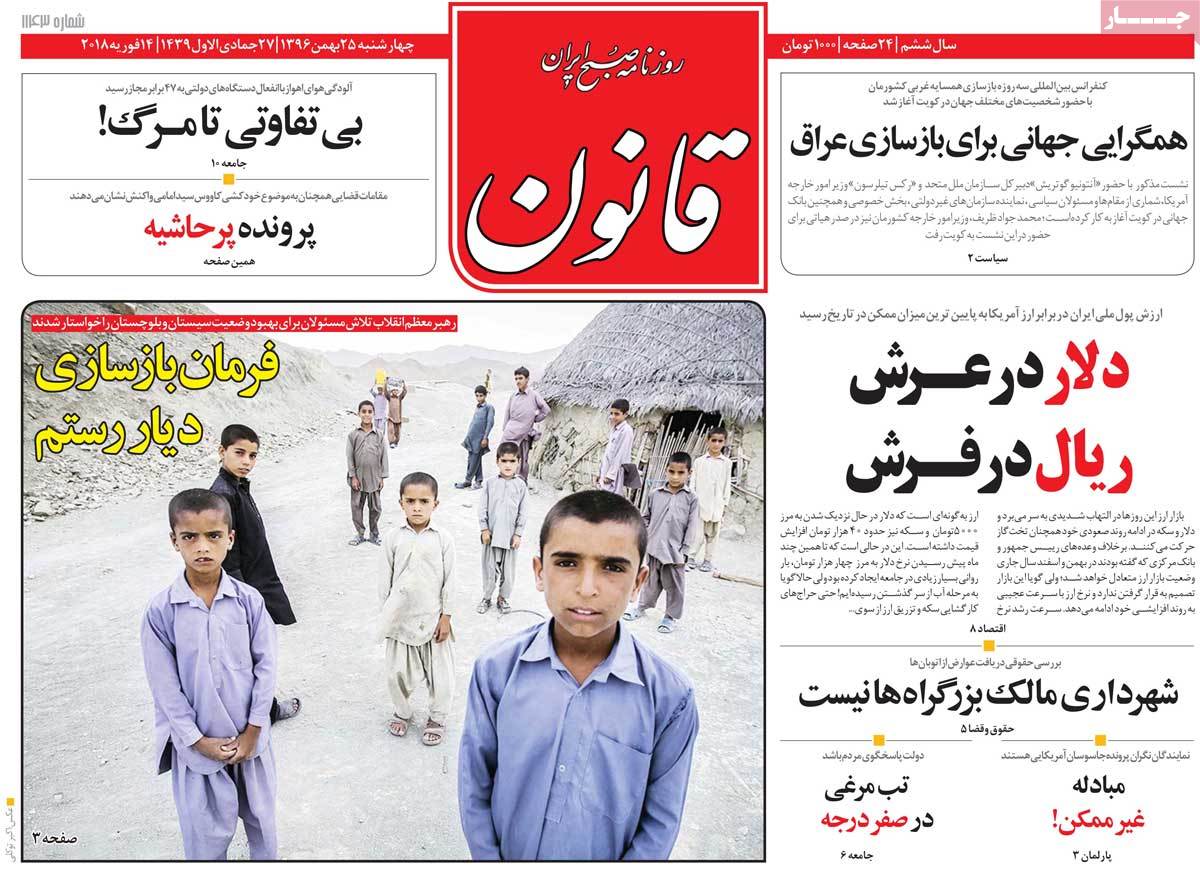 ---
Hemayat:
1- Trump's Nuclear Ambitions in 2019 Budget
US to Pay Special Attention to Atomic Weapons, Helping Zionists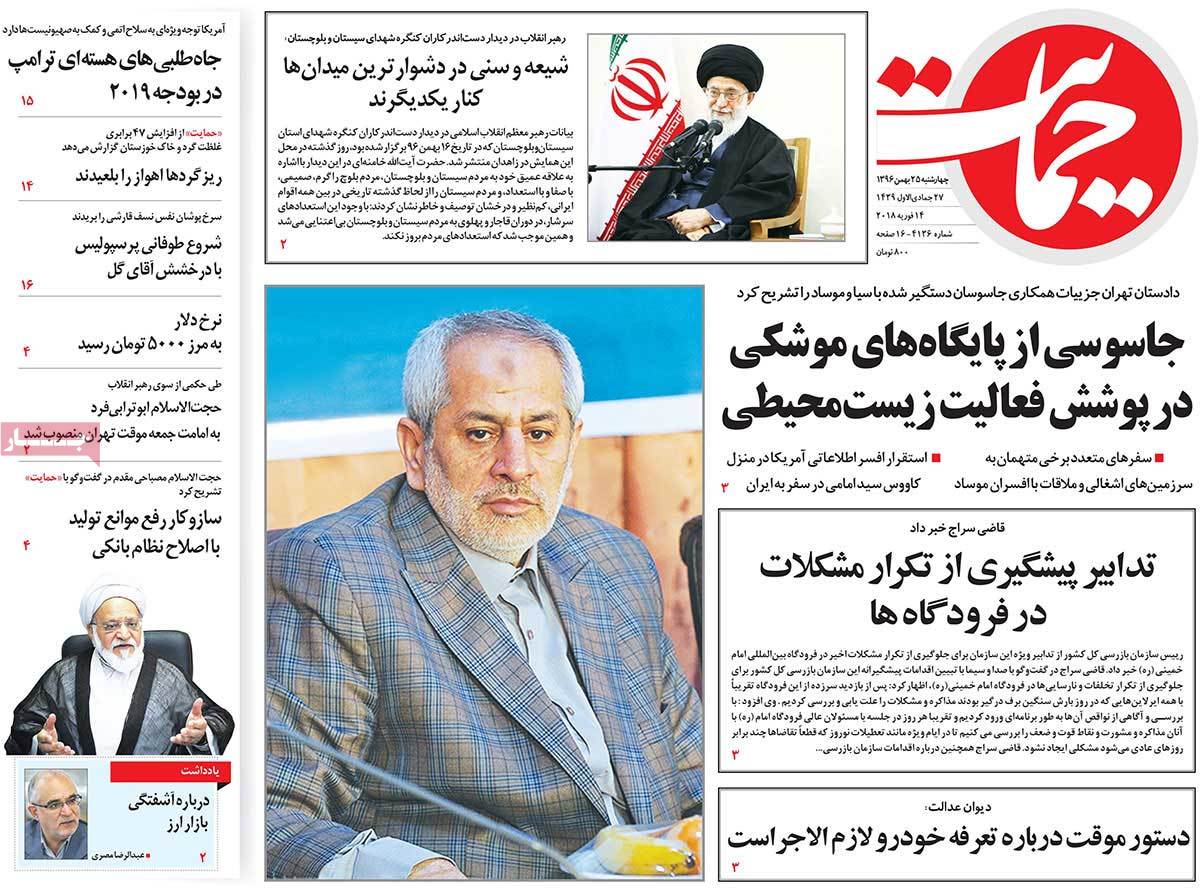 ---
Iran:
1- Dust Pollution in Ahvaz 60 Times Higher than Standard Levels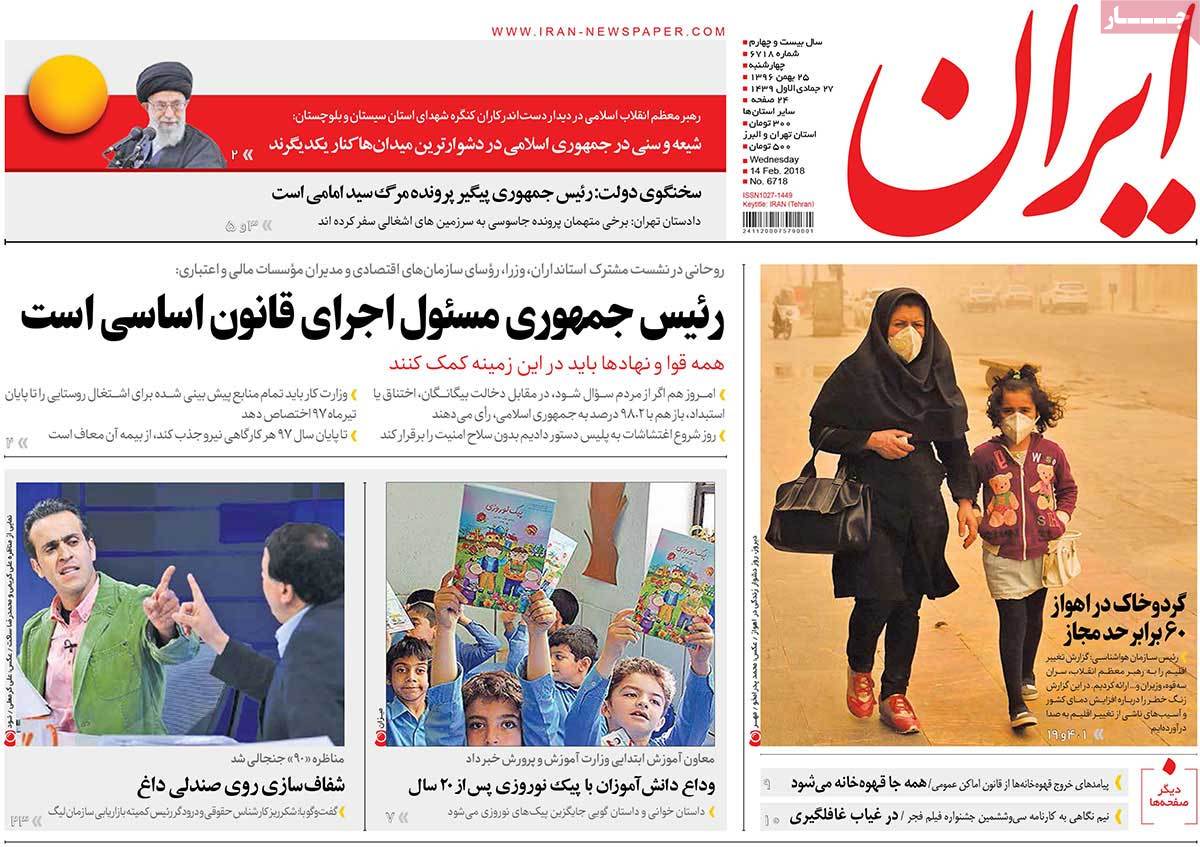 ---
Jame Jam:
1- Zarif: US to Continue Its Malice
---
Javan:
1- Environmental Cameras of Spies Record Missile Activities!
Tehran Prosecutor: Members of This Network Hosted CIA Officers at Their Homes
---
Jomhouri Eslami:
1- Rouhani: Iran's Constitution Has Capacity to Make People Satisfied
2- Lavrov: US Seeks to Disintegrate Eastern Syria
3- Iran Breaks Record of Producing, Exporting Petchem Products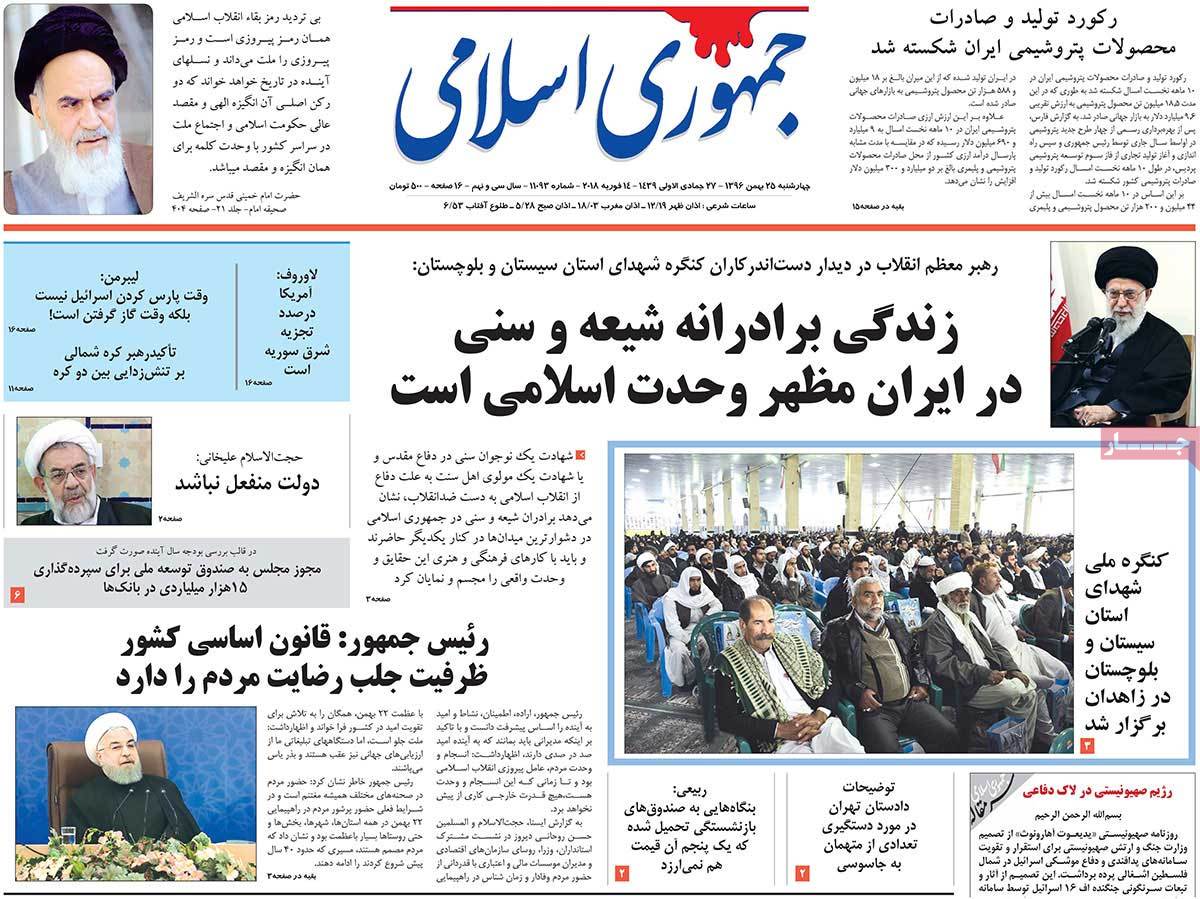 ---
Kayhan:
1- Tehran Prosecutor Reveals Shocking Details of Missile Spies Working as Cheetah Protectors!
2- Iran's Cooperation with FATF to Increase Effectiveness of Sanctions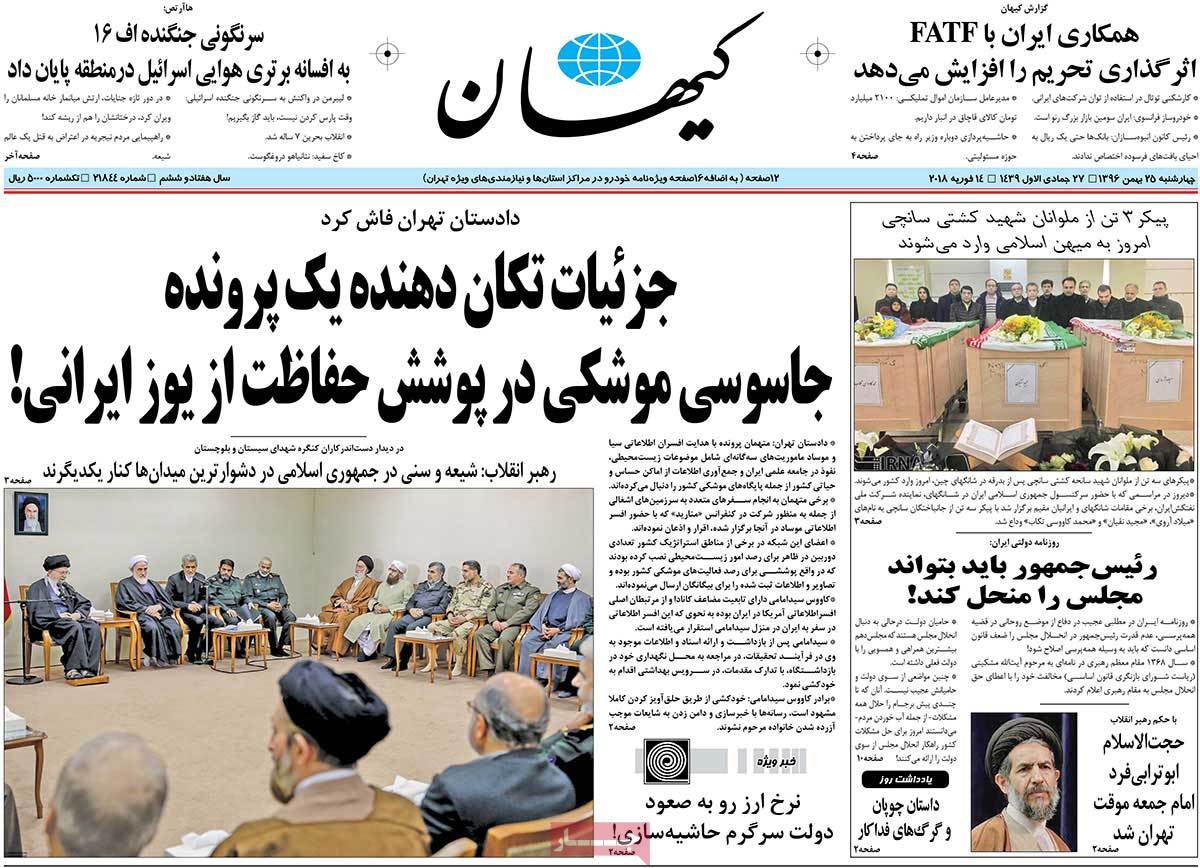 ---
Resalat:
1- Iraqi Nation's Outrage over Occupiers: Presence of Tens of US Forces in Iraq
---
Rooyesh-e Mellat:
1- Top MP: It's Necessary for EU to Hold Serious Stances against US Decisions
---
Seda-ye Eslahat:
1- Iran Leader: Sistan and Baluchestan Symbol of Shiite-Sunni Unity for World
---
Shahrvand:
1- Rouhani: Officials Who Are Not Hopeful about Future Must Leave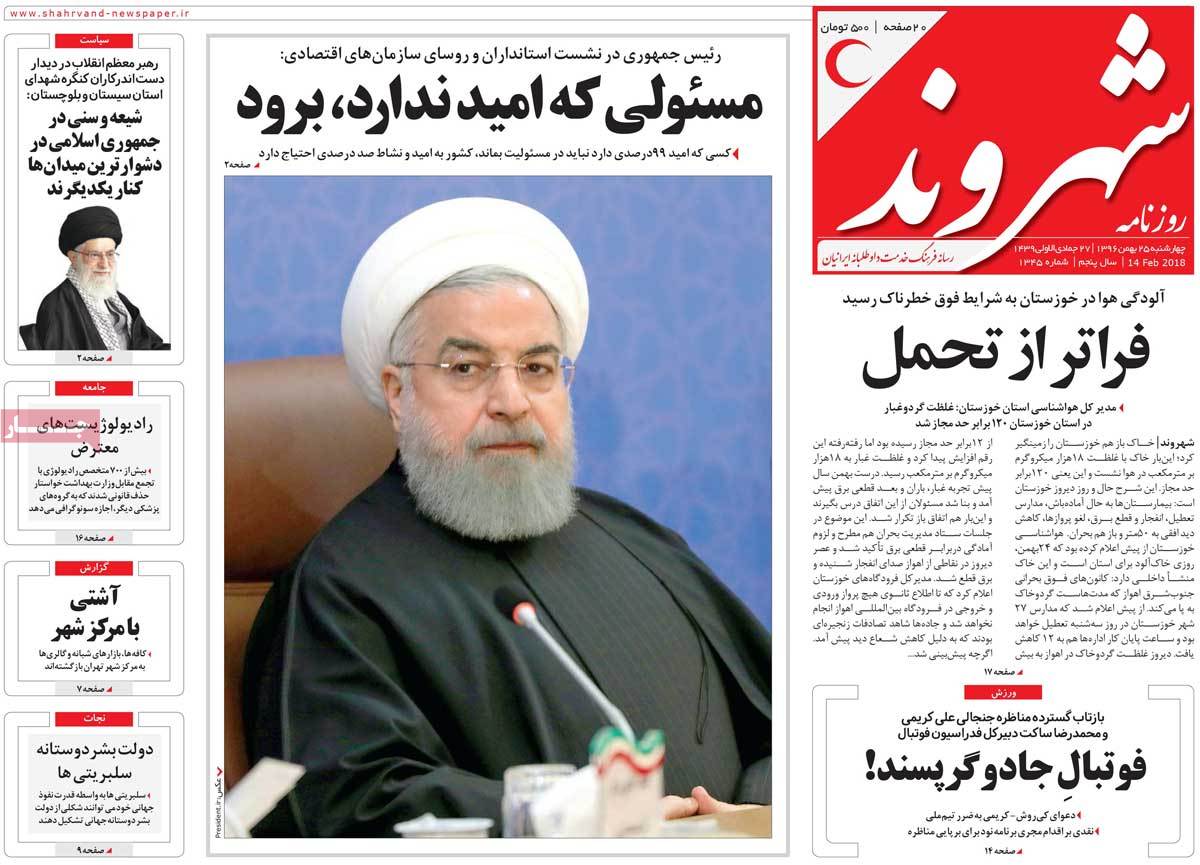 ---
Shargh:
1- Gov't Spokesman: Rouhani to Pursue Deaths of Inmates in Jails
2- Senior Cleric Blasts Calls for Referendum: They Want to Topple Velayat-e Faqih
---
Sobh-e Now:
1- White House: Netanyahu Is a Liar
US Says Accession of West Bank to Israel Wrong
The post A Look at Iranian Newspaper Front Pages on February 14 appeared first on IFP News.