The Beginning of the End
By day 7, SP and I were feeling a bit of cruise fatigue. I didn't want the cruise to end, but at the same time, I missed my bed. On the other hand, I don't have a balcony with a view of the ocean at home. When I gave SP the outline of what I wanted to do in Nassau, he balked at the amount of walking, so we decided to have a very slow day on the ship.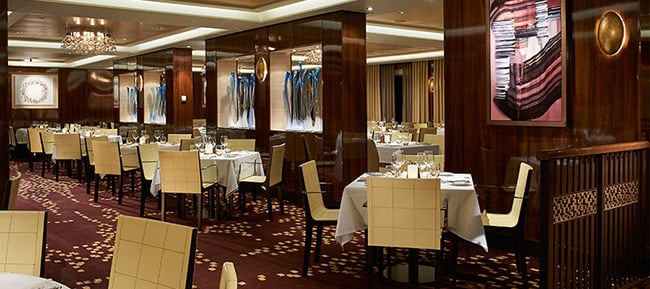 The Taste Dining Room - One of Three Main Dining Rooms on Norwegian Escape
Around 10am, we went to have a sit-down breakfast in Taste. We both ordered the things we had ordered before and enjoyed. I got the melon and cottage cheese along with a salmon eggs Benedict, hash browns, and sausage. SP got huevos rancheros and a Belgian waffle. We chatted with our server about her plans for the day which included going over to Nassau to look around. I recommended the Pirate Museum which I had toured on a previous visit to Nassau.
On our way out of the Dining room, I stopped by the hostess's station and asked her if any dining reservations showed up for me for that evening. She told me I had a reservation at Taste for 5:30pm. I thought I had made a reservation for Cagney's via the interactive tv menu, but I guess I made it for a different night. This is another time when having a calendar function or reservation summary built into the app would have helped me.
Planning the Final Evening on Escape
SP and I headed back to the room and spent another day just watching movies and enjoying the views of the other ships in port with us. Today, it was the Carnival Liberty and the Disney Magic, which is the first ship I ever cruised on. At some point, I realized I also needed to start packing to go home, so I began deciding what I wanted to keep with me for the last night and disembarkation morning, and what I could pack up to set out in the hallway by 11pm.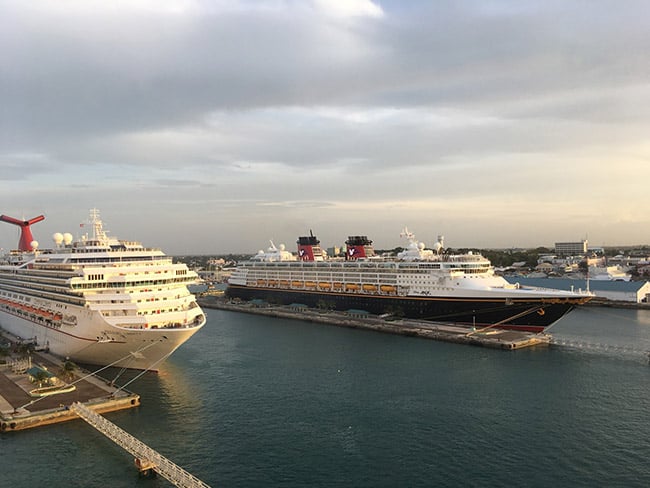 Disney Magic & Carnival Liberty in Nassau
While I was watching movies, I kept checking back on the iConcierge app to see if there had been any cancellations at the specialty dining venues I'd like to try. To my good fortune, a spot opened up at Cagney's Steakhouse at 9:45pm. I was happy that we would get to try a new venue and make use of our last specialty dining credit.
Smeared Bag Tags & Luggage Logistics
The day before, the ship's hotel director had provided us with Priority luggage tags, which I inadvertently ruined by writing on them with a gel ink pen, then smearing the ink as I applied them to our bags. I got ready for dinner and went down to Guest Services to exchange my luggage tags and ask for a regular ballpoint pen. I took the opportunity to get my evening started with a drink at the Atrium Bar and saw a couple we had met in the elevator lobby on a previous day. They told me one of their excursions had been cancelled and was refunded to them in the form of onboard credit, however, that credit was classified as non-refundable. Their solution was to spend the evening drinking mudslides with extra espresso and extra Bailey's. I knew SP would enjoy seeing them again, so I went to a house phone and called him to come down and join us. We had a couple of drinks and agreed to meet up at Howl at the Moon later that night.
Atrium Cafe on Norwegian Escape
SP and I returned to the room to set our luggage out with not-smeared luggage tags. Some girls down the hall saw us putting out bags and came over to ask us if they had to do that. In a combination of Spanish and English, we explained that it was voluntary, but if they didn't set their bags out, they'd have to carry them off the ship themselves. More importantly, they'd have to take their bags with them to breakfast. They told us they had two adjoining rooms with 4 people per room. I can't imagine how packed with luggage those rooms must have been. In any case, I'm sure they had a great trip.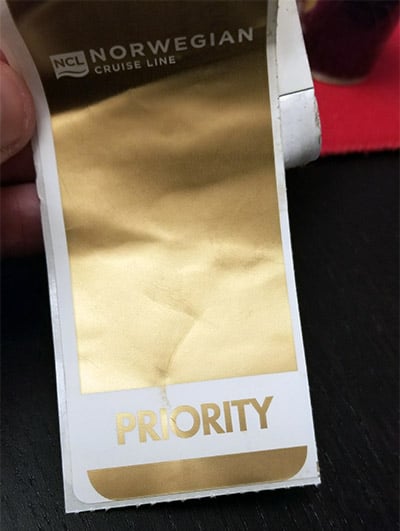 NCL Priority Luggage Tag
Cagney's on Escape - The Last Supper
On the way to Cagney's, SP and I stopped by the shops to spend the little bit of onboard credit we had left. We checked in at Cagney's around 8pm asking the host if he could accommodate our 9:45pm reservation any earlier. He was able to move us to 8:30pm, so SP and I had some drinks in the Prime Meridian bar in the lobby between Moderno Churrascaria and Cagney's Steakhouse while we waited for a table.
When a table became available, we were seated by an inside window that overlooks the dance floor in The Manhattan Room restaurant. The Manhattan Room is beautiful. I'm a little sad that I didn't get to dine there on this cruise, but the Norwegian Epic also has its own version of The Manhattan Room, which I'm looking forward to. On this cruise, because of the included dining package, I was more focused on specialty dining, and it's just not possible on a ship this large to do it all.
Cagney's Steakhouse on Norwegian Escape
Our waiter, Garfield, was very attentive and provided us with great service while we dined there. I have to say, I'm probably not the best person to review this restaurant, as I'm not a huge fan of steak nor the steakhouse experience. For my money, or dining credit as the case may be, I prefer Moderno Churrascaria. SP had the roast pork belly appetizer followed by the wedge salad, while I had the crab cake followed by baked potato soup. We both had the 8 ounce filet mignon and for sides, we ordered
the Cagney's signature fries and zucchini, which I liked a lot. We also got the creamed spinach and mac and cheese which were missing something. The flavor was a little flat. It could be fair to say that after so much food for seven days, I didn't want something that creamy without a little punch to it. For dessert, I ordered the seven layer cake, which SP called "the winning dessert of the day." The contrast between the cake layers and frosting layers was great. The chocolate flavor was well balance, and the layer of chocolate on top was just enough of something different. SP did not fare so well with the praline torte. Neither of us cared for it very much. The cake was too soft and the frosting was too stiff and far too sweet. I hated to have SP's last dessert on the cruise be a disappointment, so I asked our server Garfield if it would be possible to get the banana tart from Moderno Churrascaria next door. He said he would check and a couple of minutes later, returned with what had been SP's favorite dessert of the cruise.
To finish our evening, we walked around Deck 6 and stopped by Howl at the Moon, but didn't see the couple we had met up with earlier in the evening. As full as we were, we decided to return to the cabin and make our final preparations for disembarkation.
Stay tuned to find out how disembarkation went, when we cruise next (hint, it's soon), and what benefit we missed out on this week!
Escape Live Blog Day 1 - Embarkation Day
Escape Live Blog Day 2 - Sea Day
​Escape Live Blog Day 3 - Our Sea Day in Falmouth, Jamaica
Escape Live Blog Day 4 - George Town, Grand Cayman
Escape Live Blog Day 5 - A Sea Day at The Movies, and a Surprise
Escape Live Blog Day 6 - Sea Day, The Haven, And Amplitude
Escape Live Blog Day 7 - Nassau, Bahamas (as seen from the ship)
This post first appeared on CruiseHabit, please read the originial post: here