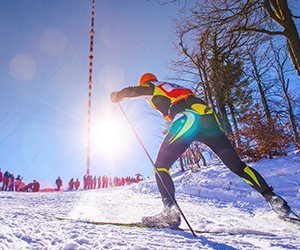 Nothing attracts controversy like a global sporting event, and with the winter games about to kick off—or rather, ski, skate and bobsleigh off—in South Korea on February 9, let's take a look at how it has been faring on the bribery, Corruption, and Human Rights front.—and what risks sponsoring organisations need to consider.
Firstly, Pyeongchang 2018 hasn't been subject to the vote-buying allegations that marred the selection of several other host cities in recent years (Salt Lake City 2002, Rio 2016, Tokyo 2020). Such allegations, proven or otherwise, have done serious damage this premiere brand and raised questions about the inner workings and concealed finances of its governing body.
Of course, this isn't the only event to suffer from mega sport malaise. FIFA, world football's governing body, has been under fire since the day in 2011 when it voted to give Qatar the 2022 World Cup. And now a new book based on insider research is claiming, among other allegations of corruption and political manipulation, that Qatar's state TV company agreed to pay FIFA £100 million if Qatar got the tournament.
Pyeongchang 2018 seems to have avoided several other high-risk areas for corruption and unethical conduct in the staging of major sporting events, such as bribery in securing construction and merchandising contracts; sexual exploitation and other forms of modern slavery sometimes associated with events that attract large numbers of tourists; and forced labor in the construction of venues and hotels.
When it comes to the latter, South Korea has completed its venue-building with impressive efficiency, without the kind of human rights violations that have further tainted Qatar 2022.
Human Rights Watch, the International Trade Union Confederation and Amnesty International are among those to have drawn attention to the slave-like exploitation of vulnerable migrant workers brought in to build Qatar's World Cup infrastructure (in particular, from Nepal).
Also on the human rights front, Pyeongchang 2018 has been set up without the controversial urban evictions and relocations that troubled the lead-ups to Beijing 2008, Rio 2016 and, in Cape Town, South Africa's 2010 World Cup. As for the natural environment, the only hitch has been environmental groups' concern about the deforestation on a mountain to build the Jeongseon Alpine Center. Officials said the forest would be restored after the games.
One big, messy controversy the South Koreans can't sweep under the ice is the Russian doping scandal. The Russian team has been banned, although some Russian athletes are being allowed to compete under a neutral flag, in neutral uniforms. If any of them win gold, they'll hear the Olympic Anthem from the podium instead of their national anthem. The ban was put into effect after Grigory Rodchenkov, the former head of Moscow's discredited anti-doping laboratory, fled to the United States in 2016 and revealed a state-run scheme that forced athletes to use performance-enhancing drugs in their preparations for the 2014 games in Sochi, Russia. All of Russia's Sochi athletes were disqualified and stripped the 13 medals won. It banned 43 Russian athletes from future competition, and having re-tested all Russian samples from the event after Rodchenkov's whistleblowing, recently banned 11 more.
No less dramatic is the matter of North Korea. Numerous countries have expressed security concerns about sending their athletes to South Korea, due to the tension-racked demilitarized zone away from its southern counterpart, and a leader whose whims range from American basketball and computer games to testing nuclear weapons and launching ballistic missiles. Believing that the games will be safer if North Korea is participating, inter-governmental talks a few weeks ago, led to the decision that North and South Korean teams will enter the Opening Ceremony at Pyeongchang together, marching under the Korean Unification Flag, and the two nations' women's ice hockey teams will combine to form a single squad. Should this turn out to be a bridge-building breakthrough, Pyeongchang 2018 will go down in history as the geopolitical equivalent of a triple-twisting triple somersault on skis.
Going for Gold in risk Minimisation
Companies need to be able to minimise their exposure to risk if they are to embrace the spirit of any mega sport event through sponsorship of athletes or the event as a whole, or involvement in lead-up infrastructure development.
LexisNexis has the global content and technology needed to help companies make confident decisions by being aware of the potential issues and staying alert to negative developments as they unfold. Companies can be exposed to several types of risk:

1. Reputational—Guilt by association when a scandal occurs. For example, discovery of forced labour in infrastructure construction, or anywhere in the materials supply chain, can damage a company's reputation.
2. Compliance—Anti-bribery and corruption, and anti-money laundering and modern slavery laws come into play.
3. Financial—Reputational damage has financial repercussions ranging from public relations costs of combatting negative news to loss of shareholder/consumer trust, depending on the severity of the issue. In addition, compliance failures can result in fines, debarment from future work, etc.
4. Strategic—Any reputational or financial costs can negatively impact a company's strategic goals for growth.
Did you know?
1. Corruption in sport carries a hefty price. Read more about it on our blog.
2. LexisNexis offers global intelligence and technology to organisations mitigate risk in the race to win.