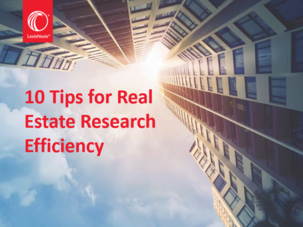 If you are a real Estate professional, you know that having information is crucial to growing your business. Using open web can be suitable for finding on-the-surface info, but it won't reveal the full picture that you need the most win new business, such as: exclusive contact data, market analytics, patterns, and risk monitoring, due-diligence info.
We recently hosted a Webinar in partnership with one of our solutions consultants, Chris Chang, which was titled: 10 Tips for Real Estate Research Efficiency. During the webinar, Chris focused on tips to help real estate pros get the most out of their research, and walked through effective, time-saving solutions that give more time back to beating the competition, winning clients, and closing deals.
If you find yourself struggling in these areas….
-Getting comprehensive information to find relationships between businesses, individuals, and properties
-Taking too much time to find the contacts you need
-Paying too much money for different research subscriptions
-Creating effecting prospecting lists to win new business
…. Then you may benefit from reviewing our webinar! For a sneak peak, take a look at some of the points addressed in our webinar below.
Tips for Research Efficiency Featuring LexisNexis for Real Estate:
Reduce time spent on news searches and keep your results accessible
Create alerts to stay up-to-date on individuals and companies of interest
Generate focused prospecting lists based on your ideal company target
Create lists of executives for prospecting efforts
Dive deeper into corporate buyers and sellers
Get a 360 degree view of a decision maker or prospective client
Search public records with greater efficiency to verify information and make connections
Conduct thorough property assessments with ease
It's all about what you know-details make the difference
Conduct effective and efficient due diligence on potential business partners
For a more detailed report, check out our Tip Sheet for Real Estate Research Efficiency or you can watch a recording of the webinar, here!
From deciphering news, to uncovering business and financial information, to accessing public records, there is a solution for every real estate research need! As the largest and most comprehensive database of sources for company and executive information available in the market, LexisNexis® for Real Estate professionals is the authoritative source for you to quickly and easily uncover industry trends, market data, hard-to-find contact information, and important connections between people, properties and companies. Discover what you can uncover through effective research today.
3 Ways you can Apply this Information
1. For more on real estate research, visit: http://www.lexisnexis.com/realestate
2. Read more of our blogs on Real Estate and follow us on LinkedIn and Twitter
3. Take a look at our Real Estate Buyer's Guide to make a more informed decision on your research solution