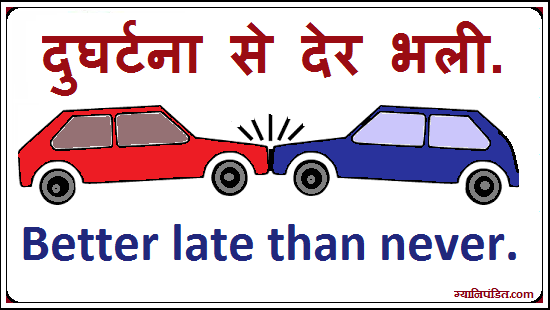 Road Safety Slogans In Hindi :-
1) वाहन धीमा चलाये, अपना कीमती जीवन बचाये.
2) जन भली की गाड़ी भली, सड़क कहती की सुरक्षा भली.
3) दुघर्टना से देर भली.
4) मत करो इतनी मस्ती, जिंदगी नहीं हैं सस्ती.

Slogans On Road Safety :-
1) Vahan Dhima Chalaye, Apana Kimati Jivan Bachaiye.
2) Jan Bhali Ki Gaadi Bhali, Sadak Kahati Hain Suraksha Bhali.
3) Durghatana Se Der Bhali.
4) Mat Karo Itani Masti, Jindagi Nahi Hain Sasti
Road Safety Slogans In English :-
1) Start early Drive slowly Reach safely.
2) Better late than never.
More Slogans :- Best Safety Slogan In Hindi
Please Note :- You Have More Slogans On Road Safety In Hindi Then Please Write On Comments If We Like We Update In This Post. Thanks….
If You Like, Hindi Quotes On Road Safety With Posters Then Please Share On Facebook And WhatsApp Status . SHARE IS CARE.
Note:- Don't Miss E-MAIL Subscription
The post Road Safety Slogan In Hindi – वाहन धीमा चलाये. appeared first on ज्ञानी पण्डित - ज्ञान की अनमोल धारा.