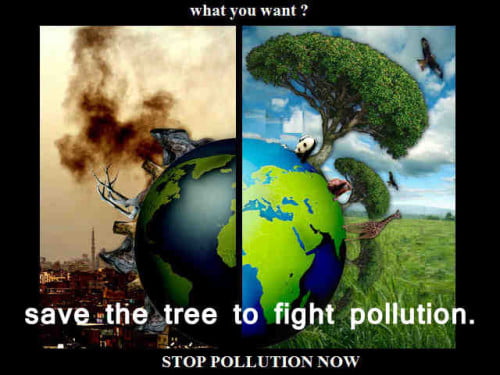 Slogan on pollution in Hindi :-
1) आओ मिलकर कसम ये खाये, प्रदुषण को हम दूर भगाये.
2) शर्म करो-शर्म करो करोड़ो रुपये पटाखों पर बर्बाद मत करो-मत करो.
3) प्रदुषण हटाओ, पर्यावरण बचाओं.
4) हम सब की है ये जिम्मेदारी, प्रदुषण से मुक्त हो दुनिया हमारी.
5) जेसे करेंगे वेसे भरेंगे, नहीं रोकेंगे प्रदुषण तो, बेकार मोंत मरोंगे.
6) नहीं मिलेंगा जीवन दोबारा, प्रदुषण मुक्त हो पर्यावरण हमारा.
7) प्रदुषण के लिए आपको कोई कुछ नहीं कहेंगा. सिवाय आपके आने वाली पीढ़ी के !
8) हम सब का एक नारा, प्रदुषण मुक्त हो देश हमारा.
Pollution in Hindi :-
1) Aao milkar kasam ye khaye, Pradushan ko ham dur bhagaye.
2) Sharm karo – Sharm karo, karodo rupaye patakho par barbad mat karo-mat karo.
3) Pradushan hatao, paryavaran bachao.
4) Hum sab ki hain ye jimmedari, pradushan se mukt ho duniya hamari.
5) Jaise karenge vaise bharenge, nahi rokenge pradushan to, bekar maut maronge.
6) Nahi milenga jivan dobara, pradushan mukt ho paryavaran hamara.
7) Pradushan ke liye aapko koi kuch nahi kahenga, sivay aapke aanevali pidhi ke !
8) Hum sab ka ek hi nara,pradushan mukt ho desh hamara.
slogans on pollution :-
1) save the tree to fight Pollution.
जरुर पढिये : ग्लोबल वार्मिंग पर नारे
Essay :- पर्यावरण प्रदुषण विषय पर निबंध
Please Note :- You Have More Slogans on Pollution In Hindi Then Please Write On Comments If We Like We Update In This Post. Thanks…. If You Like, Pollution Slogan and Quotes in Hindi With Posters Then Please Share On Facebook And WhatsApp Status
Note:- E-MAIL Subscription करे और पाये slogans on Pollution & और भी नये प्रदूषण पर नारे / प्रदूषण पर स्लोगन आपके ईमेल पर.
The post Slogans on pollution – प्रदूषण को रोको appeared first on ज्ञानी पण्डित - ज्ञान की अनमोल धारा.