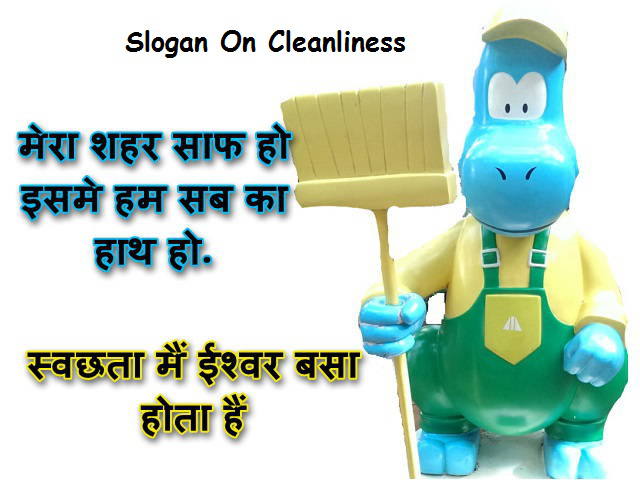 Slogan On Cleanliness
Slogans On Cleanliness In Hindi Language :-
1) स्वछता मैं ईश्वर बसा होता हैं.
2) धरती, पानी, हवा, रखो साफ. वरना आने वाली पीढ़ी नहीं करेंगी माफ़.
3) सुनो क्या कहती हैं आत्मा, कूड़े-कचरे का करो खात्मा.
4) धरती माता करे पुकार, आस-पास का करो सुधार.
5) मेरा शहर साफ हो इसमे हम सब का हाथ हो.
6) गन्दगी फैकने से वातावरण ही नहीं, आत्मा मैली होती है.
और पढ़िए स्वछता पर नारे :- Slogans On Cleanliness In Hindi
Swachata Abhiyan Slogan :-
1) Gandagi faikane se vatavaran hi nahi, aatma meili hoti hai.
2) Swachata me eshawar basa hota hai.
3) Dharati, pani, hava rakho saf. Varana aane vali pidhi nahi karengi maf.
4) Suno kya kahti hai aatma, kude – kachre ka karo khatma.
5) Dharti mata kare pukar, aas – pas ka karo sudhar.
Slogans On Cleanliness In English :-
1) Clean And Green Our Perfect Dream.
2) To Be Clean Is To Be Civilized.
Please Note:- You Have More Slogan On Cleanliness Please Write On Comments If We Like We Update In This Post. Thanks.
If You Like, Slogan On Cleanliness In Hindi & Quotes Posters Then Please Share On Facebook And WhatsApp
E-MAIL Subscription करे और पाए Slogan On Cleanliness And More New Slogan In Hindi.
The post Slogan On Cleanliness | स्वछता अभियान पर नारे appeared first on ज्ञानी पण्डित - ज्ञान की अनमोल धारा.