Leaders from all corners of the country came together in the capital city to find a way to have the harsh anti-Semitic laws abolished. Religious schools were being closed and the excessive tax on candles made every day life for the Jewish community very difficult. The leaders hoped to find a way to ease the pain of the many people affected by the unfair laws.
Some of the community leaders took advantage of meeting to boast of their many accomplishments and to remind others how important they were. One holy rabbi sat and listened to the ongoing bragging and was justifiably upset especially since the focus should have been on finding ways to have the oppressive laws abolished.
When the holy rabbi stood before the community leaders, he decided to teach a strong lesson:
"The donkeys once came before the Ribbono shel Olam, Master of the Universe with a complaint: Why had He assigned them the role of being beasts of burden? Couldn't He have allotted them a better role in life? Why not give them the power of speech so that they could accomplish things with their thoughts just as humans do, instead of being limited to physical labor?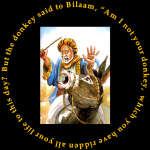 "G-d agreed that they had a legitimate point, and told them that He would experiment by giving the wisest of them the capacity to talk, which He did with Bilaam's donkey. But lo and behold! As soon as the creature was empowered to speak, what did it announce? 'Am I not your donkey, which you have ridden all your life to this day? Have I been in the habit of treating you this way?' (Numbers 22:30)."
"G-d therefore decided, 'If all a donkey can talk about is his own great achievements, he is better off being silent.' People might be tempted to spiritual pride — tempted to think to ourselves, Look how valuable I am to the Holy One, blessed be He and look what He has done through me!' "
May all your tales end with Shalom (peace)
Click here for more storytelling resources
Tell it to your children, and let your children tell it to their children, and their children to the next generation. (Joel 1:3)
Please share this story with family and friends and let us know what you think or feel about the stories in a comment or two. Like us on Facebook or tweet us on Twitter
Please share this story with others
Share this:
The post Who's So Great? appeared first on Story Tour.
This post first appeared on Story Tour, please read the originial post: here