Miguna Miguna played a key role in the "inauguration" of Raila Odinga
Opposition supporter and lawyer, Miguna Miguna, has been deported following the prominent role he played in the unofficial swearing-in of opposition leader Raila Odinga as "the people's president."
Mr Miguna boarded a flight to take him to Canada, where he is a citizen. His departure did not come as a surprise after he was charged with treason-related offences.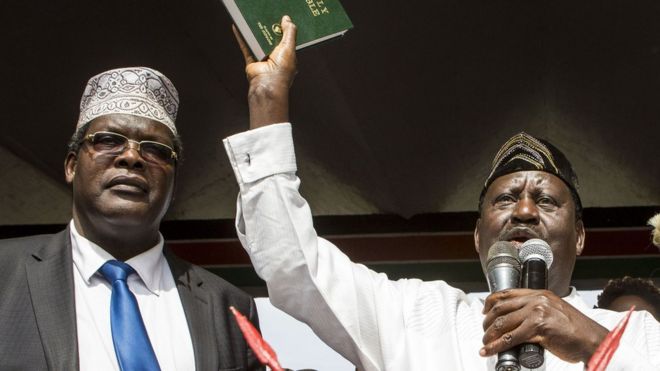 On 2nd of February, Police broke down Mr Miguna's door in a dawn raid and detained him.
Mr Miguna says he was then kept "in unlawful incommunicado detention for five days under the most horrendous, cruel and inhumane conditions imaginable."
On Tuesday, he appeared before a court outside Nairobi and was charged with "being present and consenting to the administration of an oath to commit a capital offence, namely treason."