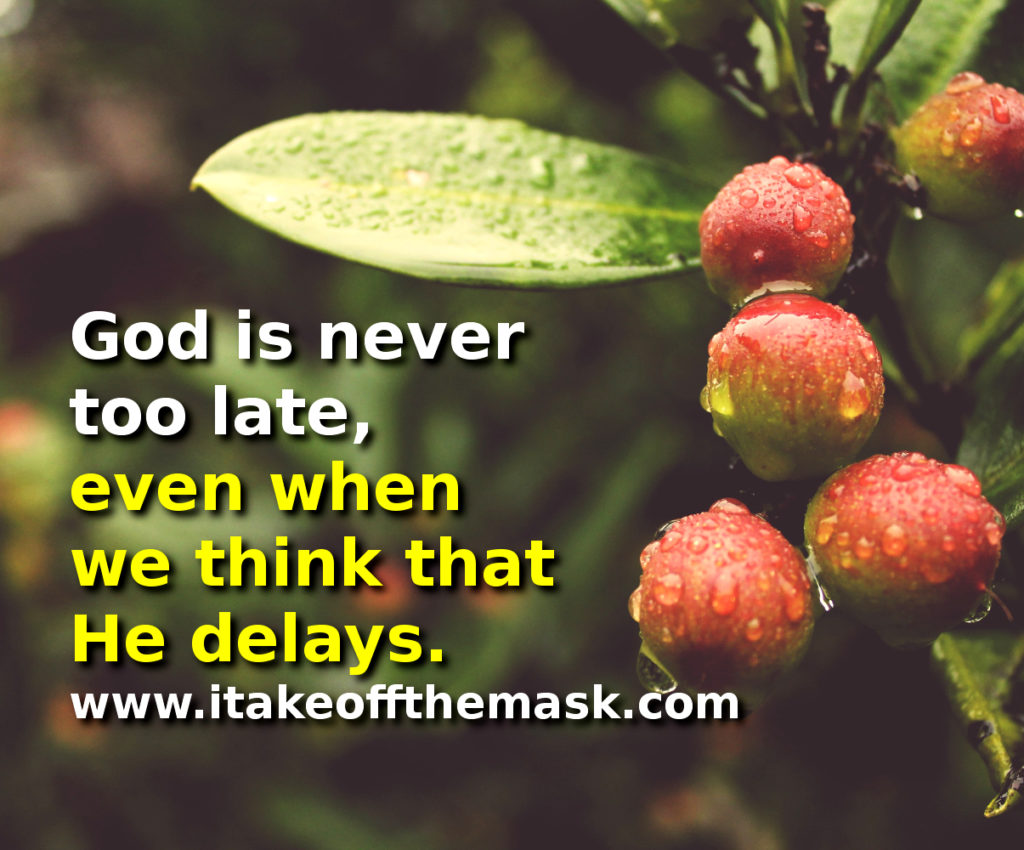 God is never too late even when we think that He delays.
Now while the bridegroom delayed, they all slumbered and slept. But at midnight there was a cry, 'Behold! The bridegroom is coming! Come out to meet him!' … Watch therefore, for you don't know the day nor the hour in which the Son of Man is coming. – Matthew 25:5-6, 13 (WEBBE)
We never Doubt God's presence more than when He seems to delay His answers. After waiting for very long, and all we could see is the situation merely becoming worse, we tend to doubt His goodness. Sometimes, we even doubt His very existence! Is He really there? Does He really watch over me? And if He does, does He not see my suffering? Does He not care?
We may not fully understand His reasons for now, but let us trust that whatever it may be, it isn't because He doesn't care about us. In fact, He cares far more about us than we could ever realize!
When God delays, He delays for our own good. He may be preparing us for the blessing we ask or He is preparing us for even greater things.
God doesn't really delay, we just think He does. But God is always on time, and in His time, we receive the fullness of His mercy and His love.
And though He delayeth His help, and the evil seemeth to grow worse and worse, be not weak, but rather strong, and rejoice, since the most glorious promises of God are generally fulfilled in such a wondrous manner that He steps forth to save us at a time when there is the least appearance of it. – Streams in the Desert
The post When God Delays appeared first on I Take Off The MASK!.