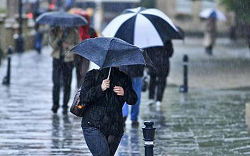 Umbrellas are a superb promotional tool and tick the box in terms of providing a useful function and large advertising area. Choose the right Umbrella and you will give your clients a product they will keep and make plenty of use from. There are several types of umbrella to consider and for each type several options that allow you to customise your choice.
Umbrella history can be traced back over 4,000 years (https://www.thoughtco.com/who-invented-the-umbrella-1992592). Umbrellas were originally designed to provide shade and protection from the sun. The modern umbrella usage of providing protection from the rain can be traced back to China, where umbrellas were coated with wax paper to make them waterproof. The downside of a paper-based umbrella was that it was not strong enough to cope with winds of course and umbrella usage took off in Europe when stronger materials were used. More modern materials like nylon and polyester eventually became the norm and off course provided water-resistance as well.
So the purpose for a modern umbrella has not change since its inception many centuries ago. What has changed is improvements in design and manufacturing technologies that allow for customisation and stronger and more durable products.
One of the most durable is the vented umbrella. This is ideal for use in windier conditions. As well as providing protection from the rain a vented umbrella can withstand higher winds thanks to its vented design. A vented design removes the potential for umbrella damage in the form of ripped materials or damaged ribs and poles.
Vented umbrellas can include a double canopy, elastic cord and stronger materials than a traditional umbrella. The double canopy does what it says. The umbrella design has two canopies that overlap with the internal canopy having pressure vents which prevent pressure building up on the umbrella canopy to protect the internal infrastructure. An internal elastic cord can support the umbrella from strong winds as it runs from the canopy to the umbrella shaft. The use of stronger canopy materials and tempered steel also helps to provide protection from strong winds.
Folding tote type umbrellas is another popular type. These are small umbrellas that can be easily closed (automatically) and carried around in a handbag, briefcase, rucksack, laptop bag or even kept within a car. Folding umbrellas have the added advantage of being easier to carry around than a full-sized brolly. They can have smaller-to-medium sized canopies which can still be used to carry a good-sized imprint and advertising message. This type of umbrella is also typically supplied in a matching pouch that can be used to provide storage protection.
Walking umbrellas are another popular type. As one can never predict the weather in a country like the UK, Walking Umbrellas are a popular take-out item when leaving the house at the weekend or running an errand from the office. Walking umbrellas will be full-sized versions and there are several options to choose from that can include: wind-proof designs, handle grips (plastic, wooden or rubber), panels and materials.
Golf umbrellas are a type of walking umbrella and can have larger canopies to provide greater protection. Whilst designed for the golf course, due to their versatility they have become very popular with walkers and use at a wide variety of sporting events and outdoor clubs. In comparison to a folding umbrella, golf and walking umbrellas are harder to store and carry around but most people who use them find a way to solve this issue. They either carry in the boots of their cars or leave in an outside porch or umbrella bucket for easy access.
Budget umbrellas are another popular type. These are ideal for tighter budgets and can be just as powerful a marketing device. Again similar decisions must be made about canopy size, handles and print options.
The quality of most promotional umbrellas around is very high and when you select the right type for the target audience you can rest assured that you will be giving them a product that will be well received.
Umbrellas printed with a company logo are great advertising platforms. They are always well received and especially by people who need to venture outdoors or do so as part of their social or work activities. The right type of giveaway umbrella can see years of service for its user and be a constant reminder of the company who gave it and the brand printed on it.
What is the average life span for a promotional umbrella? This all comes down to the durability of the product and how it is used and maintained. Most umbrellas will last for several years. As with any product like this it is important to make sure it is dried out after use and cleaned if it meets mud and dirt. This will prevent corrosion to any exposed metal parts and protect the fabric from the risk of tarnishing as well as damage to the imprinted logo.
So finally let's consider the ordering process.
The first stage is to choose an umbrella type and quantity that meets your budget. When considering your budget please take into account how many panels you wish to print on and the number of colours within your logo imprint as these two factors will impact the overall unit and total price.
If you need a sample for inspect then this can be requested from our sales team.
Consider whether you need a virtual visual. This can be generated by our design team and will show you how your logo could look on your chosen umbrella.
Once everything is agreed you can order online or send a purchase order with payment confirmation.
Following receipt of your order, an artwork approval form will be sent to you for sign-off. Production can only start when the artwork has been formally accepted and signed-off and all lead times are quoted from artwork sign-off.
After your logo has been printed, the finished umbrellas are despatched to you. Normal packing includes a polythene sleeve over the umbrella with the final product in an individual cardboard outer. Each individual package may then be placed into a larger cardboard box for shipment.
For ideas on the types of umbrellas and parasols that we can supply please see our promotional umbrellas collection. If you need more information, a visual or sample please let us know. We can also source other designs via our supply chain and even assist with custom designed umbrellas.