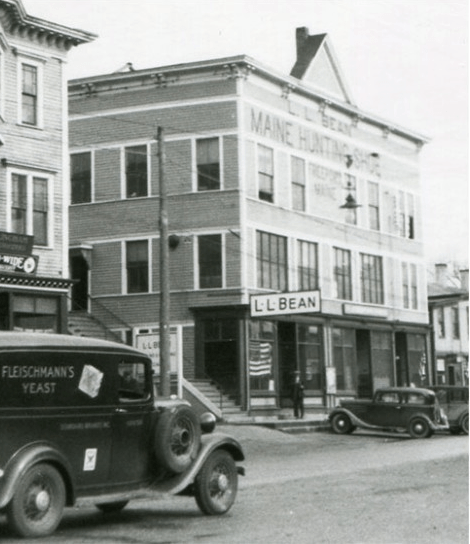 There is a definite shift in the UK away from single-use Plastic carrier bags to more eco-friendly 'bags for life' and ones made from more natural materials including cotton, jute and canvas. Not only is this good for the environment but it is also opening up promotional marketing opportunities for marketers looking for a useful and reusable promotional product.
Tote Bags
Tote bags are a common form of bag and one that can be used for a variety of carrying functions including shopping. The word 'Tote' means 'to carry' and can be traced back to the 17th century. It was not used in relation to bags until the 1940s when the US-based retailer LL Bean launched their famous Boat Bag; a large open bag with handles. Tote bags become popular as they were easier to carry than duffel bags and general luggage and could be used on a more every day basis. Their use expanded rapidly with the rise of consumerism in the 1950s and the growth of retail stores.
Tote bags today are still a relatively simple form of bag that can be used for shopping and other carrying functions. They can be supplied in a variety of colours with either short or long handles. Whilst they were originally made from natural materials, the rise of cheap plastics saw a shift towards the plastic shopping bag that we know so well today.
Plastic Carrier Bags
Celloplast, a Swedish company came up with the design for the plastic carrier bag in the 1960s. Plastic Carrier Bags offered a lower cost alternative to tote bags and their use was widely adopted by retailers in the 1970s. The lower the cost of the bag the more the retailer could give away for free to encourage shoppers to buy more.
Today we are all more conscious of the environment and the damage caused by plastic carrier bags. They require a considerable amount of energy to make and generally plastic is not bio-degradable. However, today's plastic bag is different from the ones used in the 1970s. The plastic used for plastic carrier bags is polyethylene (referred to as PE) which is a substance derived from oil. The material is not bio-degradable unless treated with additives that speed up the breakdown process. Today's plastic bags use up to 70% less plastic than bags from the 1970s and can also be made from recycled plastics.
Whilst plastic bags can be recycled the majority are not and the UK government's plastic bag tax was one way to try to limit the use of carrier bags which. DEFRA reported in 2017 an 83% reduction in part thanks to the plastic bag tax. More information: https://www.gov.uk/government/publications/single-use-plastic-carrier-bags-why-were-introducing-the-charge/carrier-bags-why-theres-a-5p-charge
Plastic bags can be made to be more bio-degradable. Plastic that is bio-degradable is referred to as 'oxo-degradable' or 'UV-degradable). Additives are mixed with the PE during the manufacturing process to accelerate the degradable process which break down under UV (ultra-violet), oxygen, heat or mechanical stress. The break-down process is quicker taking several years as the plastic material breaks down into constituent materials including water, CO2 biomass and other elements.
Bio-degradable plastic is not the solution however as there are still environmental concerns when it comes to the manufacture of polyethylene which is linked to oil production and the break down of plastic into smaller particles that could enter the human food chain. Alternative materials include paper, canvas, jute and cotton which can more environmentally friendly and less damaging to the environment. A shift which takes the industry back to the original materials of the Tote bag.
Paper Bags
Paper carrier bags offer another alternative solution and can be made from renewable and biodegradable sources. Paper bags are not as strong as plastic ones and in terms of their impact on the environment may require more energy to manufacturer, whether made from new or recycled materials. Landfill exposure may also lead to the release of methane gas as the paper breaks down.
Natural materials offer what seems the best solution for carrier bags and promotional shopping bags. A recent survey by Redbows found that people tend to carry a selection of jute or cotton promotional shopping bags with them as they are strong and hard wearing and light to carry when not in use.
Canvas, Jute and Cotton Bags
Canvas, jute and cotton are plant-based materials which are farmed and therefore have an environmental and carbon footprint. The materials need water, fertiliser and energy to grow and for processing into their final raw materials and finished products. Once again, the materials can be recycled at their end of life but if taken to landfill can release methane gas as part of the breakdown process.
Eco Friendly Bags
So how eco-friendly is a recycled bag or one made from sustainable materials? The use of canvas, cotton and jute when manufacturing tote and shopping bags has greater eco-credentials.
The UK Environment Agency reported that cotton canvas bags (the type used for promotional shopping bags or tote bags) must be reused over 300 times before they can match the carbon expenditure of a single plastic bag. Tote bags made from recycled polyethylene plastic require over 25 reuses.
However, the wider availability of eco friendly bags can discourage users and consumers from recycling and simply to consider these types of bags to be as disposable as a plastic carrier bag.
Therefore, greater education is required to encourage reuse of promotional shopping bags and their eventually recycling or disposal in an eco-friendly manner.
The Future In Terms of Bag Technologies
All industries experience revolution and we in the midst of another when it comes to retailing and big data. It is not too far in the future that we will be selling intelligent promotional bags at Redbows that will include RFID (radio frequency identification) and biometrics to 'enhance' shopping experiences. It may be only 5-10 years away but whatever the time frame we have to ensure that we continue to reduce our reliance on plastic bags and move toward more sustainable alternatives.
At Redbows we supply a wide of bags that can be used for promotional marketing campaigns. We use a wide range of materials and can provide eco-friendly shopping bags that clients will reuse and whilst doing so provide your organisation with free advertising and brand promotion. Simply call us on 0800 158 3080 for more information or browse our promotional bags range.