We may have said "Hasta la vista, baby" to the late fees, overpriced rentals, and the inconvenience of video stores, but most of us are still learning how to find our way through the ever-evolving world of online video Streaming.
With the launch of HBO Now, and the success of streaming series like Making a Murderer, Orange is the New Black, Transparent and Stranger Things, the video-streaming market is suddenly flooded with options for Movie and TV lovers alike. You might be wondering, "Which service is right for me?" Or more importantly, "Which service keeps the most cash in my pocket?"
At Brad's Deals, we're all about saving you money, so we compiled a guide of the top nine movie streaming and rental services to help make this decision a little easier for you and your wallet. We've broken it down into three sections: apps (Like Netflix, Hulu etc), devices (like the Roku, Apple TV etc), and other.
Our favorite streaming apps.
Streaming apps are essentially databases filled with streamable content, which you can download to and access from your streaming device. Most streaming devices allow you to download multiple apps, which we will cover in the streaming device section. For now, let's dive into the apps themselves: how much they cost, what kind of content they host, and which is right for you.
Amazon Prime Instant Video

Price: $99/year for the general public, and $49/year for college students.
Pros: Prime membership comes with unlimited instant video streaming, unlimited FREE two-day shipping on every order, unlimited ad-free Prime Music access, photo storage, early access to deals and sales and more. Amazon Instant Video can be streamed on a variety of Smart TVs and Blu-ray players as well as on the PlayStation 3, the Playstation 4, the Xbox 360, the Xbox One, the Wii, the Wii U, the iPhone, the iPad, Kindle Fire tablets, Roku devices, Fire TV and some Android phones. Plus you can watch the Golden Globe-winning new show "Transparent," and whatever they come out with next!
Cons: In my opinion, Amazon Prime Instant Video's website interface is a little bit confusing and harder to use than that of its main competitor, Netflix, and Netflix's selection of TV shows and movies is slightly better as well.
Bonus: 1 month free trial!
Best suited for: Amazon shoppers. If you love to shop on Amazon, paying the $99 a year for unlimited free shipping is majorly worth it! Plus, if you are a movie lover, and already have a device to stream videos on, this service is perfect for you.
Hulu Plus


Price: $7.99/month.
Pros: Hulu Plus allows you to keep up with your favorite shows – both network and cable – even if you don't have a cable subscription.
It features unlimited access to new episodes of ABC, NBC, FOX and CW programs, and it's available to stream on: iPhone, iPad, iPod, Android, Kindle, Nook, PlayStation 3, PlayStation4, Wii, Wii U, Xbox 360, Xbox One, Apple TV, Roku, TiVo, Amazon Fire TV, Funai Streaming Player, Netgear Media Players, Google Chromecast, and, of course, your personal computer.
Cons: Small movie selection compared to Netflix or Amazon Prime Instant Video.
Bonus: 1 week free trial!
Best suited for: The TV lover. Hulu Plus features full seasons of a variety of TV shows for a small price. If you love keeping up with the newest episodes of your favorite TV programs, Hulu Plus is a great option for you.
Netflix

Price: $7.99-$11.99/month for streaming-only plans, $4.99-$15.99 for additional DVD rental.
Pros: Netflix has the by far largest selection of movies and TV shows, including full seasons of cable programs that you will not find on Hulu Plus. It also available on almost every kind of streaming device. Like, seriously, the list of Netflix-compatible devices is so long that I don't really have room to list them all here, but luckily there's an entire Wikipedia page devoted to the subject, so if you're curious, give that a look.
Cons: New releases are delayed by up to a month, and it doesn't have new episodes of TV shows like Hulu does.
Bonus: 1 month free trial!
Best suited for: The extreme movie and television watcher. If you plan on streaming movies and TV shows on a daily basis, Netflix is the right choice for you.
Vudu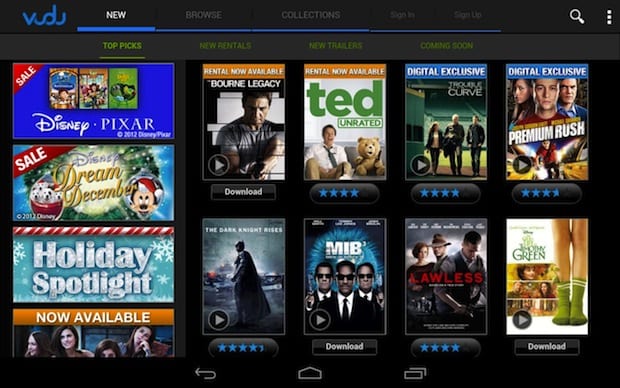 Price: $2.99-$5.99 for a 2-day rental, and movies are also available to purchase.
Pros: No contract, no monthly subscription, and no late fees. Vudu also features the biggest selection of HD movies and TV shows. Even more convenient, you can set up your Vudu account with your Walmart account. Vudu streams instantly on:
PlayStation 3
PlayStation 4
Blu-ray
HD televisions
iOS Devices
Cons: No DVD or Blu-ray by mail service.
Bonus: 1 month free trial!
Best suited for: HD Lovers. If streaming your movies and TV shows in HD is important to you, then Vudu is the perfect choice. Vudu boasts a great selection of HD movies and TV shows.
HBO Now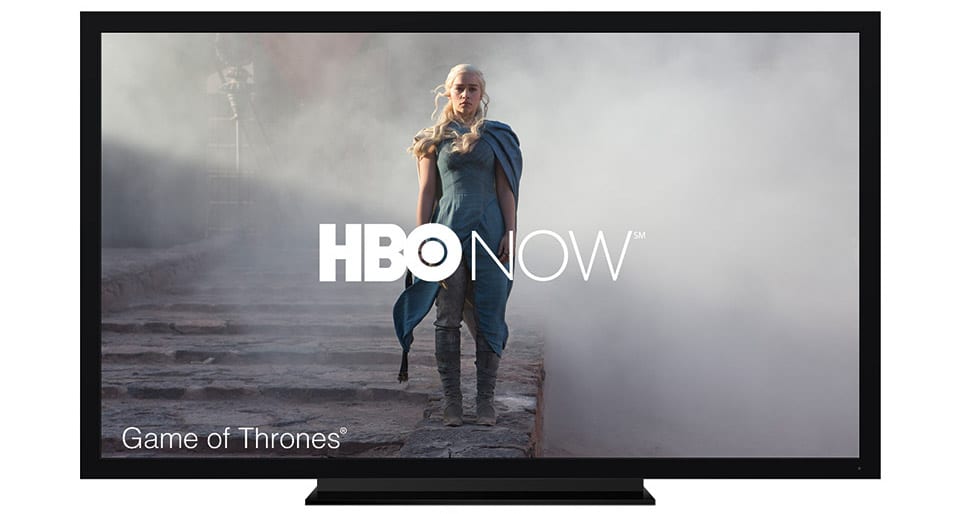 Price: $14.99/month, or $9.99/month for students.
Pros: HBO is arguably the most important television network in history, and its impressive lineup of decades worth of hit shows will absolutely have something for everyone. Between classics like Sex and the City, The Sopranos, True Blood and The Wire, and hot new shows like Game of Thrones, Westworld and Veep, an HBO Now subscription will help you keep up with the TV snobs who gather at the water cooler every morning. HBO Now is available on most streaming devices.
Cons: Their movie selection is laughable.
Bonus: 1 month free trial!
Best suited for: The "Golden Age of TV" obsessive. If you want access to all the best, highest-budget shows of the past 20 years (and today!), it doesn't get much better than HBO.
Crunchyroll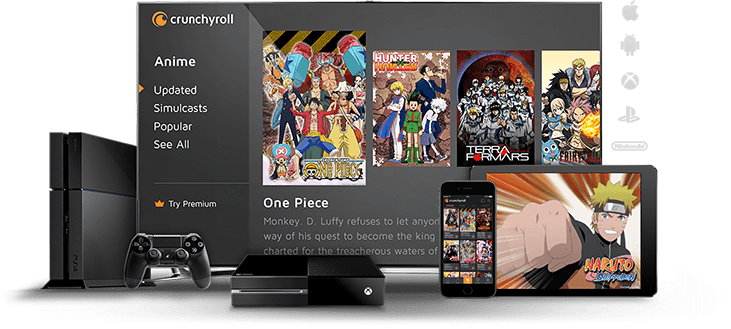 Price: $6.95/month.
Pros: No ads, and a giant selection of anime and live-action Asian TV, and even has a few Manga titles you can read online. It's got both subtitle and dubbed options, and it's an American anime fan's dream come true. Crunchyroll is available on most streaming devices.
Cons: Reviewers have commented on the clumsy interface when you use it on a laptop or mobile device. It should also go without saying that if you're not into anime, you probably won't find much value in this service.
Bonus: 2-week free trial!
Best suited for: Anime enthusiasts. This has SO much to dig through.
Sling TV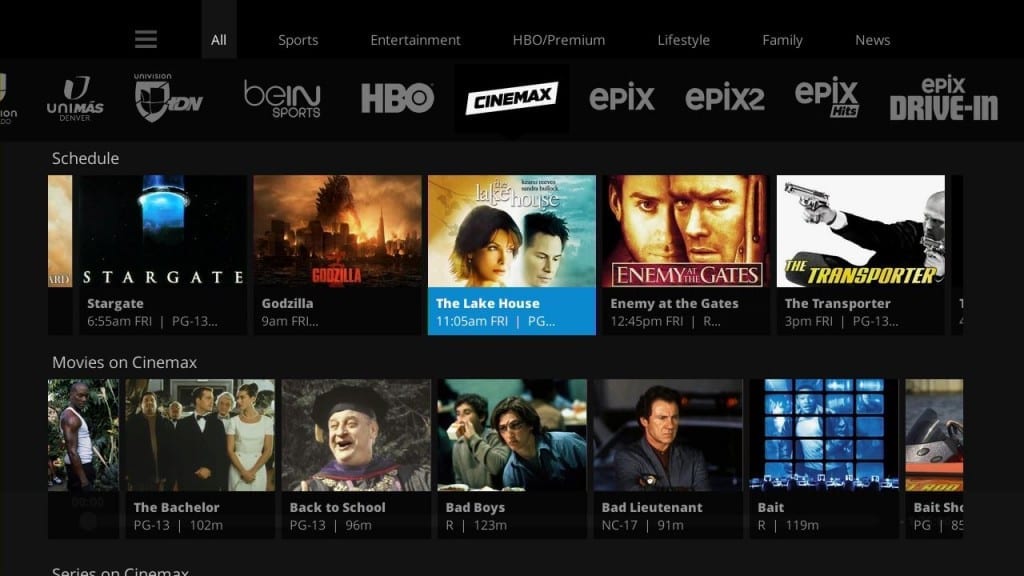 Price: Customizable, but starts at $20/month for a basic package.
Pros: Sling is essentially a customizable cable replacement. With plans starting at $20/month, you can get access to networks like Comedy Central. AMC, HGTV, Cartoon Network, Disney, ESPN, TBS, Travel, VICELAND and much more... and that's just at the entry level price. It also lets you customize based on country and language, so if you're a British expat living in the U.S., you can still watch all your favorite BBC programs – same goes for some Indian channels, French channels, Chinese channels and many other international networks. Sling TV is available on most streaming devices.
Cons: This can get kind of expensive if you need all the sports extras, HBO access, Cinemax, etc. At some point, you have to ask yourself whether you just want to buy an old-school cable package
Bonus: 1-week free trial!
Best suited for: The cord cutter. If you love your cable, but hate having to shell out hundreds every month to mega-corporations with poor customer service just to get the basics, Sling TV is a great alternative.
Crackle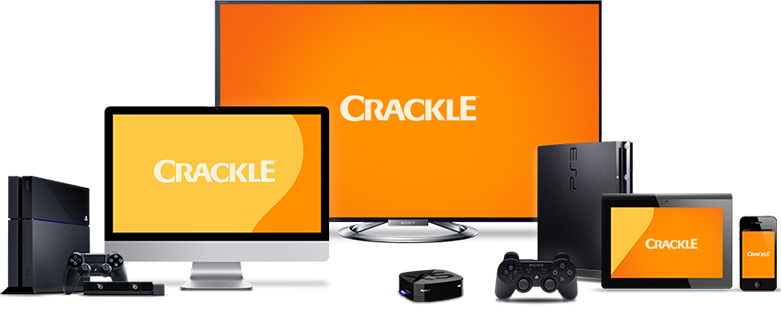 Price: Free!
Pros: Did we mention it's free?! Crackle has a rotating selection of interesting movies and classic old TV shows to choose from. These are mostly older options, but there are some top-quality films available, which make those "OMG I FORGOT ABOUT THIS MOVIE!" moments pretty frequent.
Cons: No new releases, lots of annoying commercials, and a lot of random sludge to trudge through as you search for something watchable.
Bonus: It's free, guys!
Best suited for: The cheapskate. If you don't care too much about keeping up with the latest movies and shows, but still want a seemingly endless variety of streamable content at your fingertips, Crackle is a no-brainer.
For the record, there are LOTS of other streaming sites out there, most of which we didn't cover here. To read more about different streaming app options, check out this related article.
Our favorite streaming devices.
Streaming devices allow you to access the apps we listed above (and many more) from your television. For the purposes of this article, we've excluded gaming systems, built-in Smart TV systems and anything else that was built to serve a purpose other than video streaming. The devices we've included here were specifically designed for video streaming.
Apple TV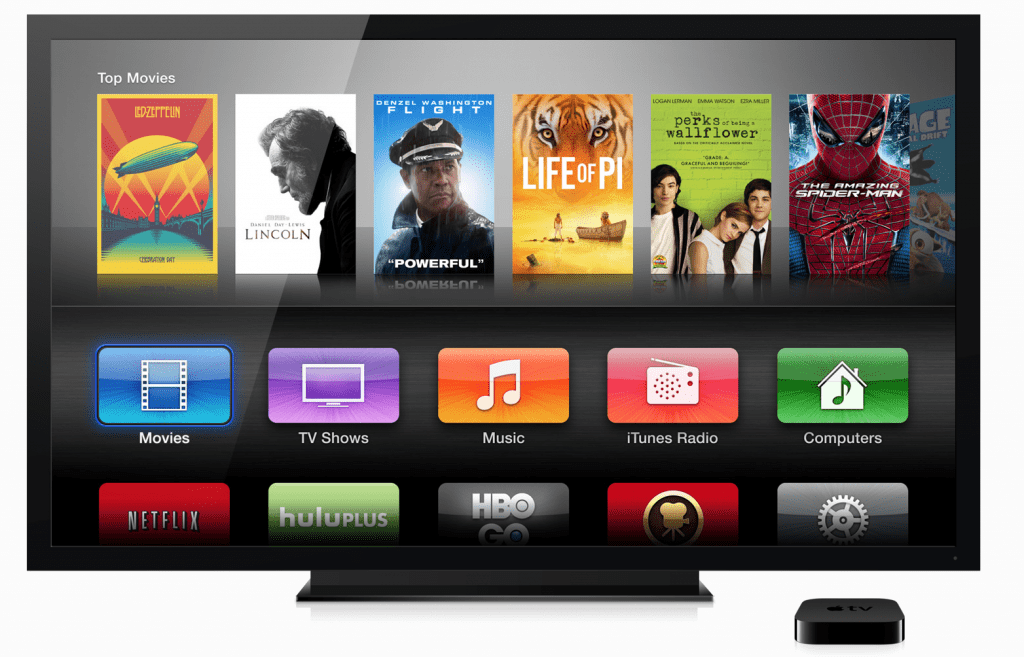 Price: $59-$200, depending on the model.
Pros: The Apple TV console streams Netflix, HBO GO, Hulu Plus, YouTube, live MLB games, and includes NBA scores and highlights. You can also buy or rent movies and TV shows from the Apple Store, and this console also can play movies, TV shows, and music from your iPad, iPhone, or iPod Touch. Lots of TV stations – like PBS – have apps that let you stream their content on the Apple TV as well. If you have an iPad, iPod or iPhone, you can set them up to act as extra remotes for this device.
Cons: You'll probably want to pay for a streaming service like Netflix, Hulu Plus or HBO Now to avoid constantly renting movies from the Apple Store. The Apple TV is also a bit pricey compared with similar devices.
Best suited for: Apple Aficionados. Loyalists to the Apple brand will greatly appreciate the ease and sleekness of this device.
Google Chromecast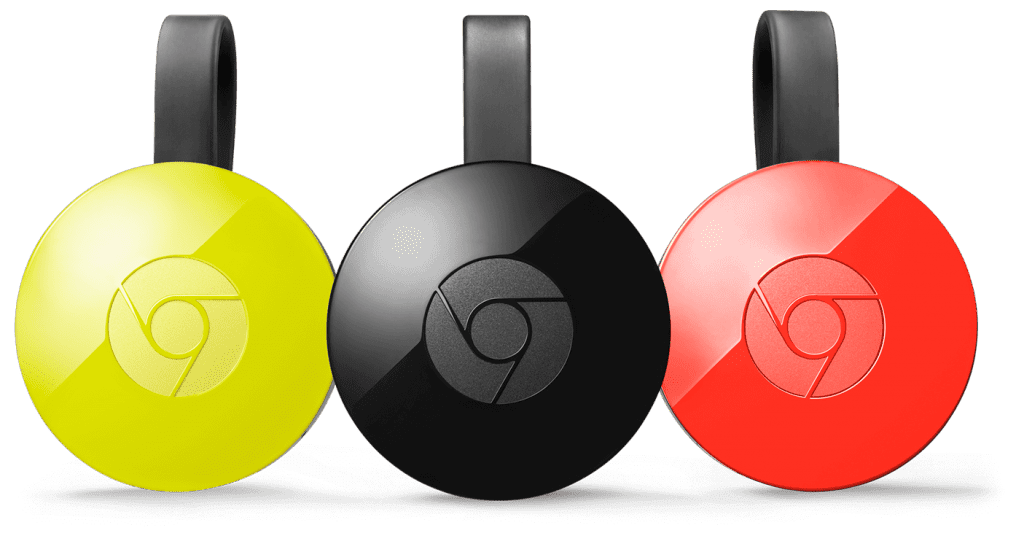 Price: $30-$69 depending on the model
Pros: Google Chromecast is small, cheap, easy to install, and comes fully loaded with Pandora, YouTube, ESPN, Rdio, Crackle, Netflix, MLB.tv, Hulu Plus, HBO GO, Google Play, Showtime and thousands more downloadable apps. It's got pretty much everything an Apple TV's got, and the newer models are more than half the price. You can also use it as a screen sharing device for your Android smartphone, tablet or laptop.
Cons: There's no access to your iTunes library or Amazon Instant Video, and you need to subscribe to a streaming service to make it worth it. Also no DVD by mail service.
Best suited for: The thrifty streamer who isn't an Apple loyalist.
Roku

Price: $29.99-$99.99, depending on the model.
Pros: Roku devices stream Netflix, Hulu and Amazon Instant Video, and also features 2,000+ streaming TV channels and 200,000+ movies and TV episodes. It's also more than half the price of the Apple TV if you get one of the older generations.
Cons: No DVD by mail service.
Best suited for: The Video Streamer. If you already have a video rental/streaming service like Netflix or Amazon Instant Video, but you don't have a way to stream videos on your TV yet, the Roku perfect for you. If you aren't ready to pull the trigger on a Blu-ray player, the Roku is certainly a device to consider.
Amazon Fire TV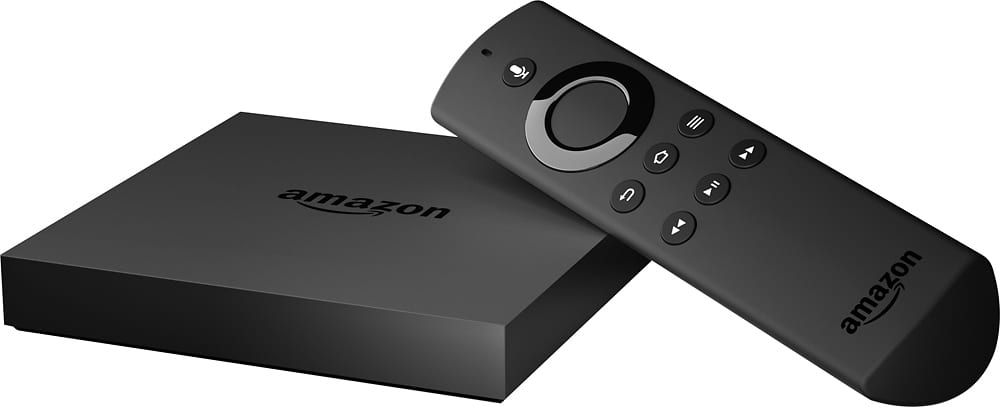 Price: $39.99-$129.99 depending on the model.
Pros: Supports 4K and features Alexa-enabled voice commands. If you want to feel like you're truly living in the future, simply say "Alexa, play game of Thrones" and watch as GOT starts immediately playing. The Amazon Fire also partners with Sling TV so you can customize cable channels and sports networks to your liking.
Cons: No way to pair up Apple playlists, but there are so many other options for music apps (think Pandora, Spotify etc) that shouldn't be a problem for most people.
Best suited for: The futurist. Being able to verbally ask my TV to play me something is unreal. I want to go to there!
Other ways to watch movies!
Sure, we're living in the digital age. But that doesn't mean the ONLY way to watch a movie these days is to stream it. There are still other ways to get snuggly on the couch with a bowl of popcorn. Here are two of our favorites.
5. Redbox

Price: $1.50/night per DVD; $2/night per Blu-ray disc; $1-3/night per PS3, Xbox 360, or Wii game
Pros: Cheap prices, plenty of Redbox locations, and an app to reserve your movie pick before you even arrive at the Redbox kiosk make this movie rental service the most convenient and economical. Plus, Redbox features games for Playstation 3, Xbox 360, and Wii consoles, so you can test out a new game without buying it first.
Cons: New movie releases often do not arrive to a Redbox for a few weeks after its initial release date. Plus, Redbox has not yet released TV show titles for rent. Perhaps most importantly, you have to actually leave your house to pick up a movie, which is pretty upsetting if it's winter.
Bonus: Join Redbox Play Pass for a free movie night after every 10 rentals. Also sign up for text and email alerts for coupon codes for free rentals!
Best suited for: The casual movie watcher and gamer. Redbox offers DVDs, Blu-ray, and games on the cheap. If you are not into instant streaming, but occasionally rent movies or games, this rental service is definitely for you.
9. The Library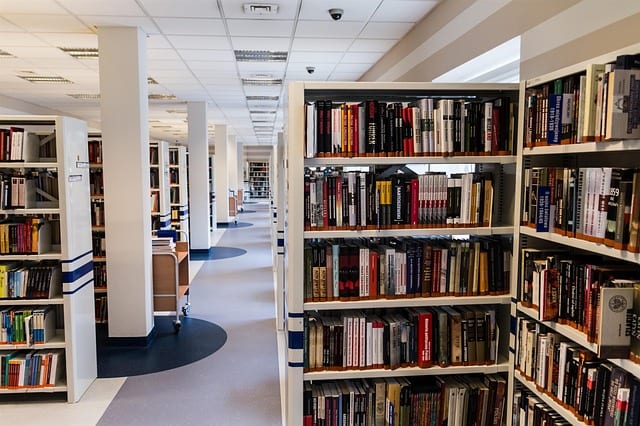 Price: Totally free!
Pros: You can do more than just take out books with a library card. Most public and university libraries also have a wide selection of DVDs, video games and Blu-ray movies available to rent at no charge. For free! You can also rent audio books and CDs! Yay!
Cons: You'll never really know what you're going to get. Depending on the library and the time you go, there's always going to be a random assortment of movies to to choose from, and you'll be hard-pressed to find any new releases anywhere on those shelves.
Bonus: Did I mention this is FREE??
Best suited for: The old-fashioned individual who misses the thrill of browsing for movies at Blockbuster (RIP), and doesn't mind digging through an messy array of DVDs to find a cool flick to watch.
When it comes to choosing a movie streaming or rental service, we recommend that customers consider about how much they plan on using the service, and what devices you already own that can enable streaming on your TV (such as Nintendo Wii, PlayStation 4, Blu-ray player, or Xbox One). As far as cost is concerned, the Google Chromecast or Roku is probably the best bargain if you don't already have a way to stream movies directly on your TV.
If you plan on streaming movies and TV shows 4-7 days a week and want a wide variety of titles, Netflix is our choice for you. If you want to keep on top of the latest TV and don't care much for movies, pick Hulu. Amazon Prime is a little pricier at $99/year (one year of both Netflix and Hulu amounts to a little under $96/year), but they've got a growing selection of movies, free (!!!) 2-day shipping, and a wide variety of other services to keep you occupied. If you are looking to simply unwind with on a Friday night with a movie, head to the library or your nearest Redbox.
Deciding on a rental and streaming service for you and your family should be fun, so take your time, and enjoy the show!
Related deals:
Amazon Fire TV + 2 Months DIRECTV NOW $70
LG 43" 4K HDR Smart TV $300 Shipped