If you just got one wish in life, what would you pick?
Allow us to guess – beautiful, youthful, glowing skin forever, right?
We knew it!
Sadly, getting that is a lot harder than simply making a wish. You have to eat right, regularly follow a thorough skincare routine, and even exercise to maintain the elasticity of your skin. Plus, your skin tends to lose its elasticity and natural glow (due to the loss of collagen) after the age of 25, making your goal of achieving youthful skin a distant dream (1).
But there's a way to make this dream come true – as magically as the fulfilment of a wish. And that way lies in the Vital Proteins Beef Gelatin – it's even better than Botox!
What Is The Vital Proteins Beef Gelatin?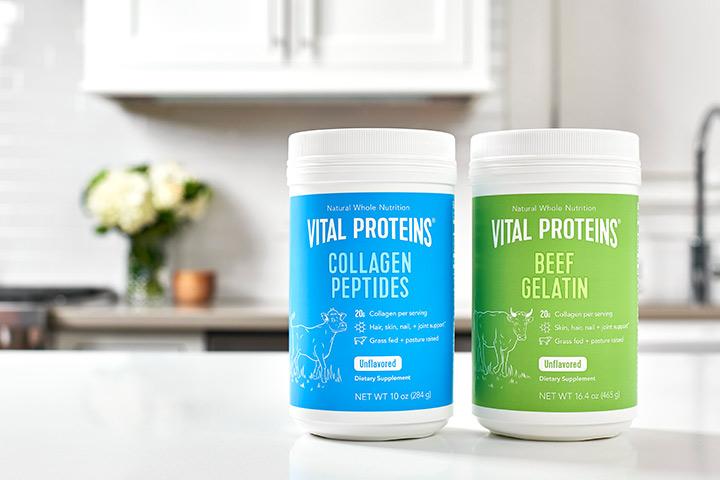 Vital Proteins Beef Gelatin is the latest launch in the line of collagen-rich, anti-aging health supplements from Vital Proteins. The Beef Gelatin has a gelatinous consistency, making it the perfect addition to a variety of delicious drinks, smoothies, desserts, and even stew!
This age-defying skin elixir is made of just one key ingredient: pasture-raised, grass-fed bovine hide gelatin powder, so you can rely on its purity. It is non-GMO, paleo-friendly, and gluten and sugar-free as well as Whole30® approved. So, if you're worried about allergies or have apprehensions regarding its safe for consumption, you don't have to worry.
The Vital Proteins Beef Gelatin is very effective too! Since gelatin is a type of collagen protein, the Beef Gelatin is enriched with all the anti-aging and healing properties of collagen protein, making it a must-have item in your kitchen cabinet (2)!
Why Should You Have The Vital Proteins Beef Gelatin?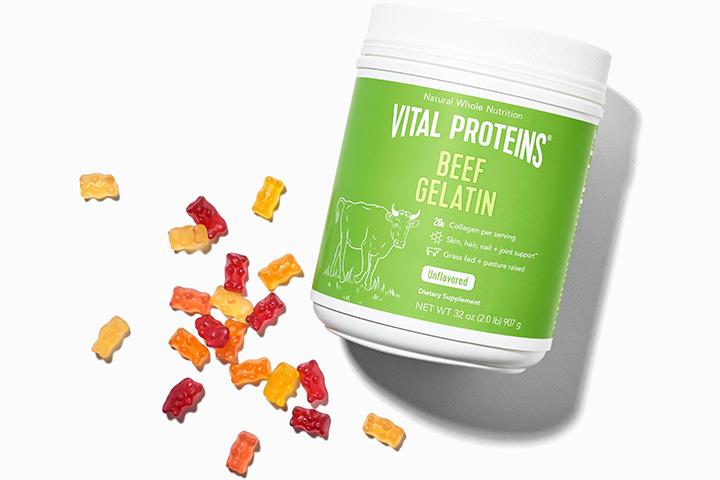 There's no one reason for you to make Vital Proteins Beef Gelatin a part of your daily diet. There are three!
First of all, it is rich in collagen, which is the protein your body needs for beautiful skin and hair. Collagen acts as the keystone of all the connecting tissues in your body, such as your skin, joints, hair, nails, etc. Since the natural production of this protein in your body slows down after the age of 25, you start experiencing age-related health problems such as sagging skin and joint pain, which the Vital Proteins Beef Gelatin can fix with ease!
Second of all, this collagen gelatin contains 'glycine,' a type of amino acid that improves your digestive health and ensures the proper functioning of your gut lining (3). A healthy digestive system is crucial for beautiful skin.
Lastly, the Vital Proteins Beef Gelatin is loaded with skin benefits such as imparting you with a youthful glow, moisturizing your skin, reducing the signs of aging, and even increasing nail and hair strength.
How You Can Incorporate Vital Proteins Beef Gelatin Into Your Diet?
It's really simple! If you want to have it in a hot drink, just add 1 to 2 scoops of this gelatin to 100ml of a cold liquid of your choice. Allowing this to sit for a minute and then add the mixture to 100ml of your hot drink and you're good to go!
You can also add this gelatin to your favorite recipes such as custards, soups, stews, and fruit gelatins. Additionally, the Vital Proteins Beef Gelatin can be added to teas, fruit juices, and broths! Here's an easy blueberry fruit leather recipe to get you started:
Ingredients:
Fresh blueberries x 2 cups.
Vanilla extract x ½ tsps.
Unsweetened applesauce x 2 cups.
Lemon juice x 2 tbsps.
Vital Proteins Beef Gelatin x 2 tbsps.
Sea salt x 1 pinch.
Raw honey (optional) x 2 tbsps.
Directions:
In a blender, add the vanilla extract, the blueberries, and the sea salt and blend them to form a paste of smooth consistency. Next, take a saucepan and stir in the Beef Gelatin, applesauce, lemon juice, and honey, cooking the mixture on a low heat till it dissolves. Add this mixture to the blender and blend again till you get a lump-free smooth consistency.
Now pour this mixture onto a dehydration sheet that is approximately ¼ inches thick and dehydrate it according to the instructions given (typically at 57*C for 8 hours). Once ready, slice it up as you desire, put it in a Ziploc bag, and store and eat as you want.
The Vital Proteins Beef Gelatin is perfect for those who want to retain the youthful glow of their skin but have too busy a schedule to carry out elaborate procedures and rituals!
The post Gelatin For Digestive Health And Anti-Aging appeared first on MomJunction.