When you're a new mom, there are lots of things that you need to buy that you weren't used to shopping for before. And a Diaper Bag is a necessity that one cannot neglect. Sure, you can use any old bag and cram all of your day-to-day requirements in them, but a diaper bag goes a long way in making your life more organised and easier. One must also remember that it isn't just an all-purpose bag. It isn't so much about keeping all of your baby's needs in one bag, but more about being able to withstand the worst-case scenarios. There will be times when your baby is riddled with diarrhoea and you'd have to change diapers twice an hour.
The diaper bag is meant to be your portable parenting unit. New parents tend to ask the opinion of other parents on what to buy based on their experiences. A whole lot of research goes into buying baby gear. Does the bag have insulation for its bottle holder pouch? Does it have a spacious compartment for valuables? No doubt, getting the right bag for you can be an arduous task but it eventually pays off. You might want to make a list of all the things that you're usually going to carry and search for a suitable bag that meets all of your needs.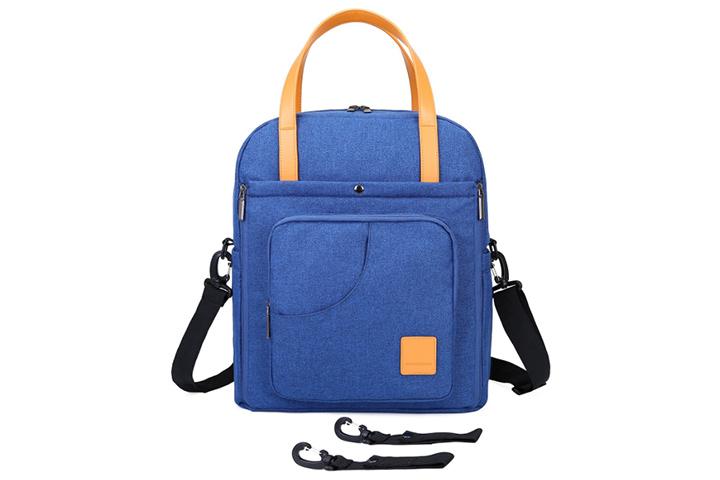 Mommore has a range of diaper bags that can give you what you're looking for. The one above provides you with enough space to stash your baby care needs and also room for a laptop, two elasticised interior pockets, an external back zipper pocket, and a whole host of other features that make this diaper bag one of the best products on the market!
One of their most exclusive features is the front pocket panel that also functions as a cushioned baby pad. This can be very useful for diaper changes on the fly, allowing your baby to be comfortable while you take care of the mess they've made. The bag also has detachable stroller hooks so that when you're pushing your baby around (a physically straining activity in itself), you don't additionally have to carry your diaper bag. Additionally, the bag is only 720g and can easily be wiped clean. The side pockets provide ample room for bottles and tissues.
It's a truth universally recognised that the last thing a mom is in want of is to be identified as such. She still wants to appear younger than she is, with a flair for fashion, and a penchant for looking good. So, any diaper bag that one might want to get should also be treated as a fashion accessory. This isn't to say, of course, that one should forget its main purpose – to keep your baby care products in an easy-to-reach place.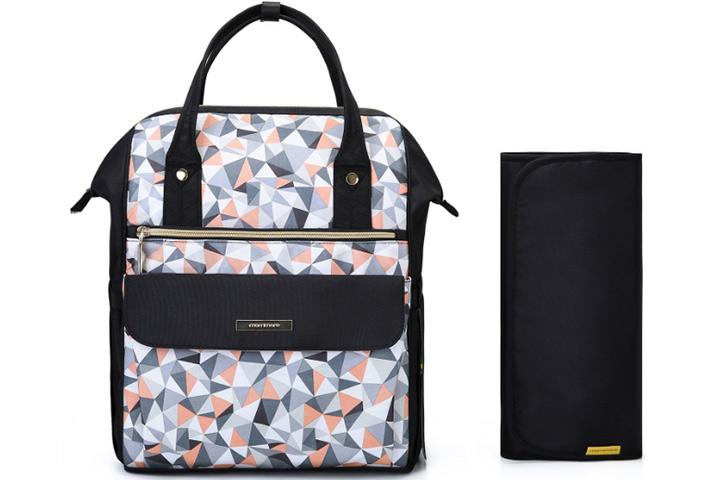 This Mommore diaper backpack is made of Ripstop Oxford fabric, which is water resistant; hence, water or milk spills can easily be wiped clean. It comes in blue, pink, and black – a choice that you can make based on your own preferences. This bag too has a changing pad (70cmx33cm) so you can easily change diapers on the go. The bag comes with two shoulder straps so that you can carry it like any other backpack. In fact, many mothers have opted to use this bag as an all-purpose carry bag long after their child has crossed their toddler years and no longer needs diapers. It has eight storage pockets in the main, rather roomy, area. One of these pockets is also thermally insulated, so you can keep breast milk in a bottle at the right temperature.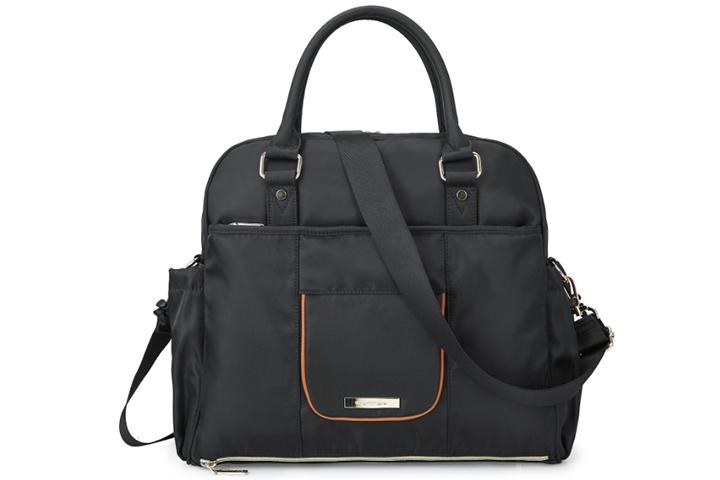 Alternatively, you can go with a 100% nylon bag that has many of the essential features soon-to-be mothers scour baby stores for – an insulated compartment for the baby's milk, a fashionable style that doesn't make it seem purely functional, and ample room to contain all the things you'd want to carry when you're out with your baby.
Shopping for a diaper bag might seem difficult, but if you're clear about what you want, it can be easy to get the one that suits you. Remember, you don't want something that merely does the job. You want something that looks good whilst also carrying all of your baby care products. Perhaps, one of the bags we've mentioned in this article is for you.
The post Stylish Diaper Bags For Hands-On New Mothers appeared first on MomJunction.