This post may contain affiliate links. I may earn compensation when you click on the links; at no additional cost to you. Please see the disclosure policy for more information.
4 products that I can easily incorporate into my life and that are also eco-friendly? YES please!
Simple, no hassle products that you can easily swap out with products you use everyday. Trust me, you will thank me later…So; you're welcome!
It doesn't get any better than this! Earth conscious products that help simplify your life; we're talking about a game changer! These products not only help our environment, but are also safe and helps the animals that live among us. Animal lives matter! Haha!
We all know how important it is to take care of the environment. Let's face it, we only have one Earth, so it may be a good idea to take better care of it. What better way than to swap out some of the products we have become so accustomed to using on a regulars basis for ecofriendly, Earth conscious alternatives that can also simplify your life! Now who would say no to that?!
Why choose ecofriendly products over single use products?
There are so many benefits to using and switching to Ecofriendly Products. Ecofriendly products promote green living, which helps to conserve energy and prevent air and water pollution. Here are just a few reasons we should start using them:
ecofriendly products such as solar panels generate energy from the sun
in the long run, it will cost you less
they help to improve the environment
they help to reduce and save water
they aid in improving our health
There are so many negative effects of using single use products. Single use products are not good for the environment for a number of reasons. We should avoid using them as much as we can. Here are just a few reasons why we should stop using them:
they take longer to break down
they are harmful to wildlife; animals unknowingly ingest them
they contribute to the growing amount of waste
they pollute our oceans and air
they have a negative effect on our health
These products are ecofriendly AND can make things easier for you in the long run! Why not give them a try?
4 must have ecofriendly products for families
1. Lotus Trolley Bags and Produce Bags
Get ready to change the way you shop! Lotus Trolley Bags are surely the product to have for taking your reusable bag game to the next level! They are super tough, reusable bags that are like no others on the market. It comes as a four bag set, with varying sizes. Three of the bags have mesh bottoms, so that spills don't pool in the bottom of the bags. The fourth bag is an insulated cooler, which has an egg and a wine holder!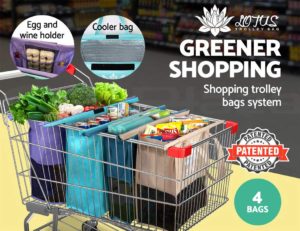 Their design is made with a durable fabric that is double stitched for strength, and can hold over 50 pounds in each bag. They fit in standard sized shopping carts, AND they have a Wide Club Cart Lotus Trolley Bag that is specifically designed to fit in club carts; such as Costco, Sam's Club and ALDI! They also have Lotus Produce Bags, which are reusable, mesh bags perfect for all of your produce! They come in a set of nine, with three different sizes. They are machine washable, versatile and are double stitched for durability.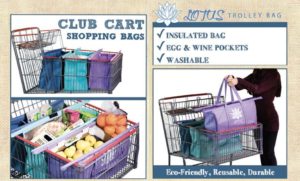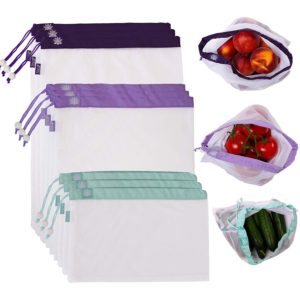 I absolutely LOVE my Lotus Trolley Bags! Every time I'm at the grocery store, I get asked where I got my bags from and comments about how cool they are!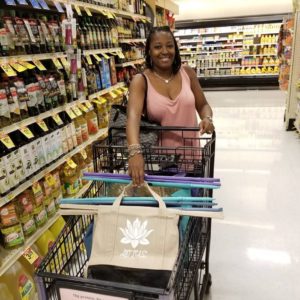 2. NatureZway bamboo cleaning and consumable products

Looking for alternatives to everyday cleaning and consumable products that are eco friendly and that are made from renewable and sustainable materials? Then NatureZWay is the answer you're looking for! They offer a variety of products that range from automotive & home improvement, bath tissue, cleaning solutions, compostable waste bags, and pet cleaning products! Their products are made from bamboo, and there are many benefits to using bamboo products.
bamboo is easily renewable
bamboo grows fast
it takes up less land space
it uses less water than trees
no pesticides
it reduces soil erosion
it reduces greenhouse gases and captures more carbon dioxide than trees or cotton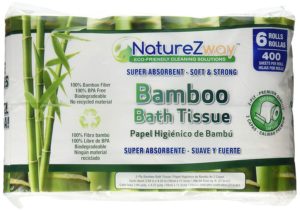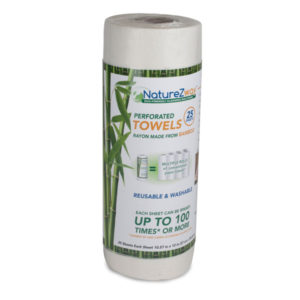 They offer cleaning towels, sponges, floor wipes, and more that are ALL compostable!
Their motto is "WE LOVE PANDAS AS MUCH AS YOU DO", meaning there are 1200 types of bamboo species and of those 1200 species, pandas only eat about 42 of them. They do not eat the bamboo that NatureZway

uses."
3. Reusable Straws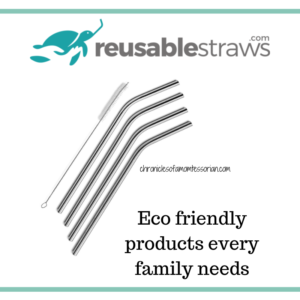 It's no secret, single use plastic products are harmful to the Earth and wildlife animals. According to their website, studies have shown that plastic debris is particularly harmful to seabirds and marine mammals. It can be mistaken for food and can easily choke, and even kill, marine life. It is estimated that at least 1 million seabirds and 100,000 marine animals die each year from ingesting plastic. The company Reusable Straws has decided to fight to save our oceans by giving away a set of reusable stainless steel straws as a way to give back and help with this ongoing problem.
Something as simple as a reusable straw can have long-lasting effects on our environment and the wildlife. There are other alternatives to plastic straws. Bamboo and glass are other alternatives that are reusable and that do not end up in landfills.
I'm currently waiting for my stainless steel Reusable Straws in the mail! Get yourself a set of 4 straws FREE by visiting their website. I'll be sure to share with you on social media about them, once I receive them! I'm excited to do my part!
4. Tayst compostable coffee pods
Okay, so this one is not so much for the family, but for the parents! But let's be honest, as parents, we NEED our coffee! Who doesn't love a great cup of coffee in the morning? In the afternoon? At night? Basically anytime, day or night?! It makes it even better and easier to enjoy your coffee when you like knowing that the materials used in your coffee pods are good for the Earth! With Tayst compostable coffee pods, all components of the pods are made with 100% compostable materials, making them safe, biodegradable and eco friendly!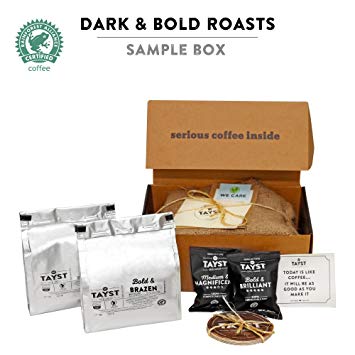 Fulfill all of your coffee needs with a variety of roasts or flavors; choose from bold & dark, medium & smooth, a variety of blends and even decaf. or, if you'd like to learn more about their subscription coffee service, check it out here.
The breakdown of their pods consists of:
the lid
the ring
the mesh
all of which are composed of compostable materials and resin.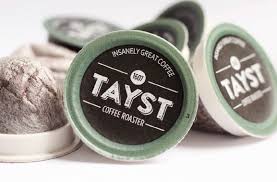 If you use coffee pods, you should definitely consider switching to pods that are compostable. Although pods may be small, they still have lasting effects on our environment, and they do their part in adding to the waste. Tayst has also partnered with farmers and communities in the Rainforest Alliance. The Rainforest Alliance works with coffee farmers to improve their livelihoods and the overall health and the well-being of their communities. It's a great organization, and it's great the Tayst earned the Rainforest Alliance Certified seal!
What to take from this
In the end, the most important thing to take from this is that you can make small, simple and easy changes to items that you use everyday, by just switching them out with these great eco friendly products. You in no way need to switch out everything in your home or in your daily life that you use that is not eco friendly. That is not the purpose or intent of this. This just shows you that you can choose one or two of your daily use items that you ultimately could switch out to a more sustainable alternative instead. Every little change helps, and if we all chose just a few items to swap out with biodegradable products instead, we would be helping and saving our environment and the wildlife that much more!
Tell me, are there any ways in which your family does their part in helping reduce, reuse, and recycle? Feel free to drop your tips in the comments, I would love to read about them! Be on the lookout on my social media platforms for the post sharing when I get my free straws!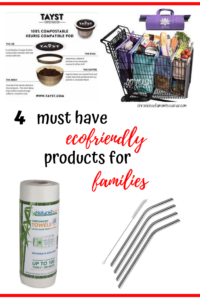 Until next time,