Conversion can be considered the holy grail of e-commerce. The majority of e-commerce sites and websites in general state it the most important of the metrics, which makes sense since Conversion Rate is the proportion of visitors actually doing what you intended them to do (making a purchase, sending you an e-mail or, lets say, doing squats).

Conversion Rate is the percentage of prospects you got through to the final action. Typically it lies between 2% and 5%, but you don't want to be average, do you?
Approaches in increasing the rate, however, often lack luster.
While the most common conversion rate optimization tip you'll notice is to do lots and lots of split testing, before doing that, you should make sure you're not a victim to any of the conversion killers listed below.
Failing to Prioritize
The most prominent conversion killer can be website design. It is not just coloring schemes, chosen fonts and shapes that matter – it is crucially important to pay attention to how understandable the site is. Failing to prioritize and giving each aspect of your website the same level of importance can just push your potential customer across the threshold of a complete misunderstanding.
4 website design priority setting strategies that will help you avoid that, are listed below.
Ranking Website Elements
Firstly, you have to make a clear distinction to which element of your page you want to lead your potential customer. In most cases this could be CTA.. The easiest way to cope with that is to prioritize sections by 'numeric value' of every panel, ranking them by their importance.
Looking at It in Black and White
It's also a great strategy to look at your page in 'greyscale' to see which elements stand out when everything's in black & white. By seeing the contrast of various items, you can clearly judge whether most important elements truly stand out. This way, pinpointing and fixing a lot of design problems becomes incredibly easy.
The Eisenberg's Battleship
Another method is the Eisenberg's Battleship approach. Divide your site in a 10×10 grid and see in which grids the most important elements turn up. Then, you can position your content to match a user eye movement pattern, thus giving your visitor clear visual cues on how to behave and convert.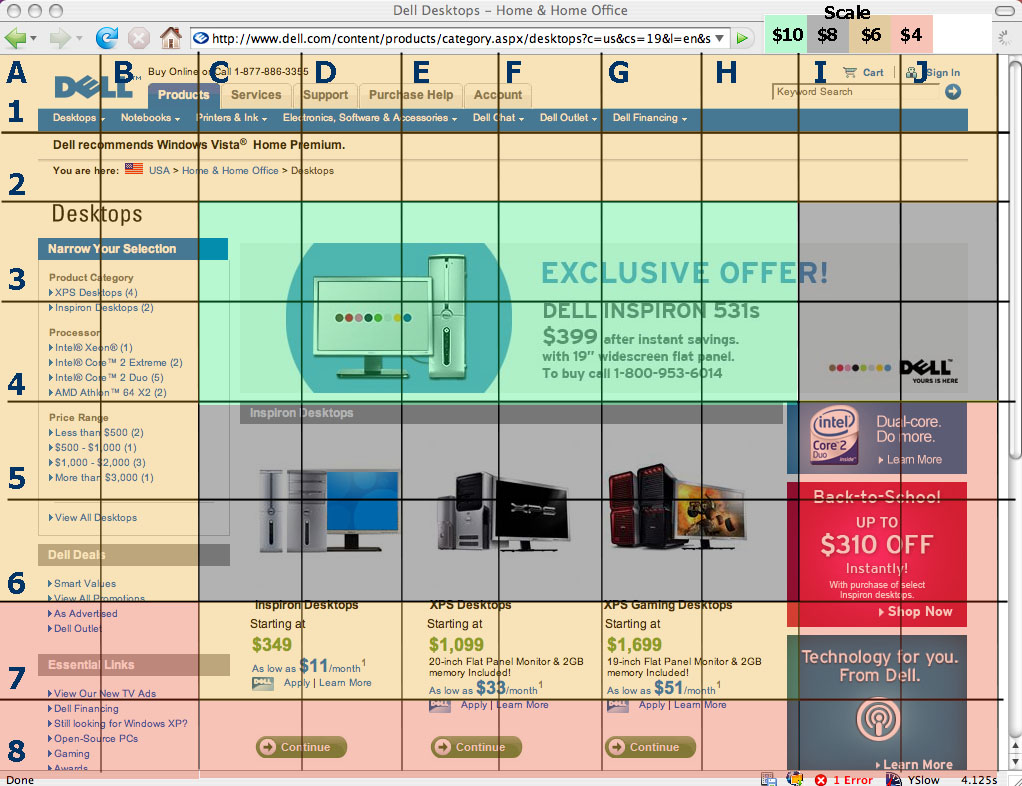 Dell's website battleship grid shows an example of smart layout geared towards connecting with the F-pattern in user behavior.
Visual Heatmaps
A common tool for website review is a visual heat map. Heatmaps precise users' behavior on your website helping to distinguish what draws their attention. Let's look at an example.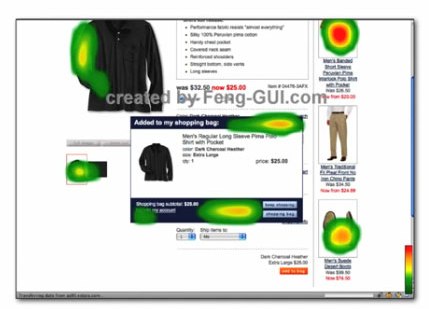 Heat map tool Feng-GUI that tracks eye movement, shows how a poorly designed check-out popup draws too little attention.
The heat map shows indicates to a significant problem. The check-out process is the last step of closing a deal, however in the picture above you can observe that the average customer is focused on everything else BUT the checkout window. Even if the customer would intend to keep on with shopping, the design does not put the customer's focus on the one thing that matters the most – conversion. See how a simple overlay solution deals with the problem.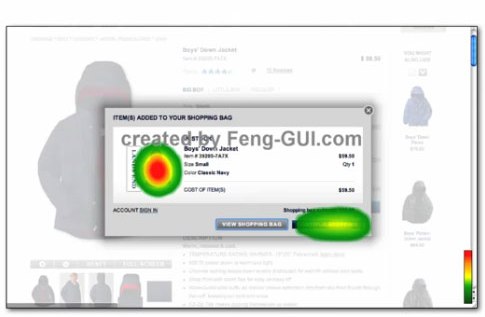 Shifting focus by putting an emphasis on the checkout is exactly what's needed to turn "I'll think about it" attitude into actual conversions.
Being Too Innovative
"Out of the box" thinking is a MUST if considering any 21st centuries entrepreneur, however, sometimes 'too much' can be too much. A decade ago when e-commerce was still rather undigested, Xerox researchers coined a term 'information scent' – a predator relies on his senses to find prey; a customer similarly follows visual and informational cues as long as he expects to get new information or make a purchase. However if he comes across something that lead him into contradiction, that could sub-consciously put him off.
Your site definitely should stand out and have its OWN flair. However you should estimate the importance of the expectations people hold for your online store. Think twice before putting your navigation bar on the right hand side, or putting the CTA button on top of the fill-in form, instead of the bottom! The struggle your visitor might feel when intuitively looking for an element where they expect it to be can result in failed conversion.
Having Too Many Clicks
Doesn't make sense at the first glimpse? I'll explain.
The conversion rate is determined by dividing the total amount of clicks by the number of conversions. If you decrease the number of clicks, while keeping the conversions constant, you end up with a higher conversion rate. As simple as that!

An extreme example of this is the Nigerian prince scams. The bait letters are intentionally obnoxiously written so that only gullible people reply. This way the scammers only have to reply to only several hundreds of mails a day to people who already have a slight chance of falling for it. In a more convenient situation, the equivalent would be bogus traffic, which brings the conversion rate down. If you've tweaked your design to the maximum, and you're absolutely positive that your website design isn't the cause of low conversion rate, then perhaps you're just not approaching the right target audience. That's the equivalent of selling smartphones in a candy shop –it's just not what people came here for
The conclusion? Make it simple! Keep it fresh, but predictable!