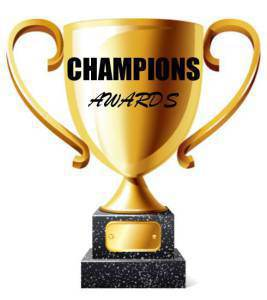 These are the award's rules as copied from that post:
"Recipients, if you choose to accept and wish to propagate the Champions Awards, please do the following:
1. Post the Award Sticker on your blog, with the hashtag #CHAMPIONSAWARDS
2. Acknowledge the sponsor of your Awards.
3. Choose at least five of your own nominees and advise them accordingly, attaching these 5 guidelines.
4. Keep it simple… no need for explanations for the Awards… we know how great these folks are.
5. You are free to give out these Awards as frequently as you wish."
I'm passing on the award to the following blogs:
1. Awaken & Begin
2. Nuggets of Gold
3. Pocket Perspectives
4. Chris' Journaling Journey
5. Meditation Travelogue
Enjoy! And, even if I don't have to say how great these folks are, I'm saying it anyway.