Episode 3 Highlights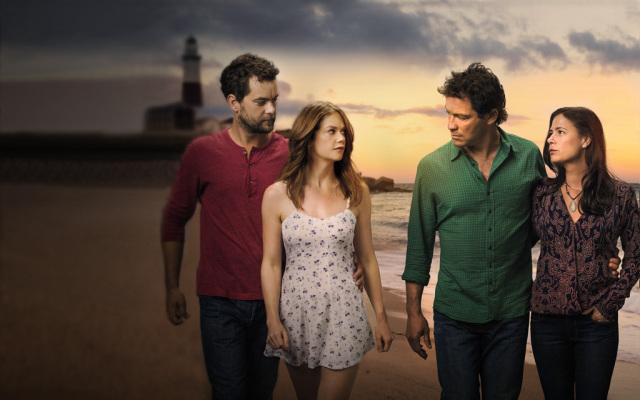 The Affair image via fan forum. From left: Joshua Jackson, Ruth Wilson, Dominic West and Maura Tierney.
For a thorough plot summary and review for the first episodes, please read The Affair starring Dominic West, Ruth Wilson, Joshua Jackson and Maura Tierney: The Good, The Weird, The We'll See.
Warning: There'll Be Spoilers.
Once again we have the story told first in Noah (Dominic West)'s point of view, and then Alison (Ruth Wilson)'s, and they continue to show the other one is the more active "pursuer." But this time we get a bit more into their daily lives:
Alison is originally a pediatrics nurse, and her waitressing is way to help make ends meet until she can face sick children again.
Noah's mother-in-law is actually as obnoxious as his father-in-law, if not more. She is still complaining about Noah not making enough money, in front of Noah, and mentioning the private schools they paid for. Noah has taken shit from his in-laws since he was 21, when he married Helen (Maura Tierney).
Noah starts to work on his book, though he mixes pleasure with business as Alison becomes his inside person. In Noah's version, he asks to be friends, and that even though he is really into her, he can't have an affair. In Alison's version, Alison says she can't have an affair because it's her hometown. In Noah's version the affair starts. In Alison's, it doesn't.
Alison's boss at the diner, Oscar, wants to build a bowling alley next to the diner. Cole (Joshua Jackson) is against the change. He wants the town to stay the same. This gives us a great look into how he might not be into change as a person, and how this might have harmed their marriage. Because circumstances can change people, especially an extremely traumatic event like a child's death. Alison has probably changed, and she is also likely going through depression as we find out she also has a self-cutting habit.
In Alison's version, we get the impression she really doesn't like Cole's brother Scotty (Colin Donnell).
*
3rd episode felt a bit slower in some parts, and it was a little less shocking (as opposed to what Noah's older son pulled off during the beginning of episode one.). However, it got us a bit more into the daily lives of our characters, and where they were, especially mentally, when the affair started. The crime element, and the fact that we don't know who was killed and why, keeps adding a bit more mystery.
We also don't know where they are now. Is the affair still on? Did they leave their spouses and get together? Or are they with the families they started with? Alison mentions a sitter; she has a kid now. Whose kid is it? Maybe she adopted?
There's still a lot to find out, and it's told and shot humanely enough to keep me interested, and I'm seriously against cheating. Yet, for some reason, even though I'm pissed at what they are doing and I'm rooting for their spouses to find out (to kick their asses), I can't hate either Alison or Noah. Maybe I was charmed a bit by Noah's (Dominic West)'s cute curls and swimming body too.
Kidding aside, it's a show that earns your attention and keeps it. Fingers crossed for it to stay this way.
More on Joshua Jackson
Gossip starring James Marsden, Lena Headey, Norman Reedus, Kate Hudson & Joshua Jackson
The Shadow Dancer starring Joshua Jackson, Claire Forlani and Harvey Keitel
Cursed starring Christina Ricci, Joshua Jackson & Jesse Eisenberg
Fringe starring Joshua Jackson, Anna Torv & John Noble
Lay The Favorite Review: LTF starring Bruce Willis, Rebecca Hole, Joshua Jackson & Catherine Zeta Jones