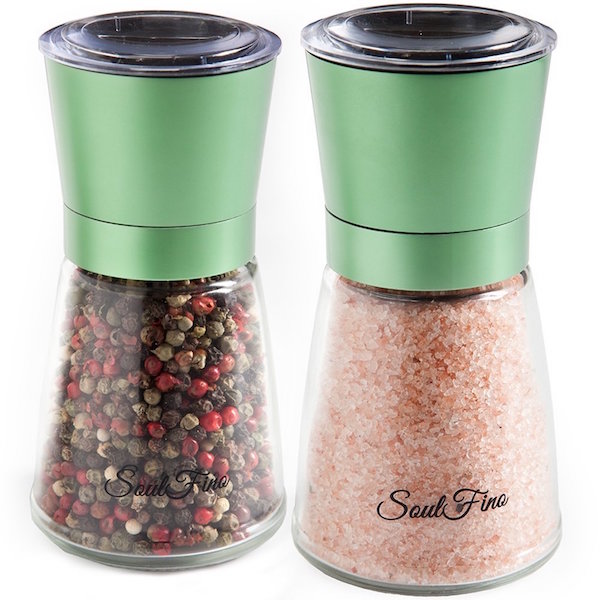 *ANODIZED DIFFERENCE* — Our Set is Made with an Anodizing Aluminum Technique that Makes the Mills More Vivid & Colorful. Anodized Aluminum is Considered Entirely Safe and Eco Friendly, and is Popular among those who are Health Conscious.

*CHOOSE YOUR OWN COARSE* — A Truly Superior Quality Salt & Pepper Mill Allows for Changing the Fineness or Coarseness of the Grind, Based on Recipe Requirements or Cook's Needs. Our Grinders Offer Several Settings, from Very Fine to Roughly Cracked. NOTE: Mills Do Not Come Filled with Salt & Pepper.

*EASE OF USE* — Cooking Involves a lot of Multitasking and Racing Against the Clock. Who has Time to Mess with Kitchen Tools that Get Stuck or Clogged? Our Salt and Pepper Shakers' Comfortable Grip and Smooth Twisting Top are a Must-Have for your Wrists and Providing Convenience and Speed in the Kitchen.

*CUSTOMER GUARANTEE* — OUR CUSTOMERS PRAISE OUR SERVICE! YOU, the Customer, are Our Top Priority. Read the Honest Reviews for Yourself. Backed by a NO-QUESTIONS-ASKED, 100% Satisfaction Guarantee, SoulFino will Replace Your Product in the Unlikely Event of a Complication. ADD A SET TO YOUR SHOPPING CART Today for a RISK-FREE Culinary Experience!